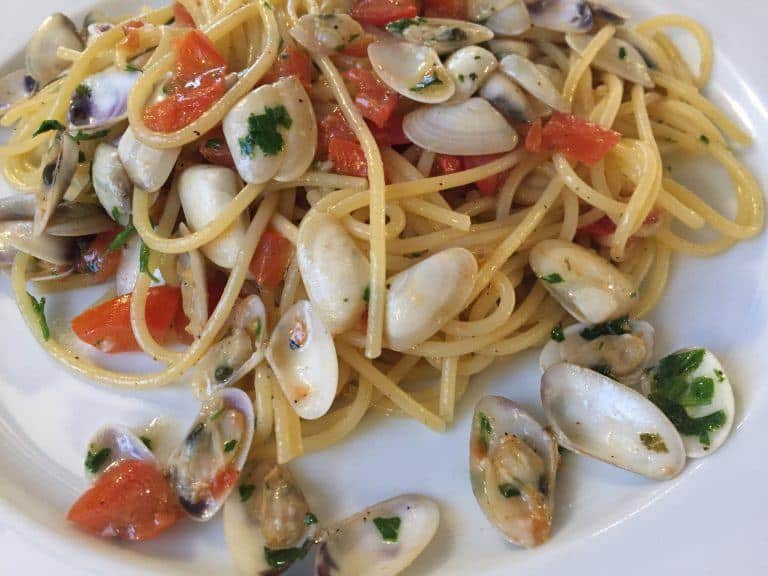 [ Mar.2017 ] We took the Frecciarossa, the fast train, from the Central Station in Milan to Venice.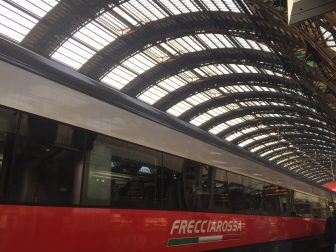 The last time we were in Venice was one and a half years ago.
This time we stayed not in Venice itself, but on Murano island which is famous for the glass.
So we took the water bus in front of the Santa Lucia railway station to Murano.
The weather was very nice and the city was full of tourists, especially there were many Chinese and Koreans, enjoying the gondola ride with as many as 10 people on one gondola.
Not so many Japanese in this season, though.
Apparently there is an idea being discussed in Venice to limit the number of tourists in the future.
The water bus to Murano was full, too.
We got off the bus at the first stop on Murano and looked at the map on our mobile phone to find that our hotel was quite far from there.
We should have looked at it earlier.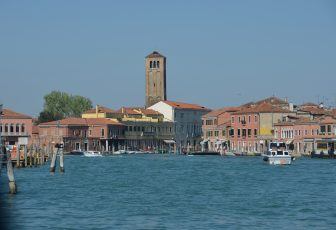 Anyway, we had to go there, so we started walking, pulling our suitcases.
On the way, we found our favourite restaurant, Busa alla Torre da Lele, we went last time on the other side of the canal.
So we decided to eat as it was lunch time.
The outside tables were nearly full, but inside was empty, only us and some local people.
Within the assorted seafood we had for the starter, there was a dish of crab with Polenta.
This crab is called Moeche and they shed their skin at this time of the year and it is so soft that we can eat them all.
For the main, we ate spaghetti of Tellini, the small shellfish.
Originally we asked for the lobster spaghetti, but the waiter recommended this one because it was fresh and tasty.
Really everything was very tasty.
For the drink, we had Bellini as the aperitif and then a carafe of Prosecco, because this is Veneto area where Prosecco is from.
With the coffee, they served a little chocolate cake.
The local man at the next table was explaining to his guest that this cake was traditional to Venice, but originally it contained no chocolate or any spices , but through trading in medieval times these things came to Venice and they added them to the cake.
He was also saying "There are so many restaurants in Venice just for one time tourists, but this one is different".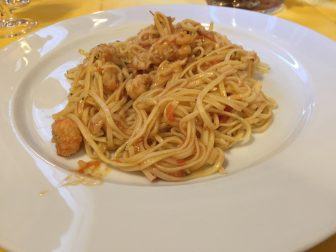 We were very satisfied with the foods, so we went back there again on the last day of our stay and ate the pasta with scampi.
By the way, a few days before we went there, some terrorists who planned to blow the Rialto Bridge in Venice were arrested and they were apparently working in one of those touristy restaurants.