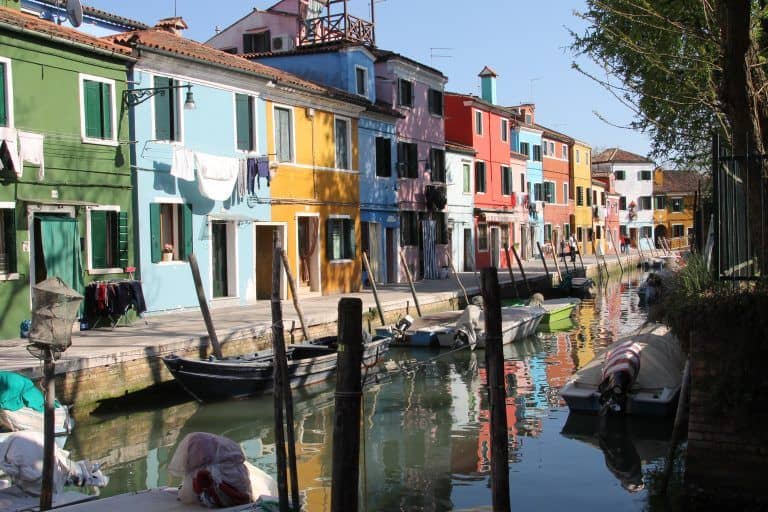 [ Mar.2017 ] After leaving our luggage in our hotel in Murano, the famous island for its glassware, we went out to Burano island.
One of our purposes of our holiday in Venice this time was island hopping.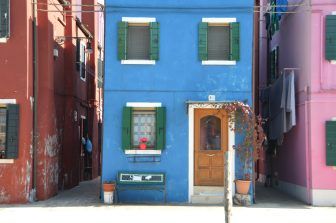 Burano is located about 7 km north east of the main Venice city and in fact it consists of 4 islands linked by bridges.
We took the water bus from Murano and it was so crowded.
I was worrying that there could be more people than legally allowed in the boat and I felt as if we were transported criminals or something.
From Murano, the journey was about 30 minutes.
When we arrived we were woken up by the bright colours of the houses in Burano, wonderful place for photographers.
The reason why they painted their houses with vivid colours is apparently for the fishermen to recognise their homes in the fog in the past.
And if you want to change the colour of your house, you have to ask for the permission from the local government and the government gives you the limited choice of colours.
I thought there were all sort of colours there, but thinking about it, there were no black houses.
Burano is also famous for its lace.
The women on this island started making lace in the 16th century and through the Venetian trading, this island sprang into fame.
Apparently the reason why they started making lace is something to do with Leonardo Da Vinci.
Actually we learned in Lefkara in Cyprus two years ago that Da Vinci visited Lefkara in 1481 when Cyprus was controlled by Republic of Venice and bought a piece of lace made in this village.
This made the Lefkara lace famous and the lace became in demand, so they started making lace in the home country, too.
In the 18th century the industry died out, but revived after establishing a lace making school in 1872.
Therefore lace making here is historical, but when I visited here first time more than a decade ago, it was already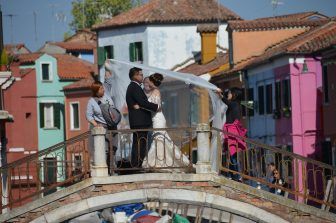 said that the lace sold in the souvenir shops were made in China.
So we did not visit any lace shops this time.
The last time I came here, only the lace was made in China, but this time, many of the tourists were Chinese, too.
We saw a Chinese couple who were doing the wedding photo shooting.
I wonder those Chinese tourists buy souvenirs made in China…
We wanted to go to the Lace Museum, but when we got there, it was already closed.
Instead, we went into the church called San Martino with a leaning bell tower.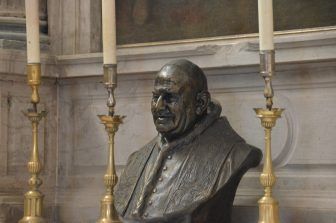 The famous leaning tower is in Pisa, but there are many leaning ones in Italy.
The inside of this church was not so special, but I noticed one bust.
It was of Saint John XXIII who was nicknamed Il Papa Buono (The Good Pope).
If he was called Good Pope, are there any Bad Popes?
Anyway, this pope visited prisons saying "Because you cannot visit me, I came to you", and he often went out to visit hospitals and schools for juvenile delinquency and so on, so it seems that he was really a good pope.
I could not find the reason why his bust was there, though.