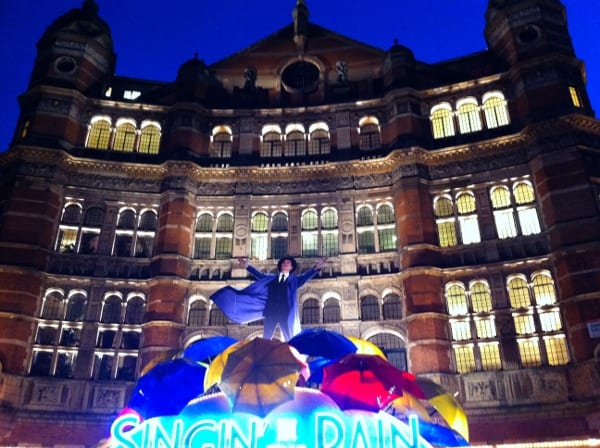 [March, 2012] We went to Palace Theatre in London to see the musical, Singin' in the Rain.
This was my second time to see this production featuring Adam Cooper.
The first time was a few years ago, probably at Sadler's Wells Theatre.
Cooper is originally a dancer and not a singer, so he has not got enough voice, but this time his singing has got improved.
His dance was as good as always, and his looks is nearly ideal when you look at him from a far, though his face is somewhat frightening…
The main attraction of this musical is that real water falls on the stage and they dance and sing on the stage with a lot of water.
So the audience sitting near the stage will get wet, which is a fun.
During the interval, the cleaners came out on the stage in the costume and worked hard mopping up the water.
This Palace Theatre was built in 1891.
I remember that the first time I saw Les Miserables was at this theatre  long time ago.
Apparently it was held here 7602 times from 1985 to 2004.