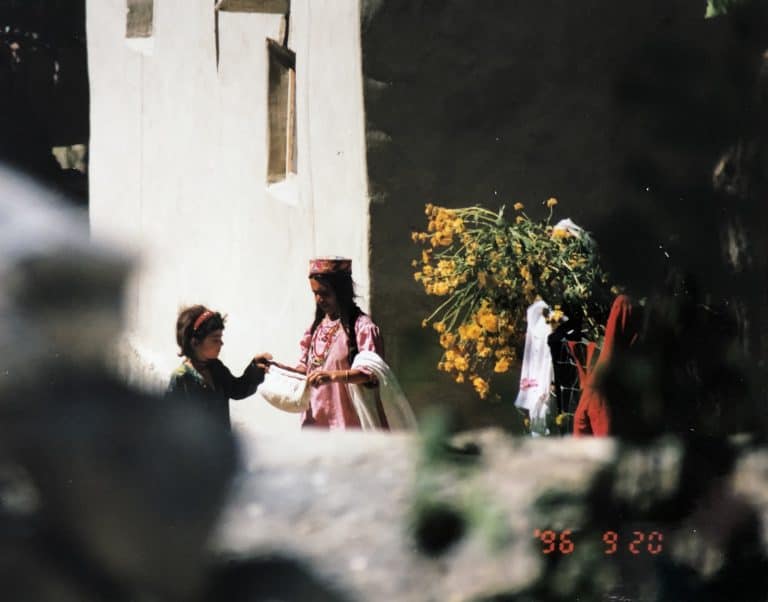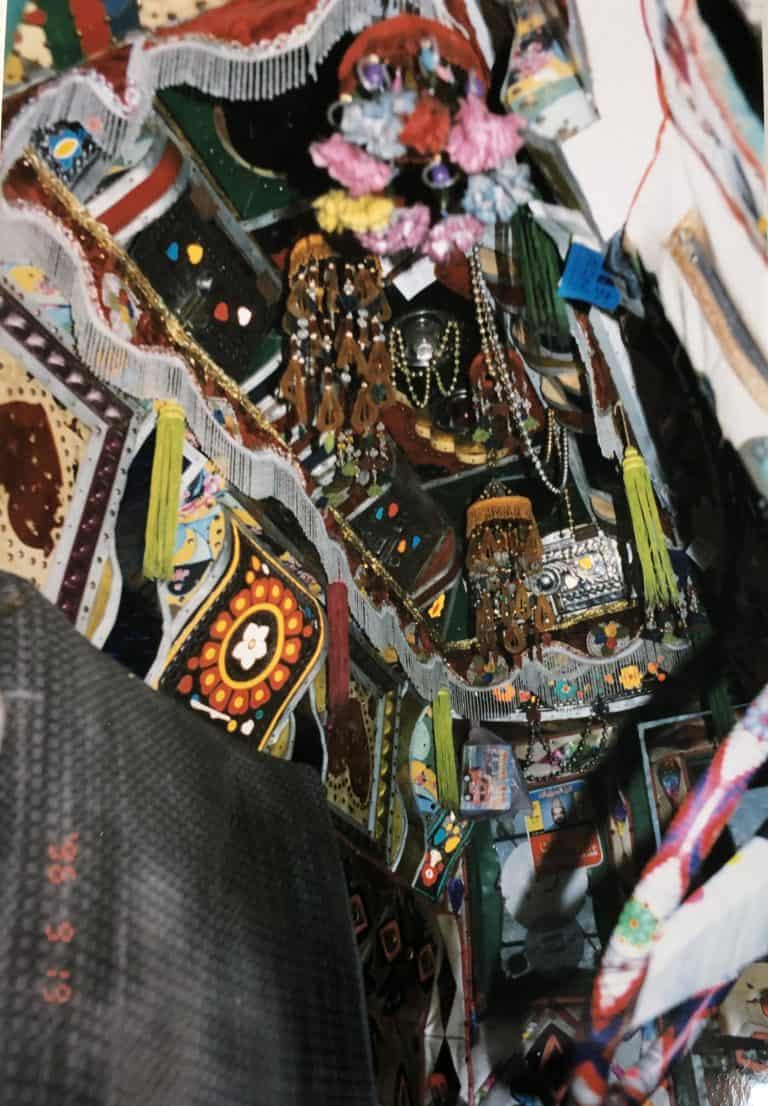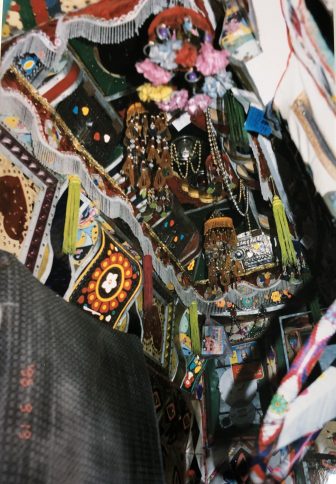 [ Sept.1996 ] The first town in Pakistan after crossing from China was Sust where we spent time with the British man with whom we were together in the bus.
We went to the bazaar which was not special at all but on the way back we saw a gorgeously dressed up truck.
Apparently it was leaving for Lahore.
Because it was so decorative, we asked them to open the door for us to look inside and take photos.
After that we walked around the place seeing the view of steep mountains and the valley.
When it was getting dark, the half moon went up above the pointed summit of a mountain, which reminded me of a painting of Magritte.
For dinner, we went to the restaurant within Mountain Lodge Hotel because it was recommended in our guidebooks.
When we went out of our hotel in the dark, I gasped in surprise because the starry sky was very close to us and it was so clear.
Maybe because of the high altitude (about 2800 metres), the stars were much closer than the ones we had seen in Turpan in 'the Starry Sky Tour' and I could see the clear Milky Way.
The Plough was huge and I felt like touching it.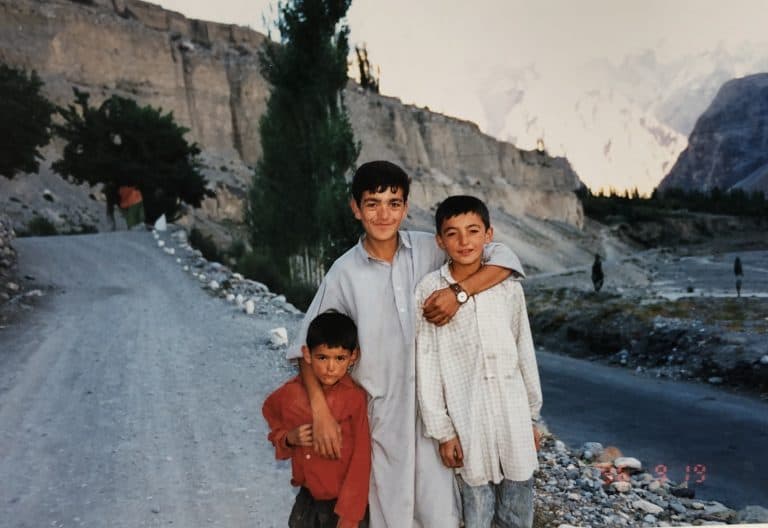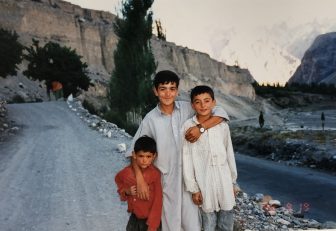 And the moon light was very bright.
I felt as if I had landed on another planet and did not feel real.
Now, the dinner.
We sat around a table lit by the candle light.
That sounds romantic, but in fact, it was only because the electricity did not work until 9 pm in this town.
What they served were, a soup with coriander, rice, potato curry, chicken curry, beans curry (those curries were not very hot so it was more like stews), and Chapati, the thin flat bread.
Anyway, because it was so dark, we could not see exactly what we were eating.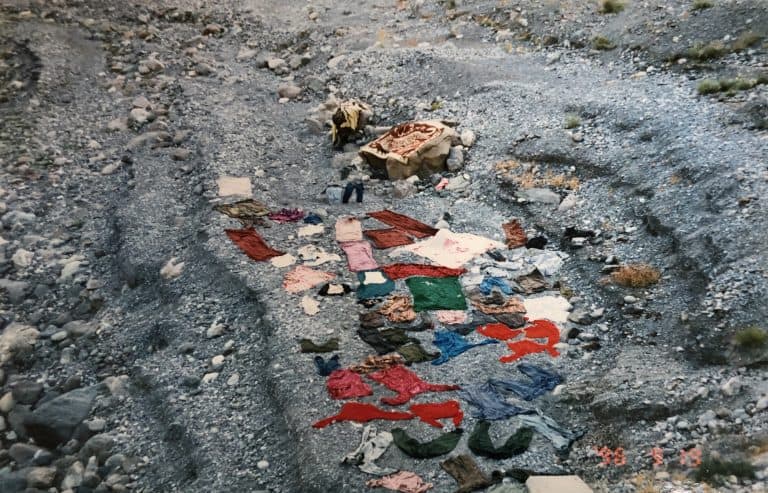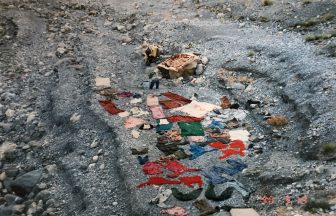 And because no alcohol was allowed in Pakistan, we just had a glass of water to go with the meal.
They served tea at the end and altogether it cost 100 rupee per person ( $1=37.53 rupee in those days).
To be honest, this was not my favourite type of meal at all, but I could not be fussy in this kind of place.
That night, I was OK, but my travelling companion had to go to the toilet many times.
It seemed that the beans curry which I did not touch was bad.
Already on the first night in Pakistan, he seemed to have got what we call 'Paki-bara (severe gastroenteritis by food poisoning in Pakistan)'.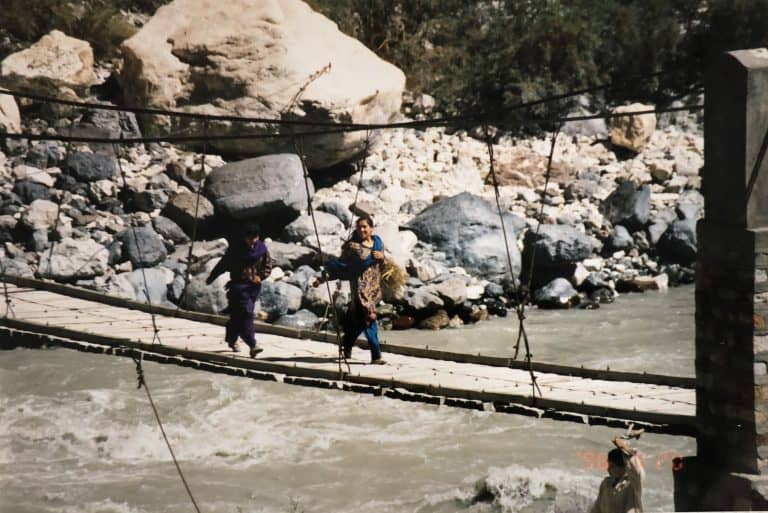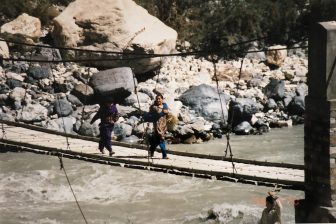 He seemed not well in the next morning, either, so I was thinking we might have to stay one more day here, but after drinking a cup of tea and some more sleep, his stomach calmed down.
So, as planned we chartered a jeep (1000 rupee) with the British man and went down on the Karakorum Highway.
Because it was a private car, we could stop as many times as we wanted to take photos, which was very different from the previous regular local bus.
We had a rest and had some tea at the small village called Passu on the way.
They served tea in a tea pot with the tea cosy and we drank it with the tea cup, which was very English.
The service was refined, too.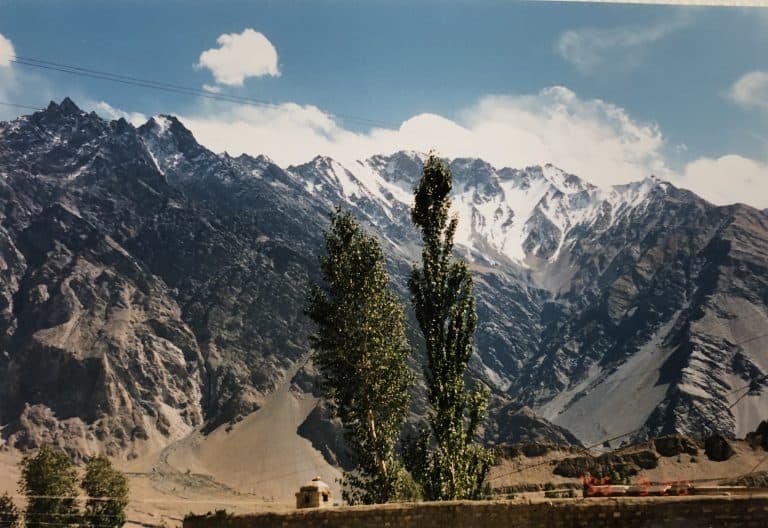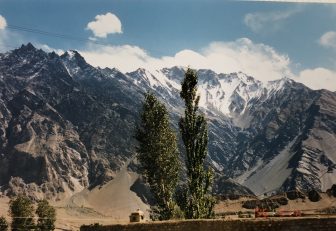 I was surprised to see that the culture was so different just because we came to the other side of the mountain pass.
Those people living in the valley, especially the women were colourful and photogenic.
They were wearing bright coloured Salwar Kameez and some were with the hats, similar to the Tajik ones and big shawls.
Some did not have any head covers, which meant that the Islam around here was less strict.
At the foot of greyish steep mountains, there were some spots of green and that were the villages.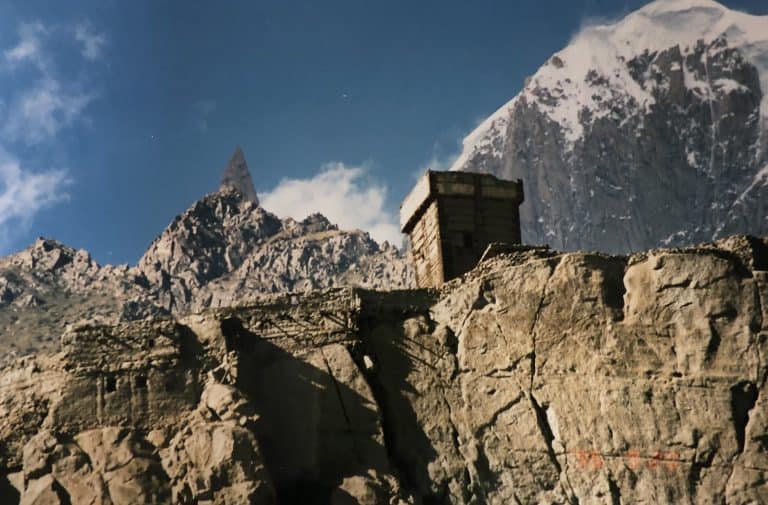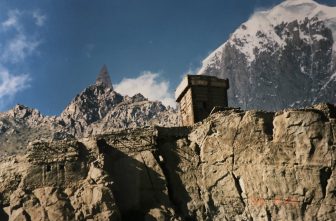 Their houses were low and made of stones.
At one village we saw a lovely terraced field and according to the driver of the jeep, they were growing potatoes there.
After more than two hours journey, just before arriving our destination, Karimabad, we looked up at Altit Fort.
The tower there apparently was about 1100 years old, which makes  the oldest building in this region.