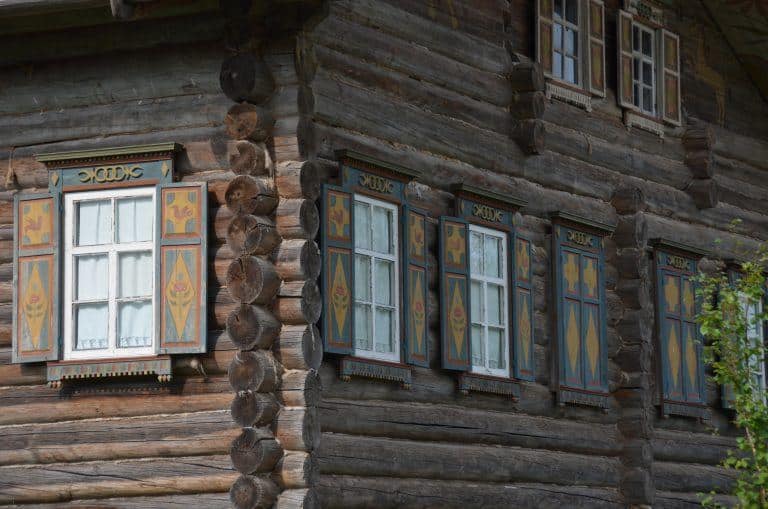 [ Aug.2017 ] The first port of call during our cruise in Russia was Mandrogi, a village on Svir River.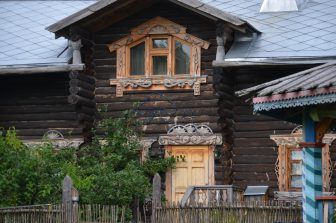 This is a new village which was recognised as a village in 1999 and the whole village was a sort of theme park.
A certain business man started this project on the desolate ground in 1996 and built many pretty traditional Russian wooden houses which are now handicraft workshops, hotels, restaurants and so on.
I would say this is a holiday resort for Russian people.
When we had our briefing in the morning, our tour leader told us that our sailing route was not developed after the Soviet Union for foreign tourists but a longstanding cruise route for Russian people.
Originally this area was called Karelia and indigenous people called Veps were living.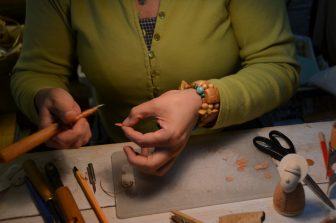 During the second world war, the Germans occupied here and local people were interned and did not come back.
Now, it is a proper village, so people not only work for the theme park for the tourists, but they live here too.
Our tour leader introduced this place almost apologetically saying "it is a bit childish here for foreign tourists", but actually I enjoyed it here very much.
After arriving, we had about one hour's free time, so we looked around the handicraft shops.
This was the best place for shopping during this holiday.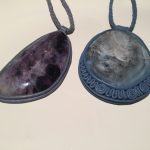 For example, at Olga's, who makes jewellery using mainly semiprecious stones from all over Russia with leather, we bought as many as three pendants.
And at the workshop of Anna who does intricate work with the skin of white birches, we bought a beautiful box.
I would have liked to look around more, but at 2:15 pm our BBQ lunch was fixed, so we had to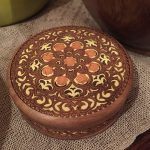 go to a big tent.
The meat was tasty, but the plastic dishes were so cheap, which spoiled the meal.
There was a stage there and the musicians from the boat, Nina and Igor played Russian folk songs, but the volume was too high.
It seemed that someone complained and our cruise manager, Elena stopped them abruptly, so Nina looked rather hurt.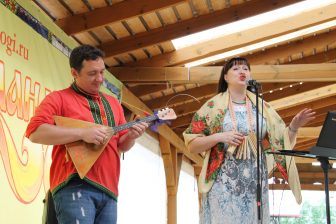 I felt sorry for them.
I wished they gave us all free time without any lunch arrangement.
The couple we had the lunch with told us that they saw a wonderful weaving, which we did not see.
Also, we could have visited the Vodka museum in the village, if we had more time.
We only stayed there about 2 hours.
After boarding the boat again, in the afternoon, we had a lecture about Rasputin by Paul, our tour leader.
Rasputin was born in a peasant family in Siberia and it is said that he had the power to heal the wounds of animals ever since he was little.
Alexandra who was the wife of the last emperor, Nicholas the second, was a granddaughter of Queen Victoria of England, but she was rather silly and superstitious.
And Nicholas danced to his wife's tune and that is why Rasputin got into the palace.
When Rasputin was nearly assassinated and nursing his injury, Russia entered the First World War.
Rasputin tried to stop them to go into the war which Russia lost as many as 4 m people.
Paul said this is a big "if" in history, by which he means that if Rasputin was not away because of his injury, Russia could have avoided the loss and even the subsequent revolution.
In the end Rasputin was killed by a wealthy aristocrat called Felix Yusupov who used poisons and guns to kill him, but apparently he did not die easily.
By the way, this Yusupov escaped the revolution running away to western Europe using his wealth, but towards end of his life, he became poorer and lived as a taxi driver in Paris.
Paul told us that he has not got any qualification as a lecturer, but learned Russian history just because he was interested in it.
But he gave the lecture professionally as if he was reading a script without stopping saying 'er..', which was very impressive.