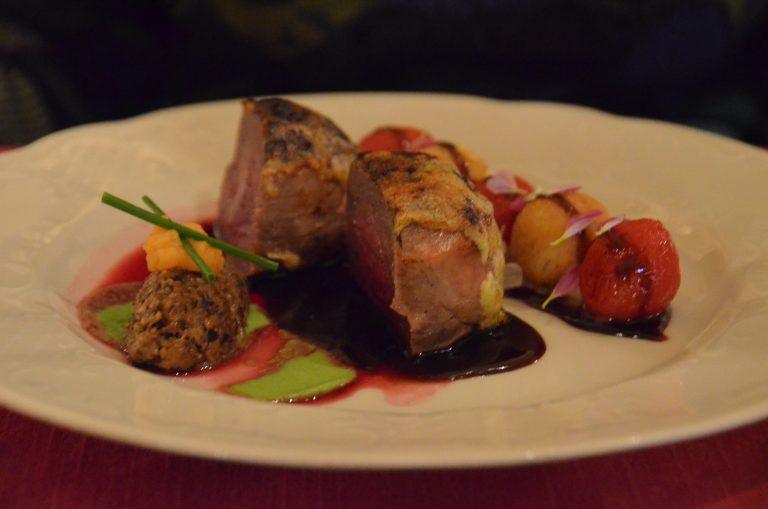 [ Aug.2017 ] When we were given free time during our Moscow city tour in Russia, we decided not to rejoin them, and went to a restaurant ourselves.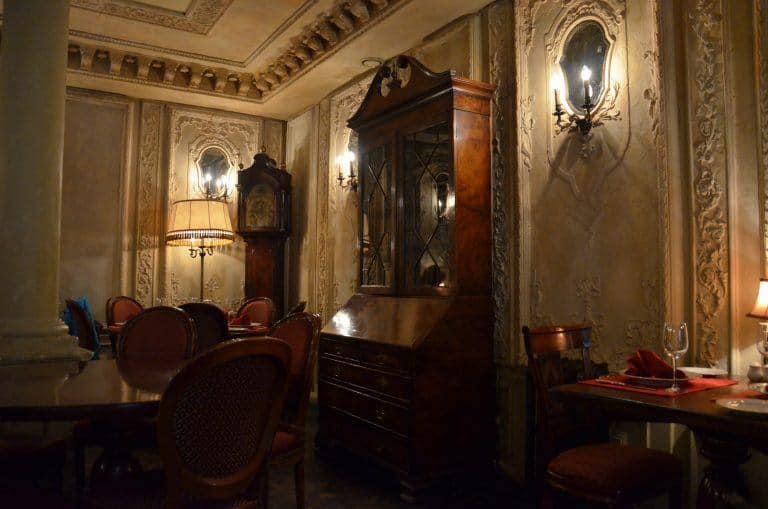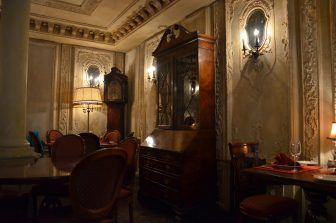 The restaurant is called Cafe Pushkin.
When our tour bus passed there, our guide had said it was a good restaurant.
When we entered the restaurant, as soon as my husband said one word in English, the staff's expression changed slightly and we were ushered to one room to the right.
I guess that this room is reserved for tourists.
It was full of Chinese tourists when we arrived and after they left, some Japanese and French tourists came in.
The interior was quaint and it looked as if they had a long history, but in fact it opened only in 1999 apparently.
A waiter who introduced himself at first served us very well until the end.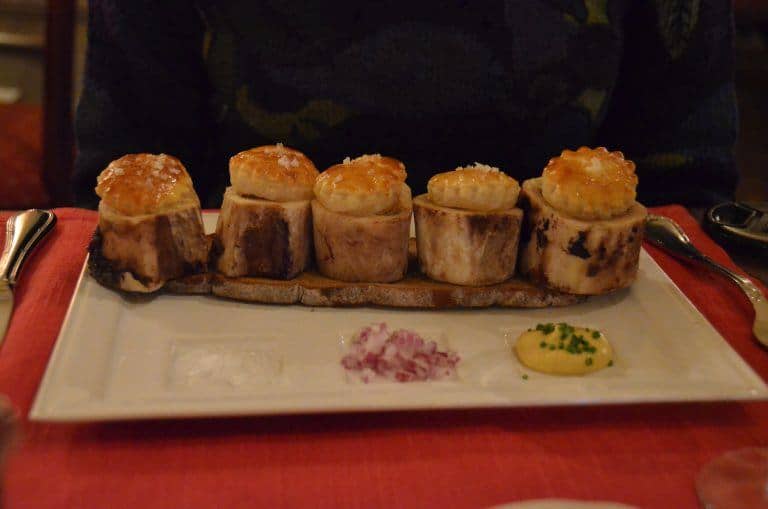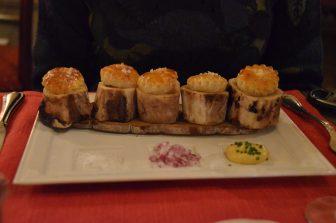 I chose a bone marrow dish for the starter.
I was surprised to see that they served as many as five of them.
They came with salt, onion and mustard and it was really good.
My husband chose something like Pirozhiki but flat — because the menu was only in English and French, I am not sure it was really Pirozhiki, though.
As for the main dish, I chose venison and he chose pork.
Both were elaborate and sophisticated and better than expected.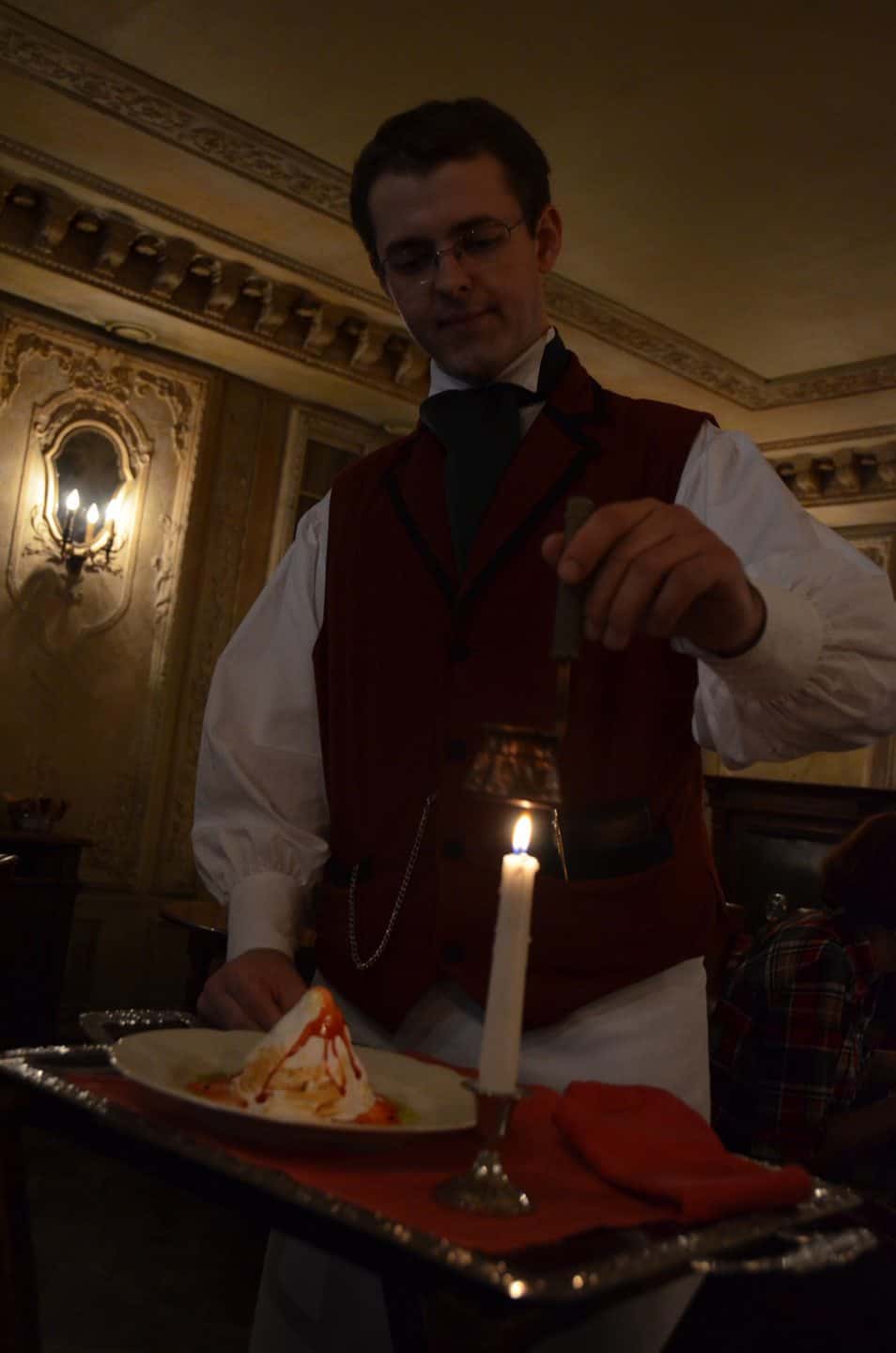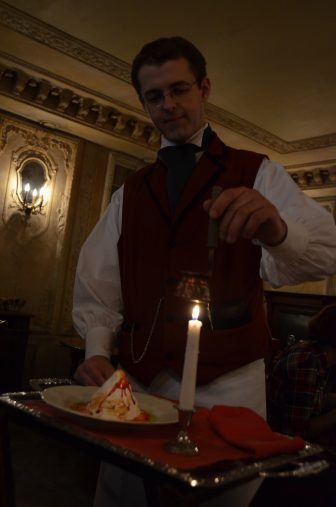 I had the dessert of three kinds of sponge cakes which were served in a pretty lacquer box.
They were good at presenting foods, too.
My husband's dessert was a meringue cake with some liqueur and the waiter put a light on it.
Including a bottle of Chilean Malbec and glasses of pink champagne, the bill was 15000 Rubles (about £195, €210 and $255).
Apparently the pink champagne was expensive, 4000 Rubles, but apart from that, the price was not too bad.
Because the atmosphere was rather posh, I did not take many photos of the interior, but later I learned that in Russia they do not mind taking photos in restaurants.
The toilet there was lovely, too, by the way.
In our cruise tour, all the meals were included, but having a great meal in a proper restaurant was important for us to make our mind uplifted even during a dark cold rainy day.