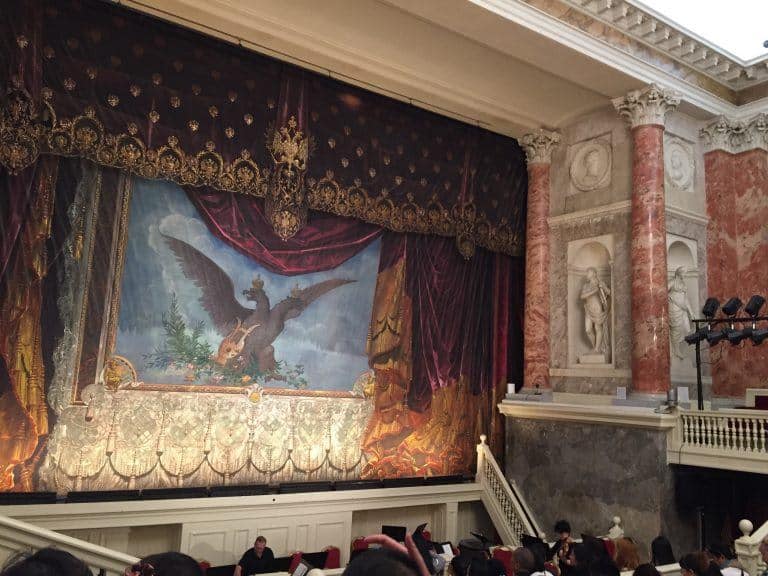 [ Aug.2017 ] Seeing a ballet performance at the Hermitage Theatre in Saint Petersburg was an event included in our cruise tour in Russia.
This theatre is one of the five buildings of the Hermitage Museum and it was built between 1782 and 1788 on the orders of the Empress Catherine the Great.
It was designed by the Italian architect called Giacomo Quarenghi.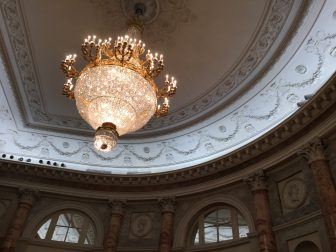 During the Soviet era, it was not used as a theatre but it was a lecture room for the museum.
It was reopened to the public as a theatre in January 1991.
It is a small theatre and the seats are bench type that you cannot reserve.
So it is important to go early to get a good seat, though the advantage of Quaranghi's design is said that you can see the stage very well from anywhere.
The programme was "Swan Lake" and although the stage was small, they performed it all the way through properly.
The ballet company was called the Saint Petersburg Festival Ballet and it seemed to be a touring company.
The main roll Odette / Odile was danced by Margarita Rudina, which was very good as well as Von Rothbart and the jester, though the prince Siegfried was embarrassingly bad.
But generally speaking, it was better than I expected as a performance for tourists and I had an impression that Russia has a large stock of dancers, as might have been expected.
And I was surprised to see a Japanese dancer here, whose name was Arisa Hashimoto and she danced important rolls such as 'Little Swans'.
Before we came to Russia this time, I checked if there were any performances at the Mariinsky Theatre in Saint Petersburg or the Bolshoi Theatre in Moscow, but unfortunately both were closed for summer so I knew that we could not see the proper ballet, so I was satisfied with this ballet performance.
By the way, one thing I cannot help but write about is Chinese tourists.
When we arrived at the theatre, the front rows were occupied by them.
And I saw one of them took his shoes off and raised his feet on the seat.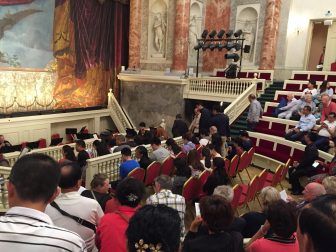 On top of that, when my husband went to toilet, to keep his space, I put our programme which we bought there on the seat.
The Chinese man on the other side picked up our programme without saying anything and started leafing it.
I complained in English but he said something in Chinese and kept looking at it and finally when he realised that it was written only in Russian and English, he threw it back on the seat.
Also, in the latter part of the performance, his wife (probably) seemed tired of it and kept talking in their peculiar high pitch voice on and on.
Our tour itinerary instructed us to dress up for this event, but our tour leader, Paul said "No need to do that" beforehand and I was wondering why, but now I knew this was why.
Not only in this theatre, but also everywhere in Saint Petersburg was full of Chinese tourists.
So much so that it was very difficult to take photos without them getting into a picture.
I thought it was rather strange that so many of them were here, so we looked on the internet and found that they do not need a visa to get into Russia, while we had to pay about £140 (€157 or $185) each to the agency to get the visa.
The couple we shared the table with for dinner on the day said that their guide on the bus told them that Chinese groups use only their own guides, so the local industry does not get much benefit from them.
It is a good thing for them that vast numbers of Chinese people are now wealthy enough to travel abroad, but I strongly hope that they do not follow the famous Japanese phrase "If everyone crosses against the red light, then there is nothing to be afraid of", but follow the proverb "When in Rome, do as the Romans do".