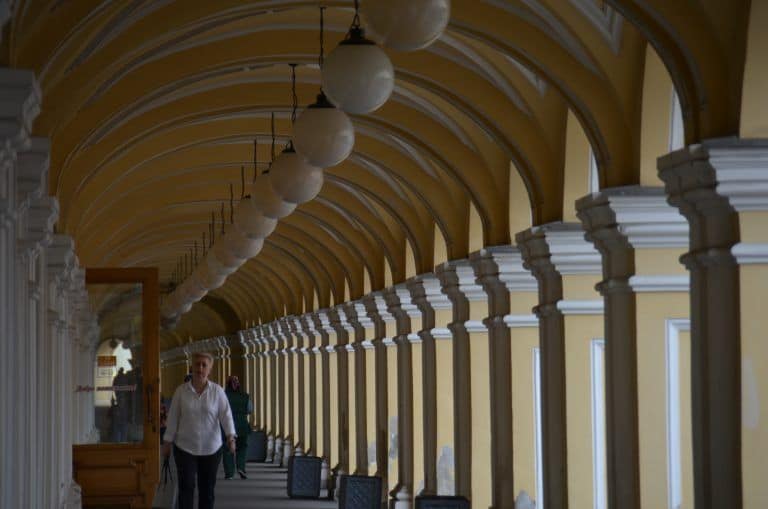 [ Aug.2017 ] Our very busy sightseeing tour in Saint Petersburg in Russia continued.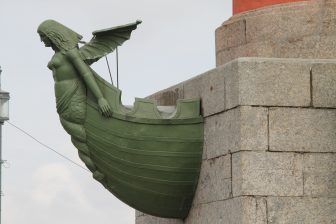 We saw a couple of red pillars called Rostral Columns on Vasilyescsky Island.
I read our guide book now and found that there is the Stock Exchange building nearby, but I cannot remember seeing it, maybe because I was looking towards the river only.
When the tour is too busy, this kind of thing happens.
These Rostral Columns had some decorations taken from enemy ships.
They used these as lighthouses lighting a fire on top of the pillars during the time when the Strelca (spit) on the island was a port. Even now they light a fire there on days when there is important news.
After that, we went to see the Russian cruiser Aurora, which was used during the Russo-Japanese War.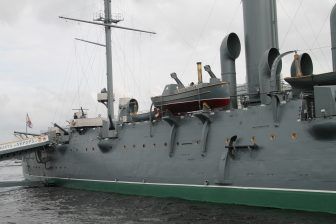 Also in 1917, this cruiser bombarded the Winter Palace, supporting Bolsheviks, which is said that the starting point of the October Revolution.
It seemed that tourists could get on the ship, but we did not and just had a look from outside.
Then we had our lunch break at Arts Square where we had our lunch box which was handed out in the morning.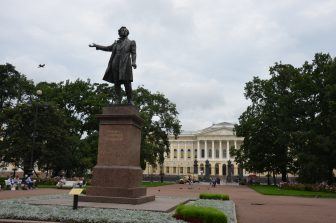 The things I found in the box were some very bad sandwiches, an egg, some cakes and so on.
I felt sorry but after eating just a bit, we threw it away.
Because this was a part of our cruise tour, which included all the meals, they had to give us this lunch box, but I would have preferred if they would introduce some cafes where we could have had a nice light lunch.
We then had a small amount of free time, so we went to walk along the Nevsky Prospekt, the main street in Saint Petersburg.
We went into Gostiny Dvor, the department store in the yellow building which was just in front of us.
Actually this was my second visit to this city and I remember that I bought something in this shop last time.
But this time, it was eerily quiet.
I felt the shop assistants standing here and there were following us with their eyes.
Later, I asked Natasha our guide from the boat why and she said " Did you see the price tags? They sell only the most expensive top end stuff which we cannot afford".
But the last time I was there (about 13 years ago), it was not so empty.
And this reminded me of our Russian friend who was born in this city and now lives in Italy said a while ago "This time when I was back in Saint Petersburg, people looked as if they were at a funeral".
It may be that since the Crimean Crisis in 2014 the western countries have sanctioned Russia and that has caused difficulties in the Russian economy.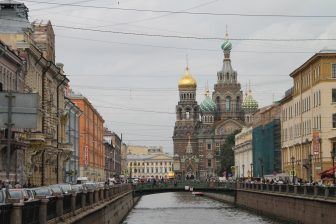 But outside of Gostiny Dvor shop, there were many people walking along Nevsky Prospekt and there was life on the street.
I remembered that there was a point on this street where we could see the Church of the Saviour on Blood over a canal, so we decided to get there.
But the problem was the size of this city.
Every building was so large that it takes many steps to get to the next.
In the end we reached the spot and took a few photos and hurried back to the meeting place which was a souvenir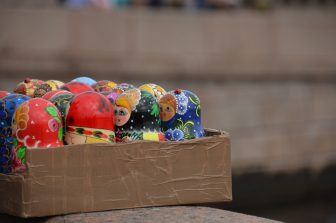 shop.
Talking about souvenirs in Russia, the most famous ones are the Matryoshka dolls, but amber jewelry is second.
I looked at them and found that they were outrageously expensive, for example for only about 3 cm long stone cost as much as £300 (€336 or $395).
I am sure the reason was the rapid increase of tourists from a particular country, who likes amber jewelry.