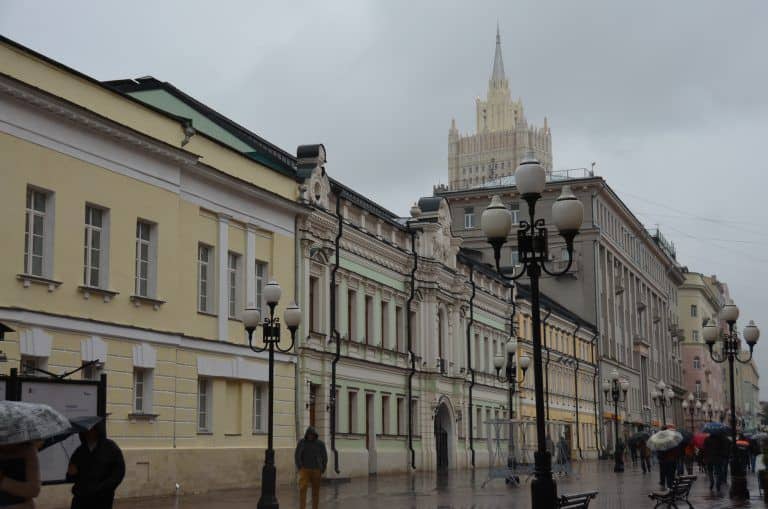 [ Aug.2017 ] After the good lunch in Moscow in Russia, we took the metro and went to Arbat Street.
It was cold and still raining.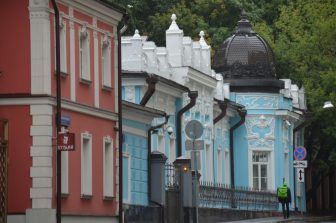 Someone told me later that in Russia, they had more rain than usual this year.
Arbat Street has a long history since the 15th century and it became a pedestrian street in 1980s.
I have a memory in this street.
When I was walking and eating a skewer of Shashlik ( Kebab) in this street on my own towards the end of Soviet era, a drunk man started talking to me and somehow I ended up sitting for a portrait painter.
In those days there were food stalls, street performers and portrait painters in this street.
I think this painter had never drawn an Oriental face.
He took as long as three times more than other painters and the result was like an old fashioned actress maybe from Hong Kong or somewhere and not like me at all.
I wanted to take that drawing to show my friends for a good laugh, but the drunk man paid for it and took the picture.
This drunkard even said "Lyublyu tebya (I love you)" to me, but I managed to ward him off nicely and went back to the hotel.
In those days the people in Soviet Union were kind and I could walk anywhere in peace.
When I asked the way to a man in a metro station, he took me all the way to the spot where I could see the hotel.
They were kind maybe because I was a young woman, though.
Arbat Street this time was rather empty without any performers, food stalls or painters, maybe because of the cold rain.
There were many large souvenir shops along the street and we popped in to some of them, but every shop was selling the same kind of things and they were not interesting.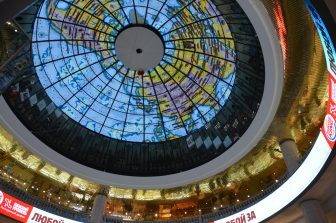 I was a bit disappointed really.
So we went back to the centre near the Red Square and went to the underground shopping center, Okhotny Ryad.
We found that this was a very ordinary shopping center with a dome which reminded me of the shopping center in Kiev.
In Moscow there are many Western chain stores, such as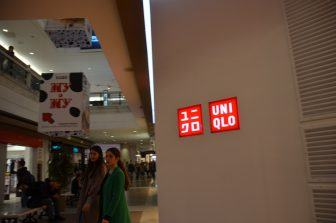 McDonald's, Starbucks and even Paul, the French bakery but I did not expect to see Uniqlo here.
Uniqlo has not expanded even in Italy, yet.
Also, there were some vending machine of DyDo in the underground path.
It said "We are from Japan".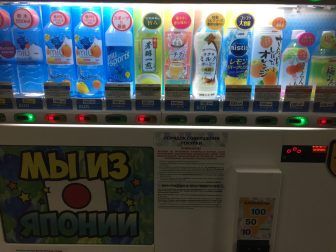 It just happened that I was a bit thirsty, so I bought a bottle of  "Iyokan Lemon" which cost 100 Rubles (£1.30, €1.40, $1.70), a little expensive.
There were many 'sold out' signs, so probably they do not supply so often.
By then we were quite tired so we decided to get back to the boat.
We went up to Rechnoy Vokzal metro station smoothly, but from there we were in trouble.
Because the map they gave at the boat was so sketchy that we got lost in the dark.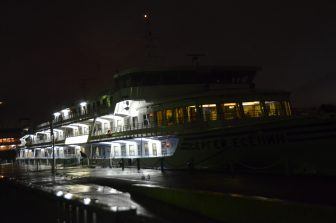 We had to go through a park and there were not many people walking there.
We asked at some kiosks and stopped a few passersby and in the end we managed to reached our boat.
Because of this, we found that many of ordinary people in Moscow could speak English.
Well, that was the end of our Russian cruise holiday.
This holiday made me feel like visiting more places in Russia.
Especially I would like to do another cruise trip, this time from Moscow to the south to Caspian Sea one day.
My husband says he wants to go to Lake Baikal, though.