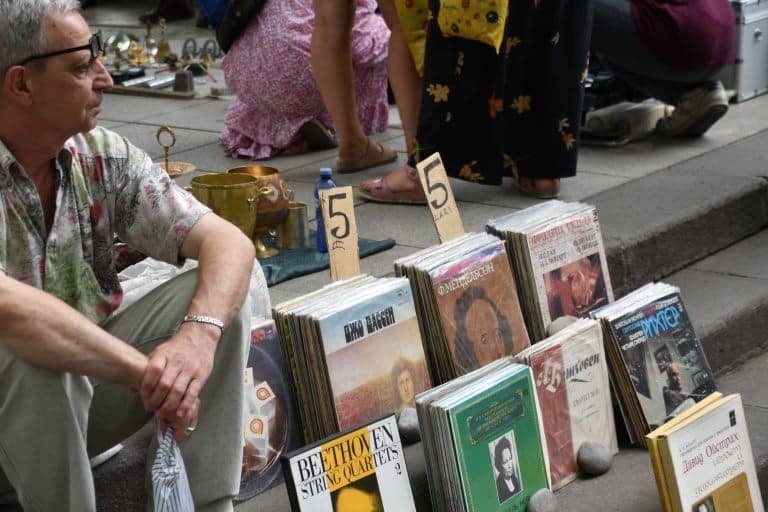 [ July, 2018 ] On the second day of our summer holiday in Georgia, after lunch in the old town of Tbilisi, we headed for Sioni Cathedral nearby.
I enjoyed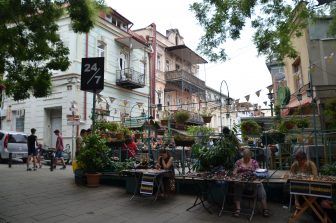 walking around this area, where people were selling their own creations on the stalls.
I bought one small silver ring, which was designed by the vendor and based on the old design of a museum piece.
It was only 40 Lari (£12, €13, $15.50), but this man looked very happy, saying something like "This month is my month. It's been really good".
Sioni Cathedral was originally built in the 6th century, but rebuilt again and again and the current building was renovated based on the 13th century design.
Here, they keep Saint Nino's cross, made of branches of a vine tree.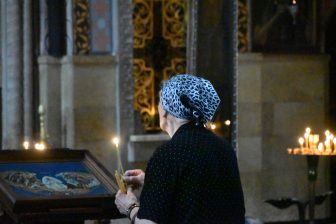 Saint Nino is the person who brought Christianity to this country.
This cathedral had been the head temple of the Georgian Orthodox Church for a long time, but in 2004, the new Holy Trinity Cathedral became the head temple.
The inside of the Sioni Cathedral was full of frescoes.
Apparently, the colourful frescoes on one side are Russian and the quieter ones on the other side are Georgian.
The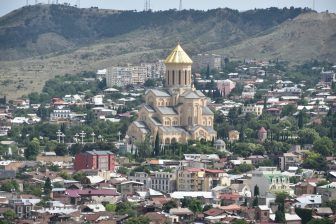 local people who were praying here made a seriously strong impression on me.
By the way, the current head temple, the Holy Trinity Cathedral, is huge and it is said to be the 5th largest orthodox church in the world.
To build this church, the local business people raised fund money.
After Sioni Cathedral, we went to Dry Bridge Market.
Earlier in the day on the way back from Mtskheta, our young guide, Ana, pointed out this market, saying "They sell big CDs like this" making a circle with her hands.
The "big CDs" referred to vinyl records.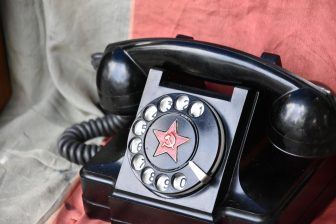 That made us laugh.
For Ana, who is 19, vinyl records were relics from the past.
In the West, vinyls are coming back in trend, but maybe not in Georgia.
In this market, they were selling antiques, including vinyls, music instruments and so on, as well as paintings and handicrafts.
I was expecting to see some antique jewellery, especially something made with amber, but it seemed that I was too late.
There were some amber looking things, but the vendors told me honestly that they were made of pressed amber.
I was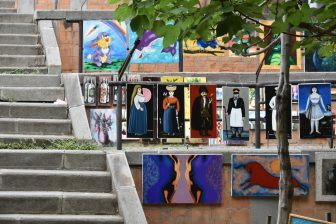 underestimating the potential of Georgia to be a major tourist destination, yet, but in fact there were already many Chinese tourists here, so probably they had already bought everything valuable.
We did not buy anything in this market, but we enjoyed walking around looking at various things.
Incidentally, we brought US dollars for this holiday, thinking that we could occasionally buy things in dollars, but in fact, Georgia banned trading in foreign currencies this year.
To this market from the old town, we took a taxi.
The taxi on the way did not have a meter and charged us as much as 30 Lari (about £9, €10, $12), which was obviously a rip-off.
On the way back, we asked the taxi driver beforehand and it was 10 Lari.
I particularly remember that I was impressed by the taxis here 18 years ago, when I visited this country for the first time, that they never duped foreign tourists and I thought at that time that Georgian people were too proud to do that.
Some things have changed…