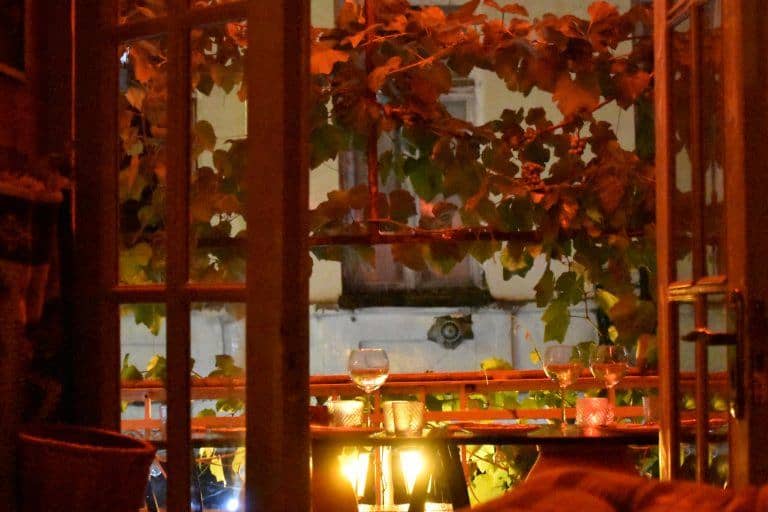 [ July, 2018 ] On the evening after we arrived back to the capital, Tbilisi, from our journey in Georgia, we loo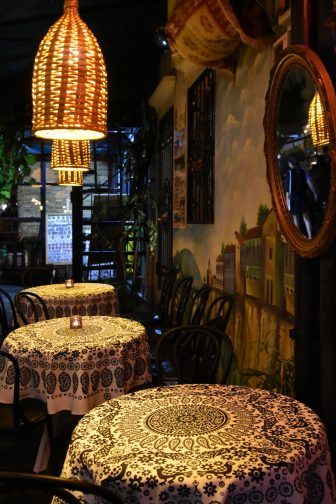 ked for a restaurant called Orshimo, which had a good reputation online.
The table cloths here were distinctive.
It was a hot day, so most of the people were eating at the outside tables, except us.
After a while, suddenly it started raining hard, so all the people came inside.
This might be the reason that the waiters seemed rather panicked and our waiter forgot our orders twice.
When we reminded him, he genuinely showed that he had forgotten and apologized,  so it was easy to forgive him, but I would say that he did not have enough professionalism.
The dish I had here was, again, chicken Tabaka, which I loved during the travelling.
It was good here, too.
My husband had a dish of some fried sausages with wine sauce and he liked it, though I cannot remember the name of it.
The wine here was expensive and we chose a fairly reasonably priced bottle, which was not particularly good, unfortunately.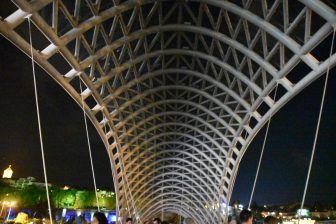 After dinner, when we got out of the restaurant, the rain had stopped, so we walked around a bit in the dark.
We crossed the 'Peace Bridge'.
Because it was Friday night, the town was lively and we did not feel any danger.
That reminded me of what Zia, our driver, had said, 'There is a statistic that Georgia is the third safest country in the world'.
On the morning of our last day in Georgia, we got up early to go back to the bath house we had been to on the first day of our holiday.
This time, we chose the smaller room without the massage and just relaxed in the hot water.
It was first thing in the morning, so it was clean, there were fewer people and even the receptionists were nicer.
That healed our fatigue from our travelling.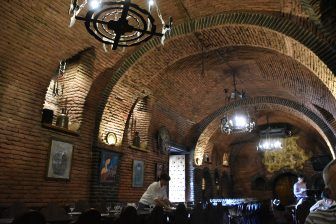 And then, we went to have our last meal in Georgia at the restaurant called Old City Gate, which also had a good reputation.
It was a bit dark, like a tunnel, but the food was excellent, apart from the salad of cucumber, tomato and nuts, which contained a piece of coriander by mistake.
My main was the chicken dish called Shqmeruli with a creamy sauce with garlic, a little like Aioli.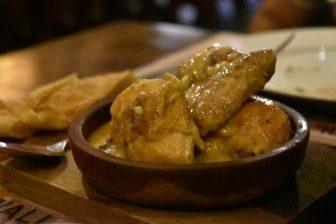 This was really delicious.
I cannot tell which was better, this one or the Tabaka.
My husband chose the BBQ pork dish.
Each piece of meat was on top of a piece of potato and it was all really tasty.
So it was really a satisfactory lunch, but here, too, the waiter forgot our order.
However, t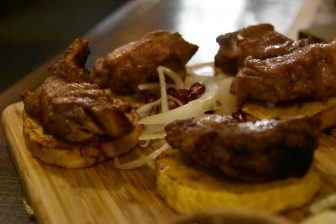 his waiter was a little more cunning than the previous one and did not show that he had forgotten it.
Well, it did not matter because the food was good.
It might be that, in Georgia, the restaurant industry is still immature.
Anyway, our full holiday in Georgia came to an end.
We had a wonderful time over there.
I felt exotic there, which I had not felt for a long time.
At the airport, we bought three bottles of our favourite Georgian wine.
At the moment, I am looking to see if we can buy them in the UK.