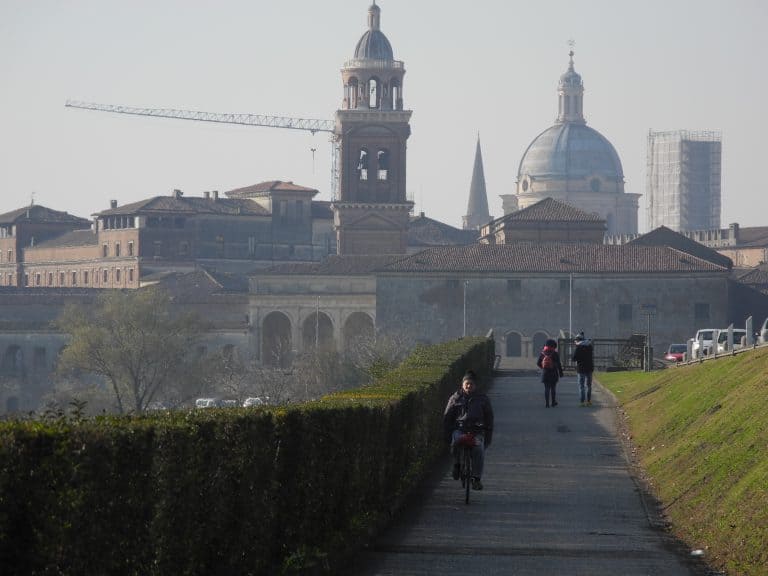 [ Dec.2018 ] On a day in the middle of December, when the weather was fine but bitterly cold, we visited Mantua from Milan in Italy.
Mantua is listed as a Unesco World Heritage site, together with Sabbioneta where we went in November, because both towns show how the towns were built during the Renaissance period.
The powerful aristocratic Gonzaga family reigned here from 1273 to 1707 and they established the Renaissance culture here.
We have been here before, but this time our purpose was to get into the Palazzo Ducale.
We went by car but all of the car parks in the town were full, so we had to go to the opposite side of the lake and park at a huge car park there.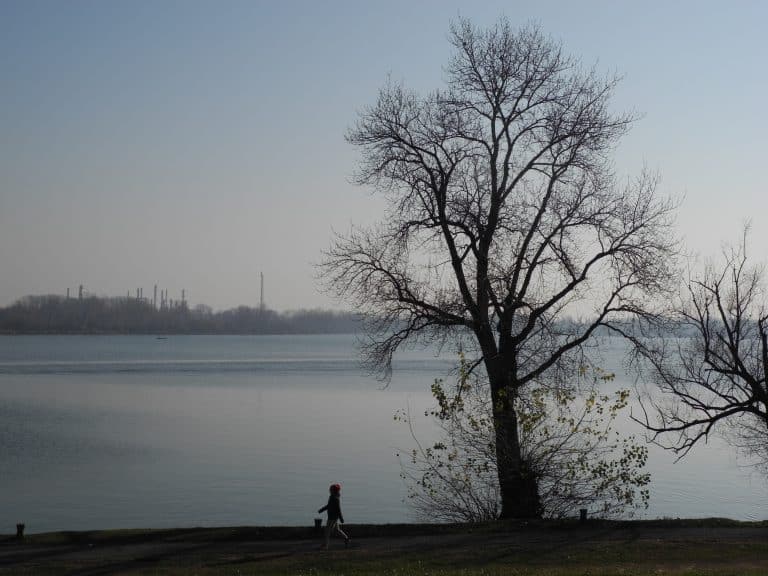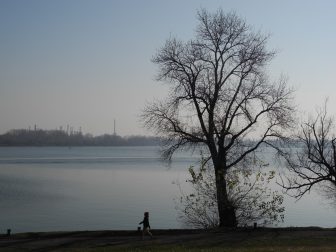 Three sides of this town are surrounded by three lakes.
All of the lakes are 12th century man-made lakes, which were created by widening the Mincio River that flows into the Po River, the longest river in Italy.
We found that there is a sightseeing boat on the lake, running twice a day in winter, but unfortunately, we did not have enough time.
We walked the narrow strip of land between Mezzo Lake and Inferiore Lake to enter the old town.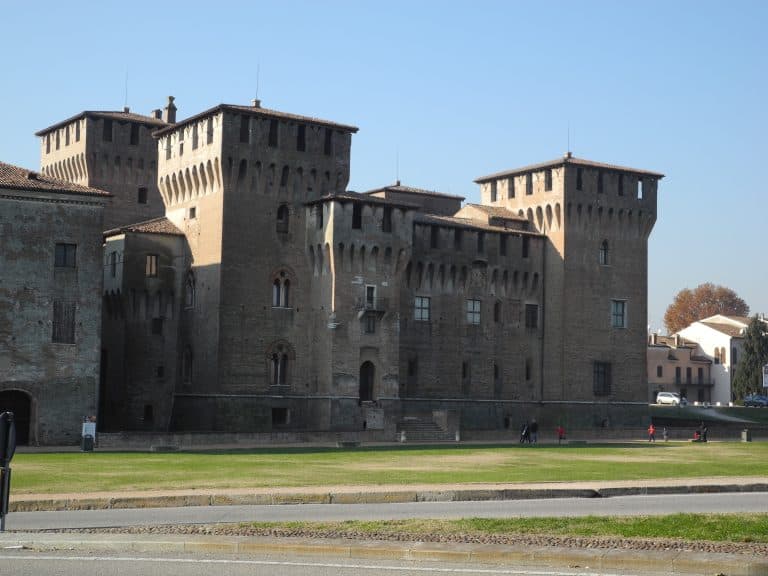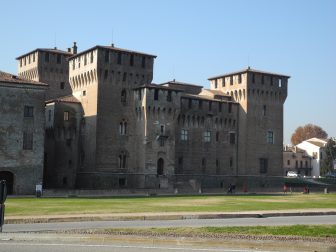 In front of us was the mighty Castello San Giorgio stood against the blue sky.
This castle is a part of the complex of Palazzo Ducale.
We bought the ticket which allowed us to enter various places in the Palazzo (€13) and we went to this castle first.
This castle was built between 1390 and 1406.
At first it was a separate building, which was next to the palace where the Gonzagas lived, but gradually it was unified.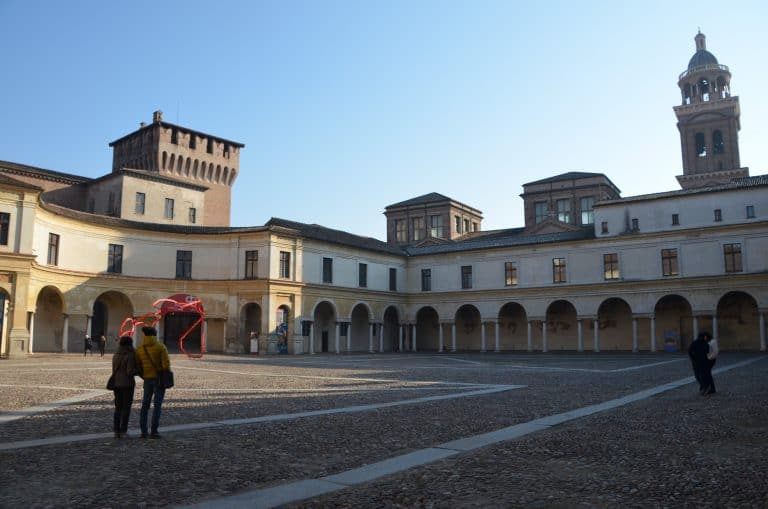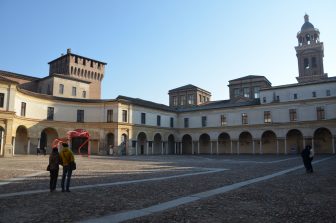 We entered the castle after crossing the Piazza Castello.
The first few rooms were used as an exhibition hall and on the day, they were showing historical pictures made of semi-precious stones, as well as how to make them.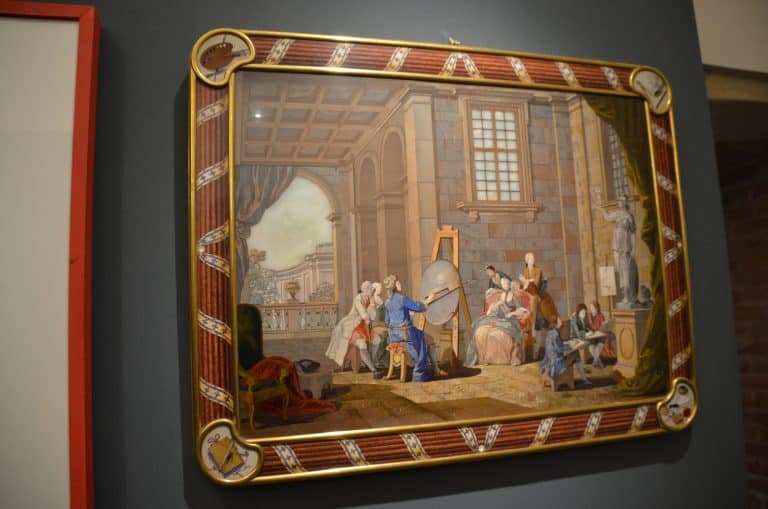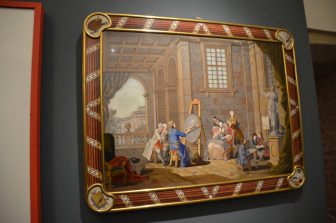 For me, the semi-precious stones such as Lapis Lazuli and Agathe are familiar only as jewellery and it was very interesting to see the video showing that those stones were cut finely to make a wonderful picture.
After being impressed by it, we moved to the Camera delli Sposi (the Couple's Room), the highlight of this castle.
It is a square room with beautiful pictures on the walls and the ceiling.
According to the guidebook we bought in this town, the pictures in this room are examples of Renaissance pictures in both their beauty and the perspective techniques.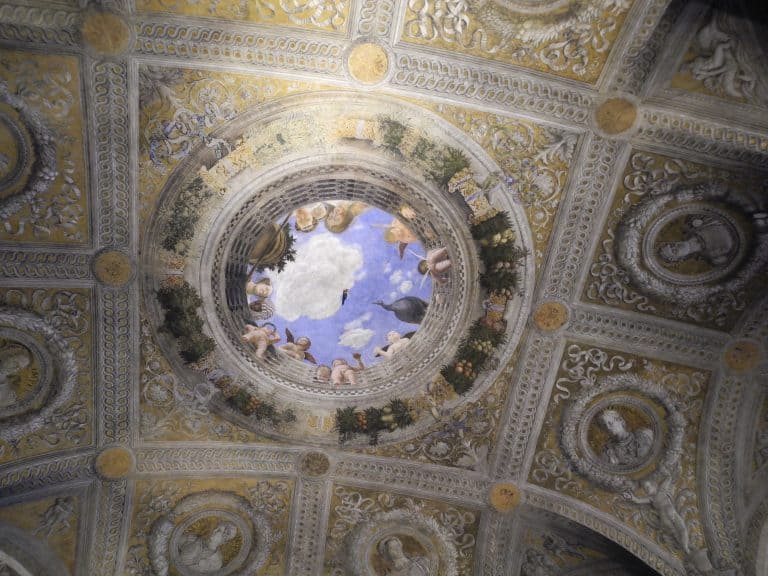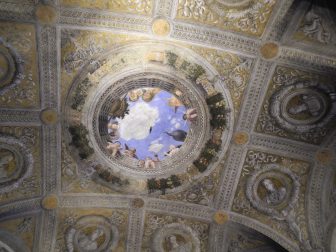 These pictures were painted between 1465 and 1474 by Andrea Mantegna.
They were dedicated to the then Marquis of Mantua, Ludvico III and his wife, Barbara of Brandenburg.
That is why it is called the Couple's Room.
Apparently, it was originally a bedroom.
In one part of the picture on the pillar, the painter painted himself in, though we did not notice that, unfortunately.