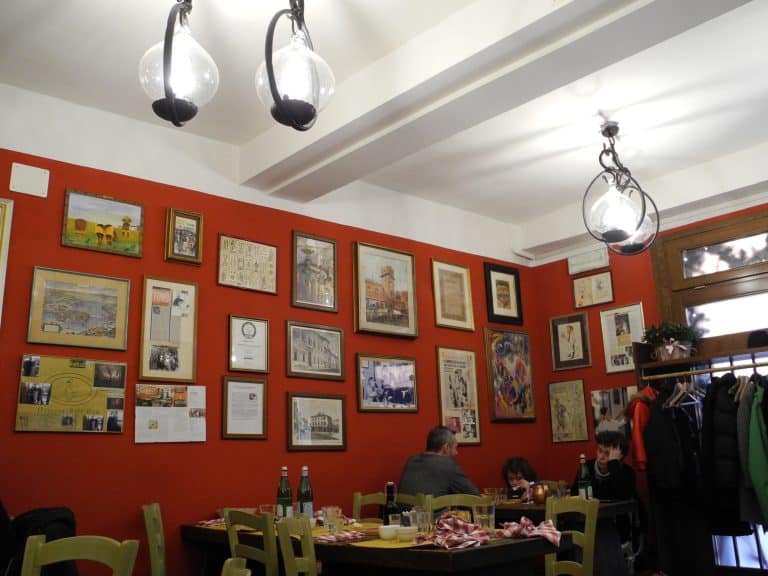 [ Dec.2018 ] After visiting Castello San Giorgio in Mantua, the World Heritage town in the north of Italy, we headed for the restaurant we had booked.
On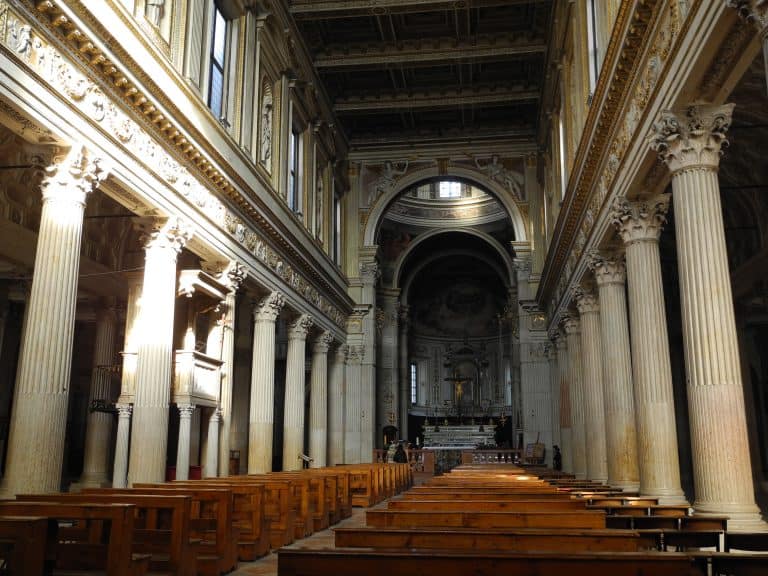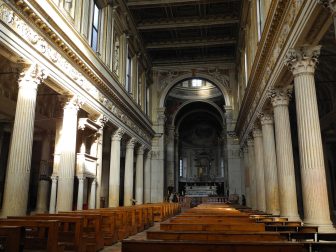 the way, we came across the Cathedral, so we popped in there.
According to our guidebook, there has been a cathedral on that site since the 11th century, but it was rebuilt many times and the basic design of the current cathedral was made in the 16th century.
The front, made of Carrara marbles, was built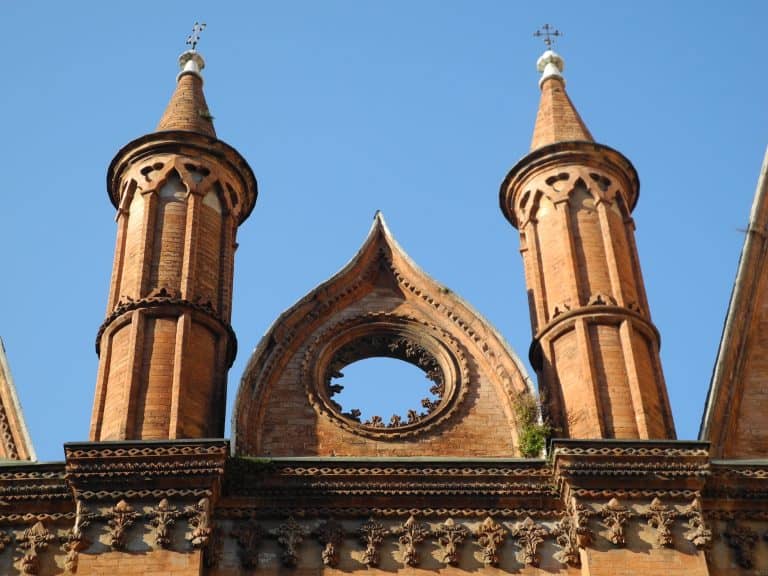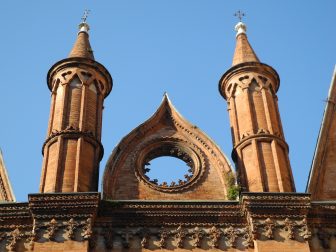 between 1756 and 1761.
The side of the building was made of bricks.
The frescoes inside the church were painted between the end of the 16th century and the beginning of the 17th century.
It is a grand cathedral and to be honest, I did not feel the warmth there, but the small chapels on the sides were charming.
We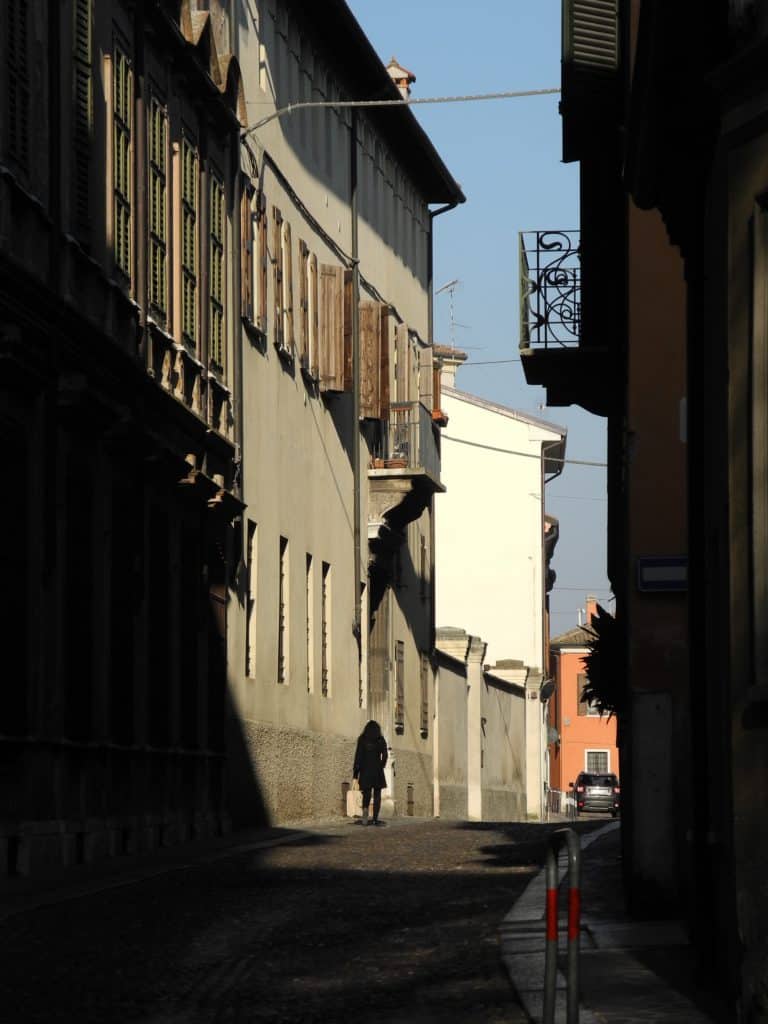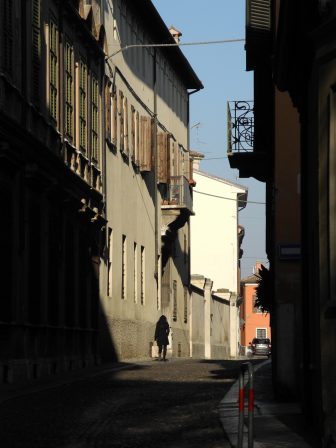 did not have much time, so we came out of it after our brief visit and started looking for the restaurant called Osteria dell'Oca.
Recently, we can use the GPS map on our mobile phones to go anywhere, so we did not check the place beforehand, which was a mistake.
Because my husband put the wrong address in by mistake, we ended up walking all over the old town of Mantua.
Thanks to that, we saw some quiet areas of the town, too, though.
Fortunately, this restaurant was a simple place and they did not mind about our being late.
When we opened the restaurant, the room there was already the dining room without any hall or corridors.
The menu was just a piece of paper and all the starters, mains, and desserts were printed in random order.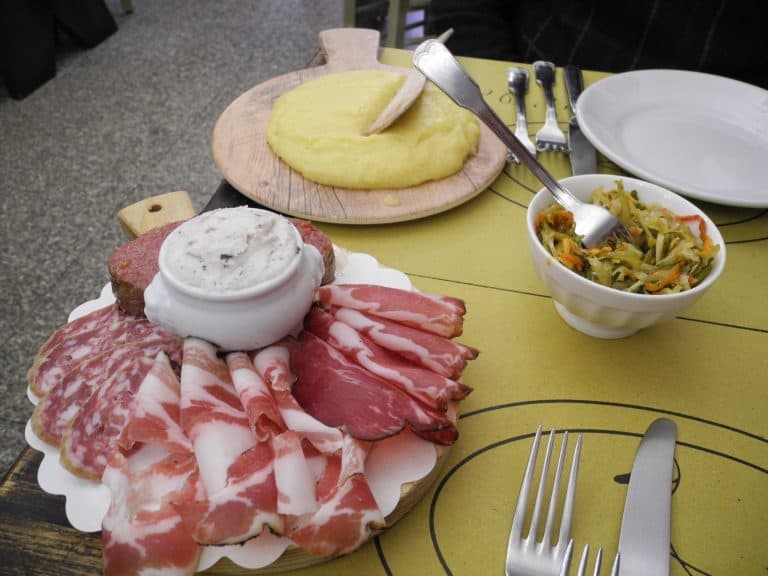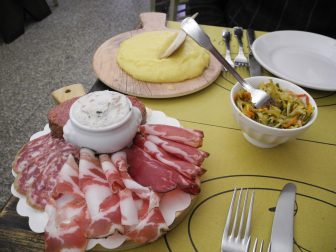 We shared the assorted selection of starters, which included varieties of ham, polenta, pickled vegetables and lard.
This lard was to use as the spread for bread or to eat with Polenta.
It was tasty, though it was too heavy for us and probably not very healthy.
For the main, I had lamb and my husband had Cotechino.
Cotechino is a heavy big sausage, but he told me that it was very tasty and not as heavy as the ones sold in supermarkets.
For the wine, we decided to base our decision on the name of the grape rather than the name on the label and it was served in a carafe.
We drank it from the water glass, rather than the wine glass.
The coffee was served in a copper container.
We had desserts as well and they served digestif (a kind of Grappa) on the house and altogether the bill was about €60, which was very reasonable.