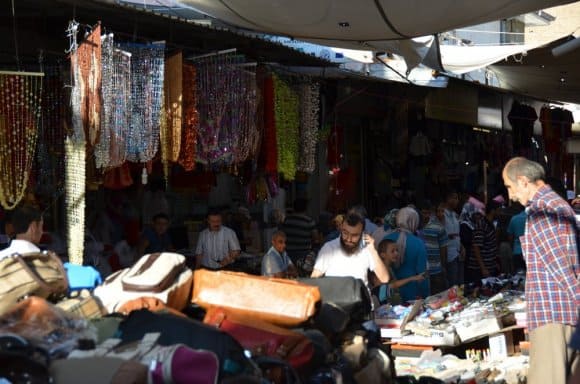 [August 2012] Konya in Turkey is a conservative town.
Maybe because of that, the market or bazaar was very traditional.
Well, it was very lively and crowded.
This is far from the craft markets for tourists but the market for the people living there.
For example, lots of men's trousers were sold, crumpled on a board.
There was a booth of selling brooms.
A young boy, about 10 years old, were calling loudly, standing on a stool, surrounded by thousands of melons.
This is real Middle East/Asia I have not seen for a long time.
I really felt overwhelmed.
By the way, apparently there are 3000 mosques in Konya.
In Istanbul there are 3000, too, but the population of Istanbul is 15m, while in Konya, only 2m.
There were 2 near our hotel and when the time came, we heard BIG chorus of the azan, the call to prayer!  Majority of people in Konya support current government which is related to Islamic religion, therefore the town gets a lot of subsidies from state and is developing quickly.