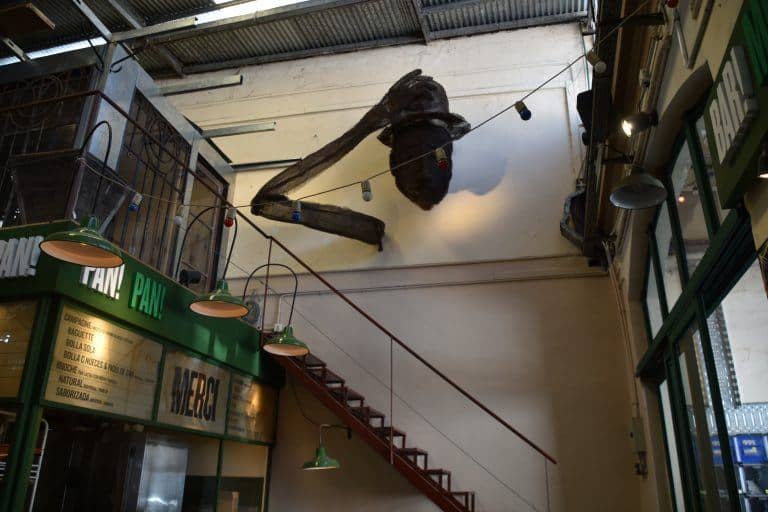 [ Mar.2018 ] The next place we went to during our city tour in Buenos Aires in Argentina was San Telmo.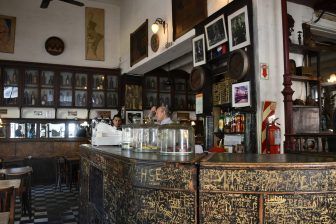 We had been there two days before to visit the Sunday market, so this was the first time for us to see the place without any market stalls.
The Dorrego square and the surrounding area had been very lively on Sunday with many antiques stalls.
However, on a weekday it was much quieter and the antique shops which were closed on Sunday were open.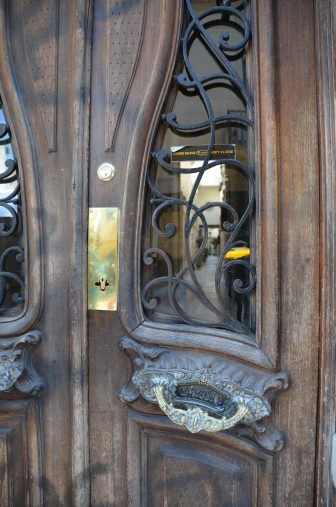 There was a small stylish shopping mall, too.
Just next to the square, there was an old cafe founded in 1889.
Also, when we peeked through a door, which looked like the entrance of one house, there was a narrow hallway inside and, on both sides of the hallway, there were many rooms.
I looked this up on the internet and found that there is an architectural style in Buenos Aires called Casa Chorizo and I wondered if this was that, though I am not sure.
After walking around the Dorrego square, we went to an indoor market called Mercado de San Telmo.
This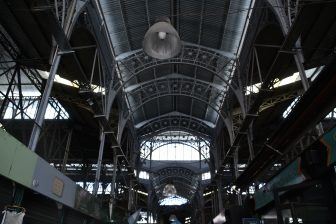 is a fresh food market built in 1897 and there are still some grocery shops and butchers amongst other classic shops inside, as well as the newer snack restaurants.
The antique-looking wrought iron structure was nice and atmospheric, which reminded me of another indoor market, the Central Market in Valencia in Spain.
There is a Dulce de Leche specialist shop in the market and they let us try some.
Dulce de Leche is a sort of soft caramel and is very popular among Argentinians.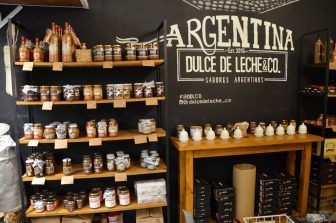 According to our guide, Elisabet, one housewife one time started cooking milk and sugar and forgot about it, which accidentally created Dulce de Leche.
Apparently there are slightly different ways to make it depending on the region and they all taste different.
In the shop there are many variations on the classic recipe, such as one with chocolate, with goats cheese, and with coconut.
We bought a bottle of the prize winning classic Dulche de Leche, which was the tastiest, and also the one with coconut.
Because they are big bottles, we are still enjoying them at home.
Argentinians also love biscuits with Dulce de Leche called Alfajor.
We tried a few, but they were too sweet for us, so we did not buy any.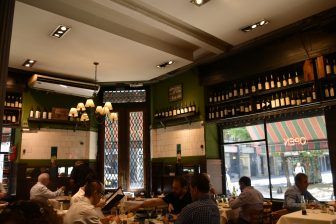 After we had visited the market, it was lunchtime.
Elisabet took us to a meat restaurant "where locals go and eat meat" and, surprisingly, it was Gran Parrilla del Plata which we had been to last time.
That means that it was not only popular among locals, but also for tourists.
The customers on this weekday all seemed to be local workers having lunch and, for some reason, all of them were men.
I did not know but this restaurant used to be a big butcher shop during the 1930s.
There were still some hooks and tiles from those days and the atmosphere was very nice.
This time, we ordered one plate of Bife de Chorizo to share.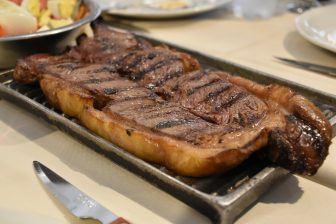 It was nicely salted and very tasty.
They served three sauces (Chimichurri, garlic and parsley, and chopped vegetables and oil) which were good with the meat and the bread.
For the dessert, I had a tall creme caramel and my husband had pancakes with Dulce de Leche.