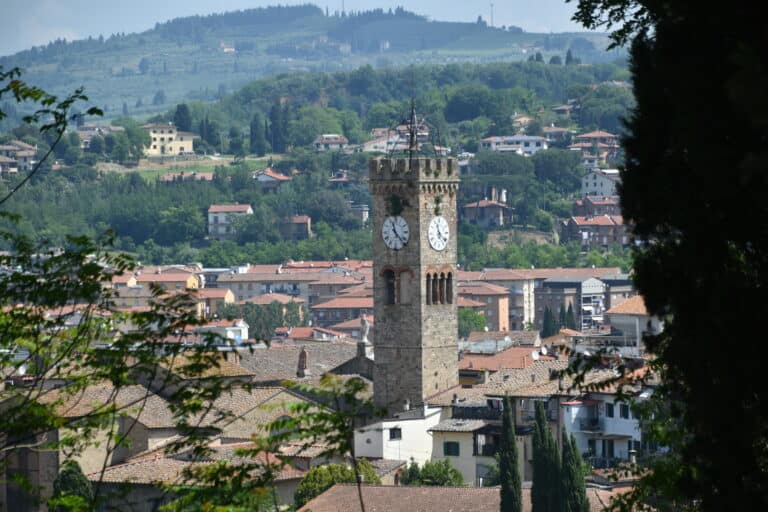 [June 2023] On our trip to unknown towns in the Tuscany region of Italy, the next place we went was Poggibonsi.
This is the point where people who go to San Gimignano by public transport usually get off the train and transfer to a bus.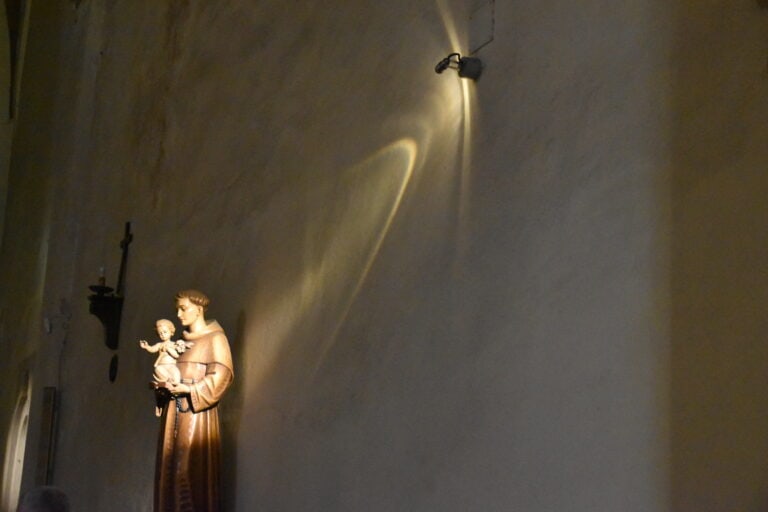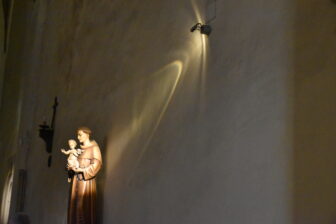 Since San Gimignano is famous and I'm sure it's crowded and we've been there several times, we decided to walk through this transfer point, Poggibonsi.
We couldn't even find a tourist information centre, so we looked at Google maps and first entered a church that seemed to have a long history.
The church is called Chiesa di San Lorenzo, and according to the information board, it has a history dating back to the early 14th century.
It was a simple church, but the light on the statues was lovely.
Even in a rural town like this, the design power of Italy is in full effect.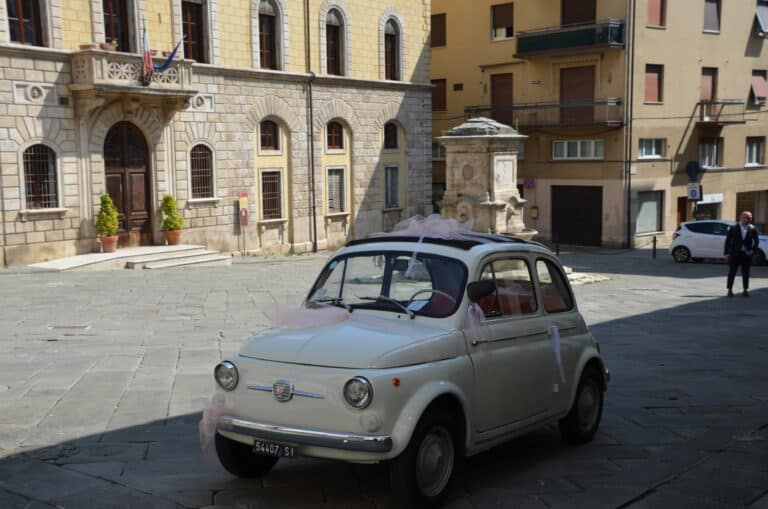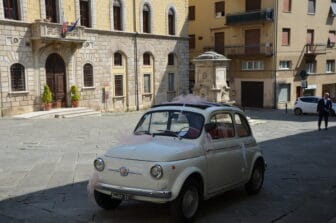 As we walked further, we came across a church called Collegiata di Santa Maria Assunta.
Here, they were in the middle of preparations for a wedding.
There was a cute Fiat 500 parked outside that was used for the wedding, which was photogenic.
Now, when we looked at Google Maps to see where we should go next, we found out that there was a castle not too far away on foot.
It's called Castello di Badia.
After being lost a bit, we finally arrived at the gate, but there was a sign saying, "Do not enter as this is private property."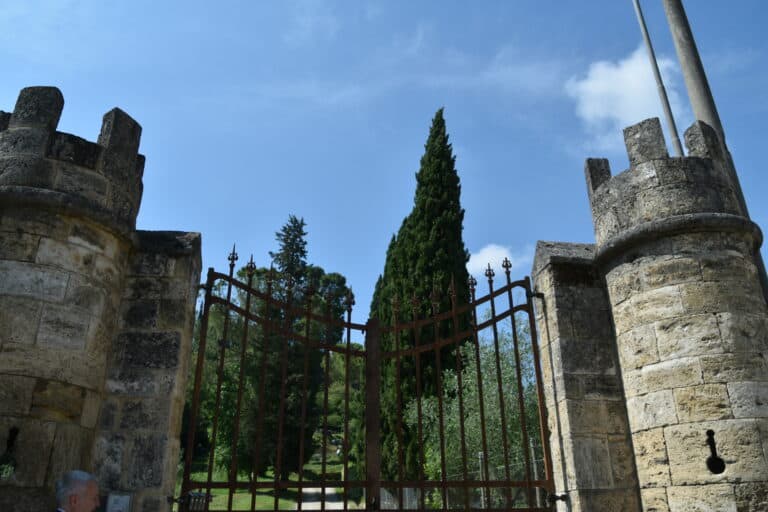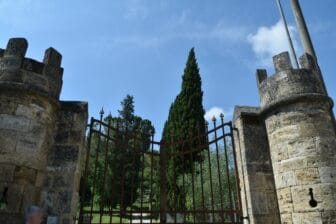 There were buzzers lined up next to the gate, and it seemed like there were about seven families living on the premises.
If I were alone, I would have given up at this point, but my husband rang the buzzer at the top that said 'Castello' and talked to the person who seemed to be the owner of the castle.
Apparently the owner said, "It's fine if you just look at it from the outside," so we entered through the gap next to the closed gate.
Mu husband also informed the gardener who was working there that we had obtained permission from the owner and made it clear that we were not intruders.
We climbed up a fairly long slope.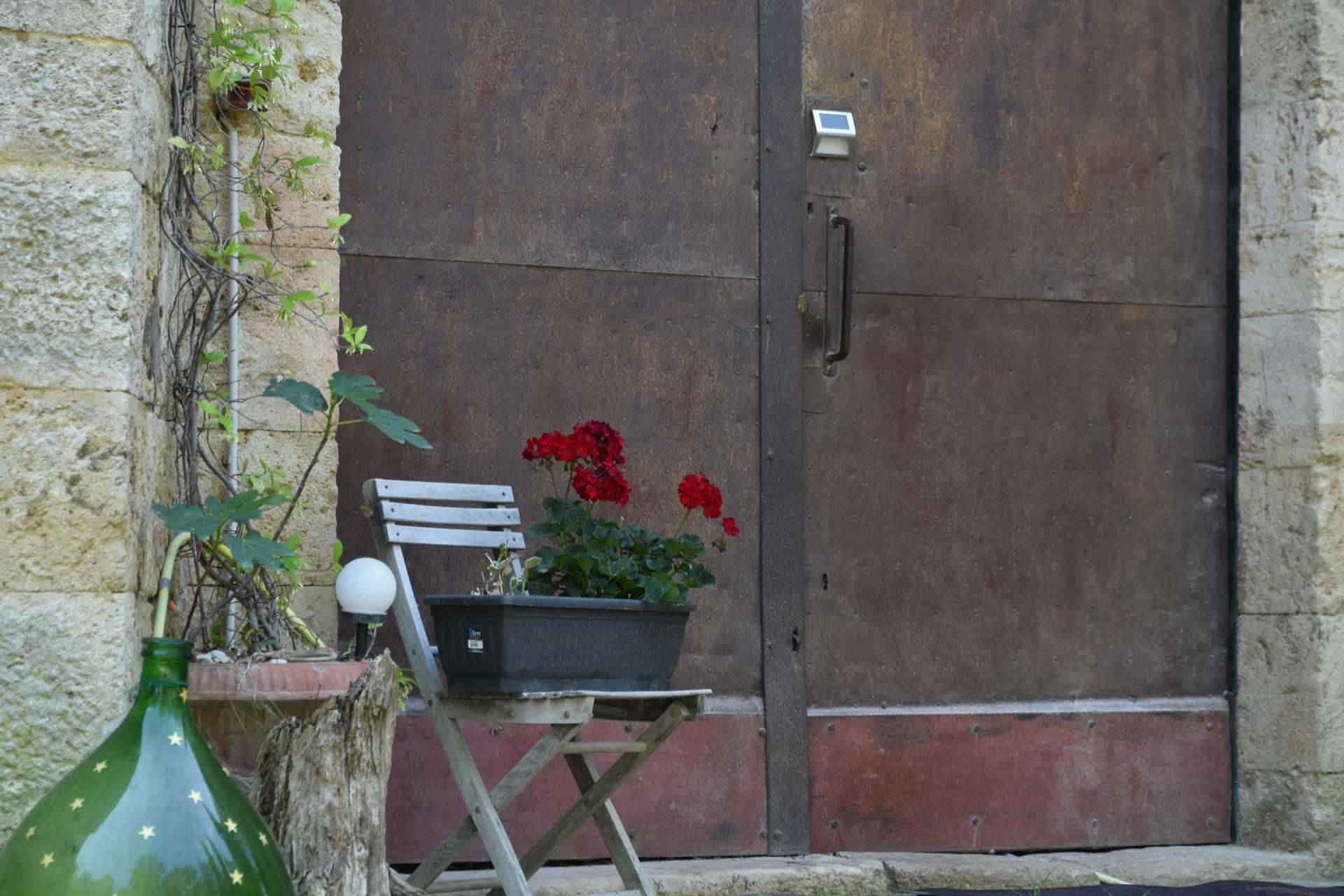 There was the building along the way which I thought it was the castle, but the road still continued, so it appears to have been the keeper's house.
Then we went further and I was surprised.
A castle building that looks like a real medieval castle appeared.
It's quite large.
Are there really people living here?
Castles are usually nicer when viewed from a distance from the outside, and the insides are more or less similar, but with this castle, I felt like I wanted to see how modern people live here. .
I was sorry I couldn't enter.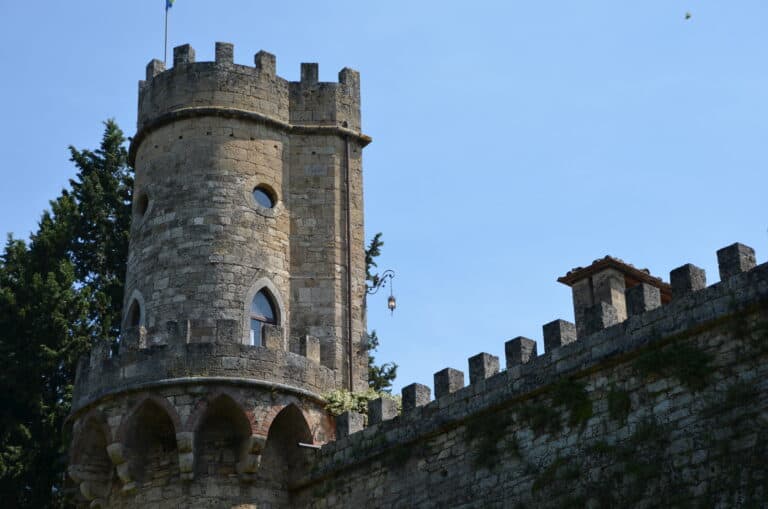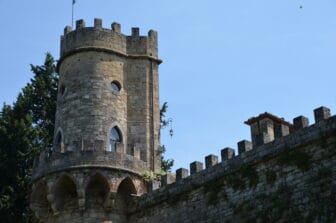 That's what I thought at the time, but when I later searched to find out the history of this castle, I was disappointed.
In fact, this castle is now a hotel.
It seems like you can stay for around €150 per night.
However, it is true that it is a castle with a history, and there is a document that states that on July 25, 998 AD, a marquis named Ugo di Toscana donated this castle to the church.
The reason for the offering is interesting; it is said that the marquis donated it "in the hope that his soul will be saved in the year 1000, when the world will end."
That reminded me of a prediction by Nostradamus that humanity would go extinct in 1999.
In 2000, the world was in a state of fear as it was predicted that computers would go crazy.
Both now and in the past, humans believe that a major disaster occurs every 1000 years.