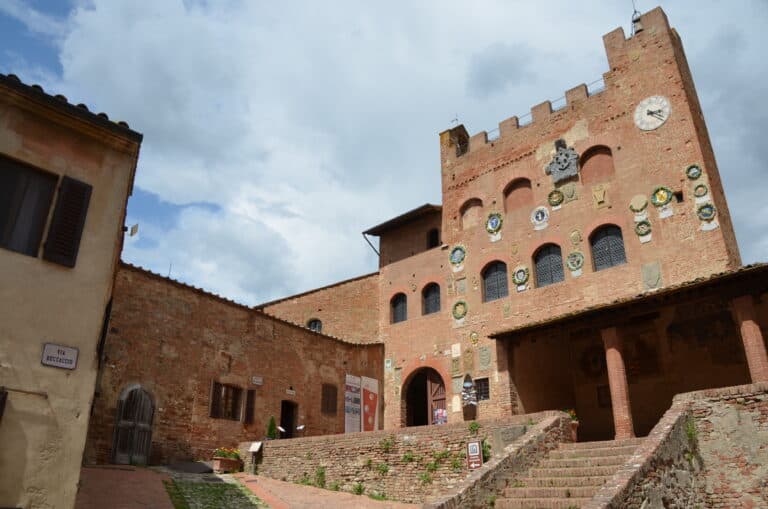 [June 2023] On the last day of our short trip to the Tuscany region of Italy, we toured the old town of Certaldo, where we were staying.
When we went to the cable car station, which we had used many times, we noticed that a large number of people had gathered there.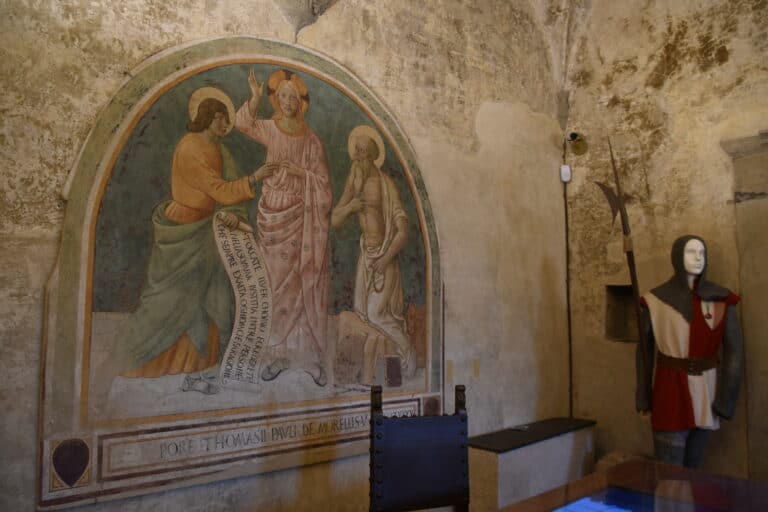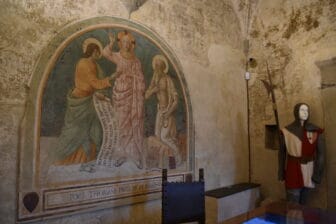 Apparently, all the people (someone said there were 120 people) were trying to get on the cable car.
The cable car only runs once every 15 minutes, and only about 30 people can ride at a time, so if you wait for everyone to get on it, you never know when our turn will arrive.
I was at a loss for a moment, but my husband rushed in, bought a ticket, and we quickly went through the ticket gate, so we were able to avoid any misfortune.
The main tourist attraction in Certaldo's old town is Palazzo Pretorio, located at the end of the main street.
Before the group came, we first took a tour from here.
This palace is said to have been built in the 12th century, and there are documents that state that it was the domain of Count Alberti.
It was then confiscated by a religious organization in Florence from the end of the 13th century to the beginning of the 14th century, and it is said that it belonged to the family of the bishop's deputy until the 18th century.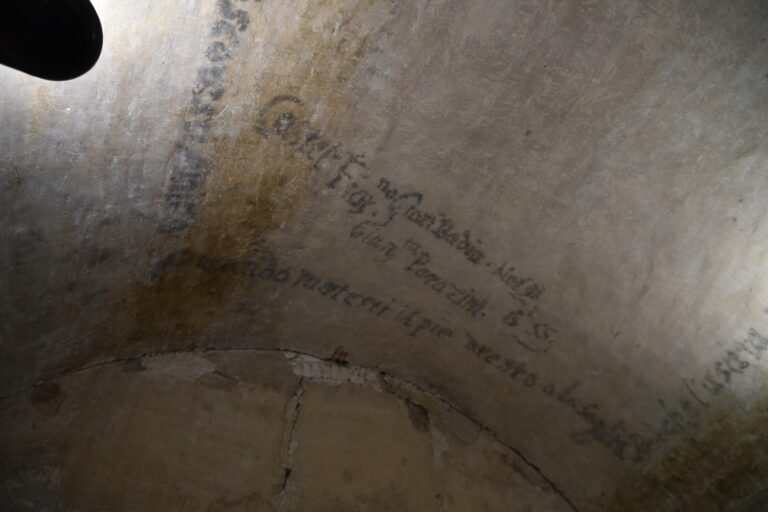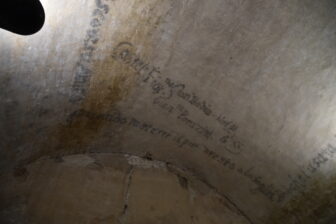 The story goes that in the 18th century, the religious organization, whose power had weakened, sold it to a private individual, and in 1890, the citizens of Certaldo bought it and began restoration work.
It has the feel of a small mansion, not something as glamorous as a royal palace.
It is currently used as a contemporary art exhibition space, and there are still rooms that were once a prison.
Among the graffiti found in this prison were letters written in smoke on the ceiling.
A prisoner with plenty of time patiently drew the letters using candle smoke.
According to the information board next to it, it says something like, "You made the wrong choice. Once you step in here, you can't leave whenever you want. Giambadia knows that very well."
And then there's the signing of Giambadia Neri.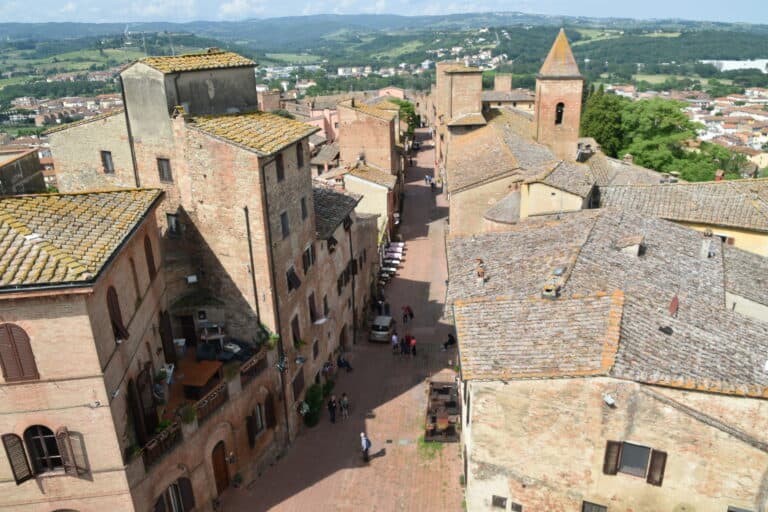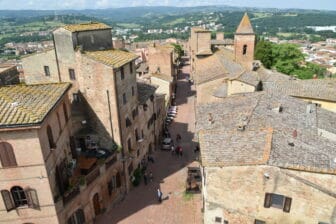 This person was an artist who lived in Castelfiorentino, and records say he had been in this prison many times.
He was a person who left his name on to future generations not because of his real job, but because of his efforts in prison.
We also went up to the clock tower and looked around.
It was a nice, crisp day, and the view was spectacular.
Furthermore, we were surprised when we went out into the garden.
Surprisingly, there was a Japanese tea room.
Apparently, it was built to commemorate the 10th anniversary of the sister city relationship with Kanra Town in Japan.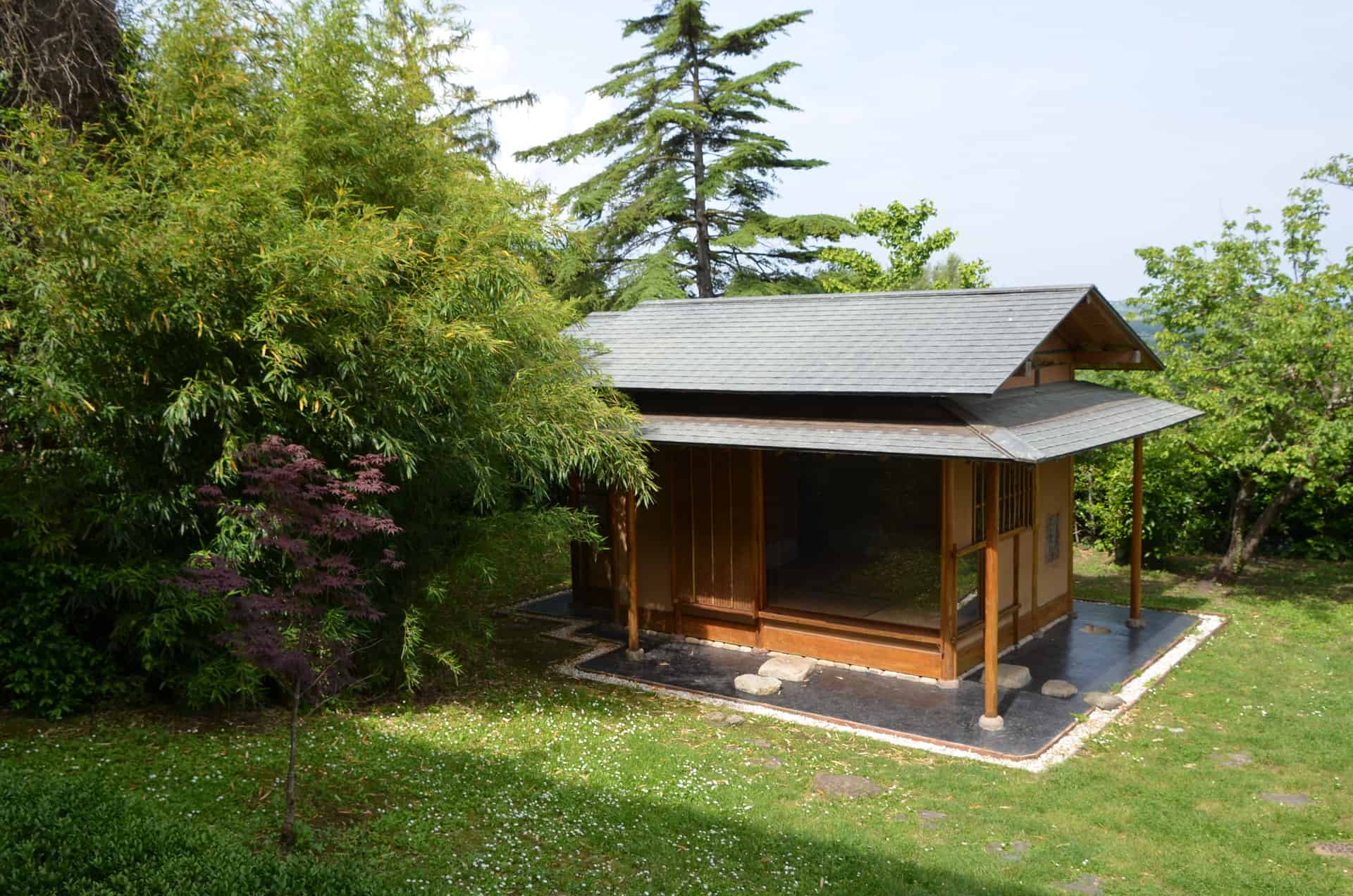 I did not know Kanra, so I searched for it and found that it was in Gunma Prefecture.
According to online information, the sister city relationship was formed after an event held by Gunma Prefecture inviting foreigners.
That's why this tea room is called "Kanra-an."
It says it was built in 1993, so that was 30 years ago.
I wonder if anyone make tea here?
The mismatch between the medieval palace and the Japanese tea room was interesting, and after taking lots of photos, the group caught up with us, so we left the palace as if to run away.