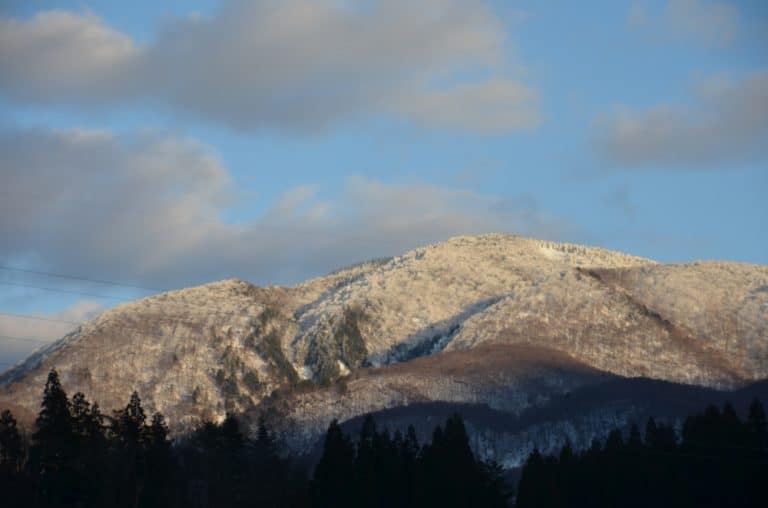 [ Mar.2016 ] After visiting Kanazawa in Japan, we separated from the rest of our family, and we continued on to Shirakawago in Gifu by bus.
It took just over one hour.
When we arrived there after 5pm, the village which is surrounded by mountains was already getting dark.
There were not so many people around and it was very cold.
Fortunately the bus from the hotel, Toyota Eco-Institute came early.
Although it is called 'Institute', this is a big hotel.
Apparently Toyota, the car company invested to create this hotel in 2005.
It might have been a more interesting experience if we had stayed in one of those traditional houses with steep rafter roofs, but as we are not too young and needed some comfort, we chose this hotel.
This photo is the mountain with snow we saw from our room.
The receptionist told us that in the early morning the temperature went down as far as 6 degrees below zero, though it was late March.
The meal was French.
We had ordered half course beforehand and the half was enough.
The starter was their home made ham and lightly curry flavoured egg.
Then after the soup of sweet potato, the main dish was sea bass with rice.
The dessert was chestnut blancmange.
Everything was rich and tasty.
We heard some other people speaking in German in the quiet restaurant.
There was a big communal Japanese style hot spring bath.
When I went there, there were no other people, so I monopolised the big bath.
It was a luxury, but not so relaxing in fact.