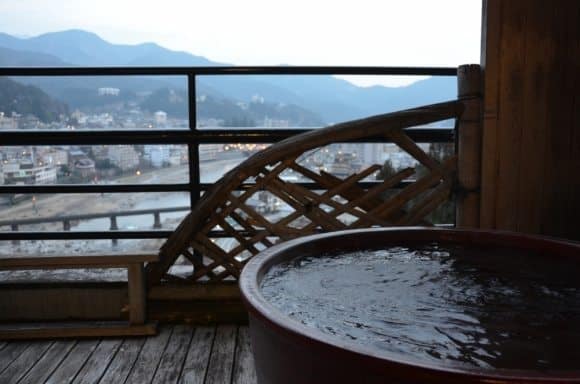 [ Mar.2016 ] From Hida Takayama we moved to Gero in Gifu and stayed one night there. Gero Onsen hot spring resort is regarded as one of the top three hot springs in Japan, as Razan Hayashi, a Confucian scholar who worked for the Edo Bakufu shogunate, wrote in his poetry.
This hot spring has over 1000 years of history and the legend says that a injured egret let people know the location of the spring.
Maybe because of this reputation and history, when I looked at the internet to find an accommodation, I felt the prices were generally higher than other places.
In the end we decided to stay in a ryokan, a Japanese style hotel called Gero Kanko Hotel Honkan.
We chose a room with the bath on the balcony.
It was fantastic to see the view of the river and the town from the bath, though the room was quite old.
The main dish for the dinner was grilled meat.
We chose this course without knowing that we had to cook ourselves a lot on the table.
I felt that we did not get the famous Japanese hospitality.
But when we came back to our room, a bottle of sparkling Japanese sake was on the table, which cheered me up.