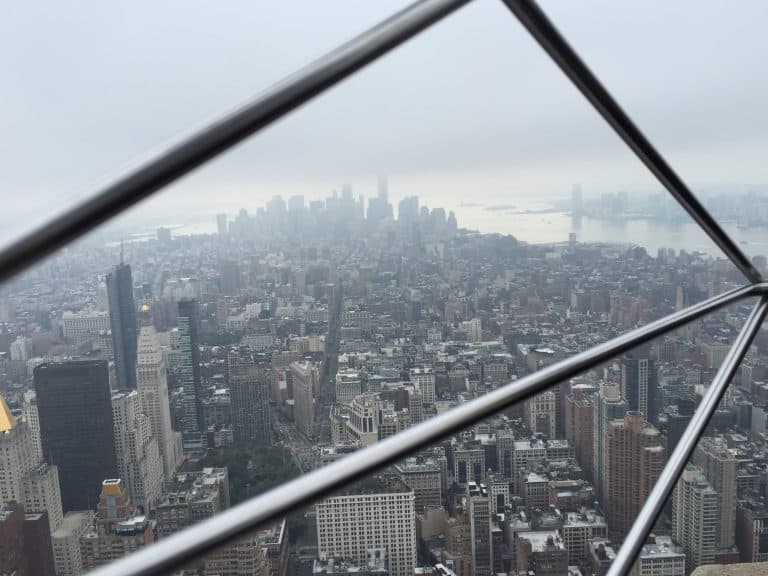 [ Oct.2016 ] In New York, we went up the Empire State Building.
It was the third time for me actually, but my husband who was visiting New York and even the USA for the first time wanted to go up there, so we had prepared and bought the tickets beforehand online.
But when we arrived at the building, we hesitated, because when we looked up, we could not see the top of the building as it was in the clouds.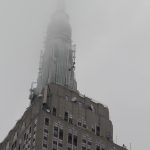 On that day, it was not raining exactly, but it was a very dark cloudy day.
On the other hand, because of this weather, there were not so many people and we could go up without waiting.
But of course the view was grey, too.
Some were hidden in the clouds.
We had bought the tickets to the upper deck on the 102nd floor, so we went up there and saw the grey view through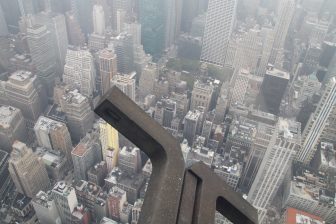 the windows, too.
There were only four people there, which is 381 metres from the ground.
The building work of this historical building started in 1929 and completed in 1931.
It was the tallest building in the world until 1972 when the World Trade Center was built.
Then in 2001 the Word Trade Center was destroyed by terrorists, the Empire State Building became the tallest in New York again.
But now the One World Trade Center is the tallest in the city.
Thinking about it, the first time I came here, I saw the view with the twin towers of the World Trade Center and the second time, the view without twin towers and this time with One World Trade Center, so in fact I saw three slightly different views.
Also it was interesting for us to see this building as the model of Stalinist architecture, which we learned just one month before in Poland.
After we spent enough time up there, we came down to the souvenir shop in the building.
Here we bought our photo which was taken before going up to the observatory as well as a T-shirt.
We have realised that in the touristy places, it is more enjoyable to do something touristy rather than looking at it cynically.
Well, the man at the counter looked and smirked at me as if to say "Are you really going to wear this T-shirt?", though.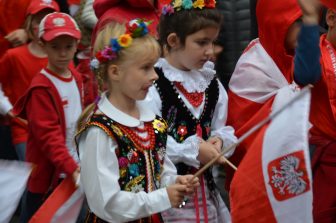 When we got out of the building, we found that they were having a kind of Polish festival there.
The Polish immigrants living in the US were parading.
Away from their motherland, I wonder if they unite more firmly.
Those pretty Polish children in the costumes must be speaking English with strong American accents, though.