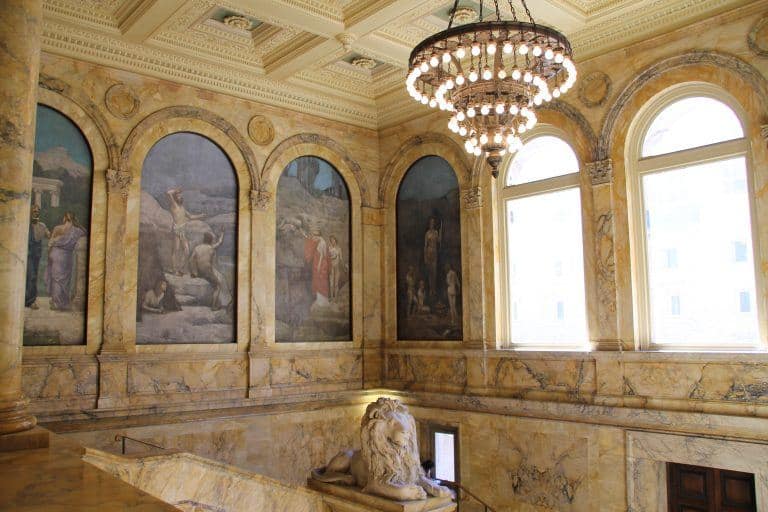 [ Oct.2016 ] Our American holiday is coming to an end.
We had our lunch on the last day in Boston at a restaurant called Atlantic Fish which was recommended in a website.
It looked an upmarket restaurant with white table cloths, but there were seats at the bar as well and it was rather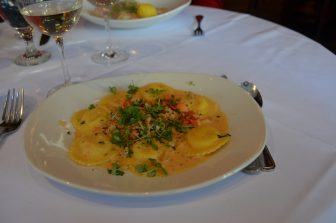 noisy.
I suppose you could say that it was a lively place.
I chose the seafood chowder with sea bass for the starter and the lobster ravioli for the main, which was the speciality in this restaurant.
Both were very good and tasty, but the ravioli was very rich, so I could not have any dessert.
My husband had the ravioli as the starter and the prawn linguine for the main, which looked very nice, too.
So, we were very satisfied with the foods, but to be honest, I did not like the atmosphere very much.
They put two TVs on as if it was a pub.
After lunch, we went to see the library.
It was opened in 1852 and the first free municipal library in the world.
There was a stone sign saying that anyone can use the library free in many languages outside the building.
The interior was really gorgeous and it looked like a palace in Europe.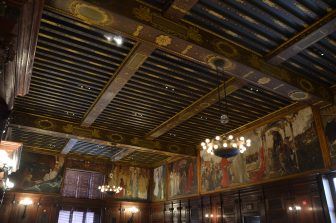 Especially I like the beautiful murals.
There were some rooms to look at and one of them called Abbey Room was particularly dignified.
This room did not look like the place to read, but maybe they use it for some events.
The reading room was huge.
Although this library was full of tourists, in the quiet reading room people were seriously studying, so we could not get in and take photos.
I took some photos from outside, though.
After the library we went to the park along the river to have a rest and then went to see the port, too.
That was the end of our sightseeing in Boston.