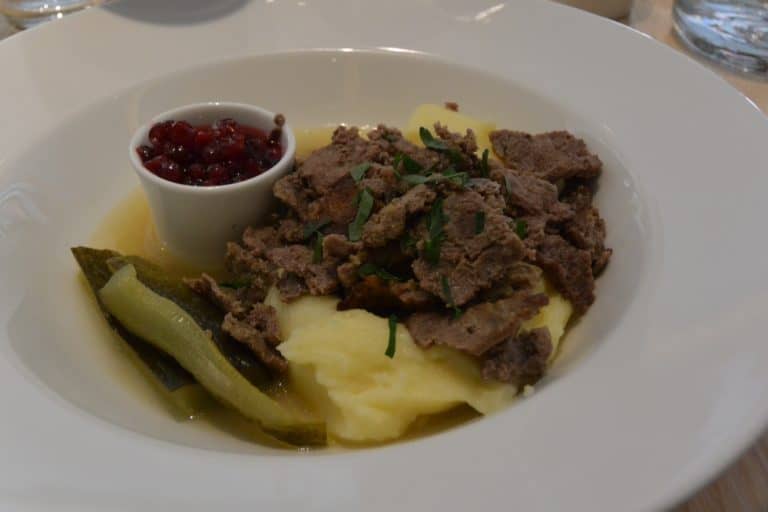 [ Aug.2015 ] We asked the hotel receptionist to recommend some Finnish restaurants in Helsinki, as it was just about lunch time when we arrived there.
She said "Aino is good. They are not so expensive" and pointed it out on the map.
Because she said it is a restaurant of traditional Finnish dishes, I was imagining a traditional looking restaurant, but it was modern.
I was a bit surprised to see the menu.
The main dishes were 19-38 euros, but apparently this restaurant was "not so expensive".
Well, northern Europe is famous for being expensive, isn't it?
I ate the traditional reindeer dish.
The dry meat is eaten with mashed potato and Lingonberry jam.
One time, in the past, I tried it in Lapland and did not like it, but this one was not bad at all.
I had mascarpone cream with strawberry sorbet for dessert, which was very nice but rather small.
According to my guide book and others, Helsinki has become the centre of food culture.
Surely, it seemed that many fashionable restaurants like this one serve international levels of food.
I remember that quite a long time ago, a French president (Mitterrand? Chirac?) said "English food is the worst, except for Finnish food".
Since then, both England and Finland have improved their food a lot.
I cannot help feeling that their dishes are rather superficial compared with the food from places with a long history of food culture, like Italy.
It is a very similar feeling with the minimalist rooms in chain hotels.
Then I realise that the guide books I read are usually written by someone from English-speaking countries and it is their point of view.