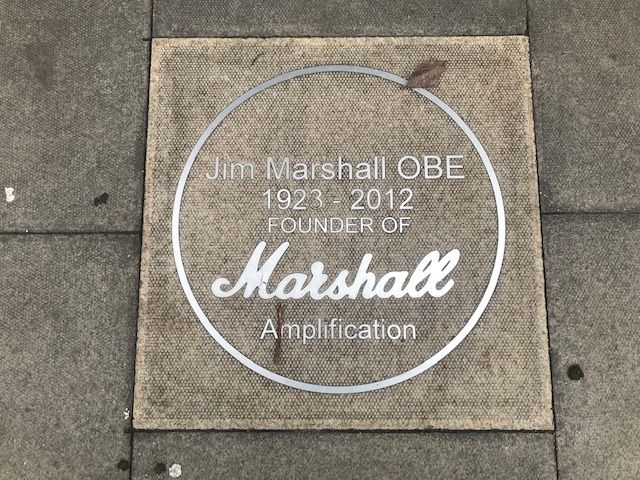 This is a rare post written by my husband:
[ Jan.2021 ] Due to Covid in recent months, for almost a year now, I go out every day early in the morning to take a long walk in my neighborhood, Ealing in London.
This time I decided to change direction and walk in an area I know less.
As I walked on the left sidewalk (coming from Ealing Broadway) I noticed a plaque on the floor and to my surprise it was dedicated to Jim Marshall.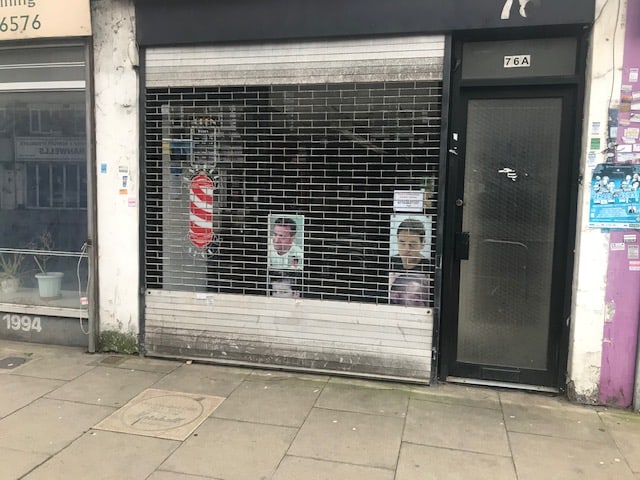 I then found out on the internet that at that point he had opened his second store.
I knew that the first store Marshall opened was in Ealing, too, but I also knew it was in another area of ​​our neighborhood, which is more than a neighborhood with about 400,000 inhabitants ( in Italy it would be a medium-sized city).
I took a couple of photos, one is of the plaque and the one is of the small shop that is now a men's hairdresser.
In the past in my career, I worked in the musical instruments sector for a long time, and many many years ago when I was still living in Italy I was invited by Jim Marshall to his villa in England.
A nice coincidence, as I now live near his old shops.
Who was Jim Marshall:
In addition to his humble working-class upbringing, what makes Jim Marshall's story an example of the classic "rags-to-riches" tale is the fact that he suffered from tuberculous bones as a child – an unfortunate affliction that made his bones so fragile that a simple fall or a strong impact would invariably cause one or more fractures.
Because of this, Jim spent most of his school years literally wrapped in a plaster cast. "I was in cast from ankles to armpits," he recalled with a grimace. As a result, Jim received no formal education.
Thankfully, Jim grew up from the disease at the age of 13 and was able to lead a life without a cast. Due to the resulting muscle wasting, he began tap dancing to strengthen his legs.
And in doing so he not only quickly discovered that he had an innate sense of rhythm, but that he could sing – very well. And because of the latter, he was quickly recruited as the lead singer of a busy 16-piece big band.
Although he enjoyed singing, due to his natural sense of rhythm Jim was drawn to drums, and when the band's drummer enlisted for WWII, Jim took over and quickly became a much in demand drummer.
He also started teaching – a lot – and he was good, very good. So much so that his students included Mitch Mitchell, who went on to play with Jimi Hendrix, and also Micky Waller, who later played with both Little Richard and Jeff Beck. Jim also sold drums to many of his students.
In the early 1960s, Jim opened a drum shop on the outskirts of London, England, and while his competitors shunned the then fledgling rock community, Jim accepted them.
So much so that legendary Who drummer Keith Moon actually worked there as a "Saturday boy"!
Due to his outgoing demeanor, Jim's shop quickly became a regular haunt for up-and-coming rock bands and guitarists like Pete Townshend, who begged him to stock up on guitars, strings, picks and amps as well.
So he did. Jim also heard what young musicians like Pete really wanted to hear from a guitar amp. In fact, he listened very carefully.
When Jim understood the sound rock guitarists wanted and held it firmly in his head, he put a team of 3 together to make it happen.
He refused their first five attempts, and then prototype number six arrived. That prototype turned out to be the right one. "This is the sound in my head," Jim proclaimed.
And so the legendary Marshall sound was born – simply because Jim was smart enough to listen, understand and then strive to not only meet, but also exceed the expectations of rock guitarists!