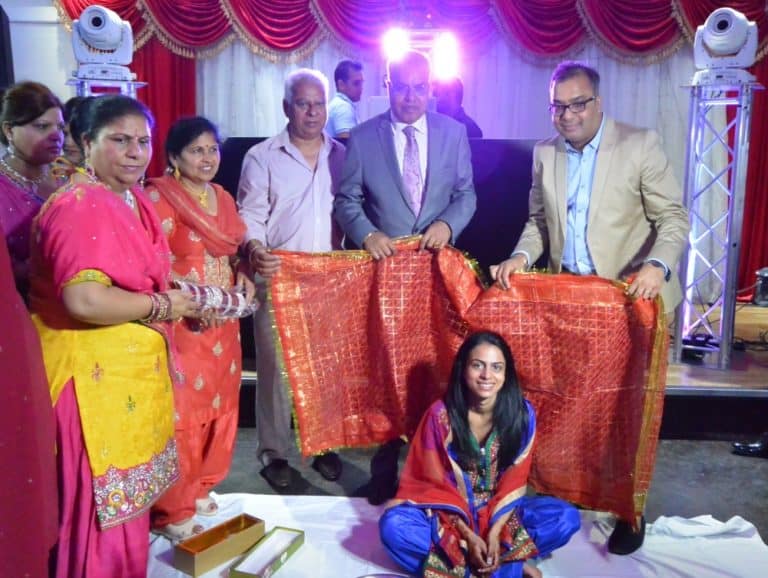 [ Aug.2015 ] One of my colleagues is getting married.
She was born and brought up in London, England, but she is a Sikh Indian and so is her partner.
Therefore, the wedding was held in the Sikh tradition.
Apparently, it took about one week altogether, but we joined from the night before the big day when her family and friends got together.
When we arrived at the hall, there were many colourful people in their Indian costumes.
The ceremony started with her grandmother showing her gifts to her family.
Then there was the Chura, the bangles ceremony.
Her family and relatives put the bangles on her, putting them in the milk first.
From that moment on, she has to wear them for 40 days.
In the past, the period was as long as one year.
The meaning of this is that because the Chura are fragile, while she is wearing them, she does not have to do any heavy work.
When the time comes, her husband removes them.
There seemed to be some meanings behind the red shawl in the photo, too.
Her hands were decorated with henna very beautifully, which was totally different from the style I had in Tunisia.
After that, there was the Jago Ceremony.
The Jago is a pot with many candles (electric) in it.
She put it on her head and paraded to the dance floor with her close family with the music from the drums.
Then all of the people started dancing.
Apparently, in the past, people got together in the village in the night with candles and danced to let people know that there was a wedding on the next day.
So on the wedding eve, the night goes cheerfully like this.