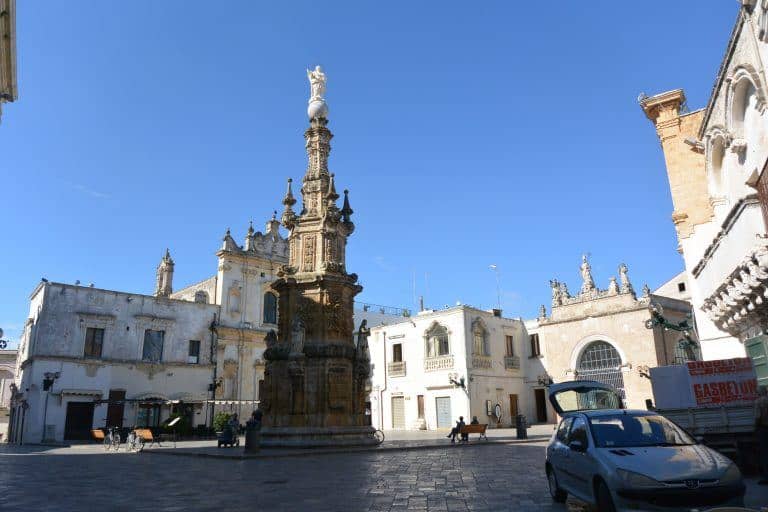 [ Oct.2017 ] On the next day, we went back to Nardo in Apulia in south Italy and did a bit of sightseeing.
The first place we went in was the Cathedral.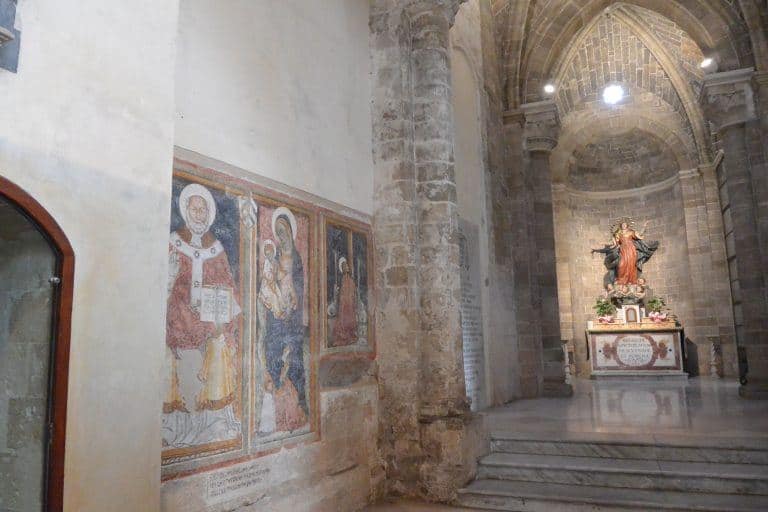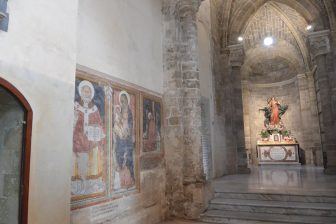 The facade was so simple that I doubted this was a Cathedral, but once we went in, the inside was gorgeous.
It has a long history as this was built on the site of an older church which was built by the monks who came here running away from the Middle East in the 7th century.
But because of the repeated earthquakes and other reasons, the cathedral was repaired and rebuilt many times.
The most recent work was done between 1977 and 1982.
The fresco which looked very old was apparently painted in the 14th to 15th centuries.
The Baroque style which is popular in the south of Italy was seen at the Altar of Souls in Purgatory and we could see very nice decorative sculptures on the pillars.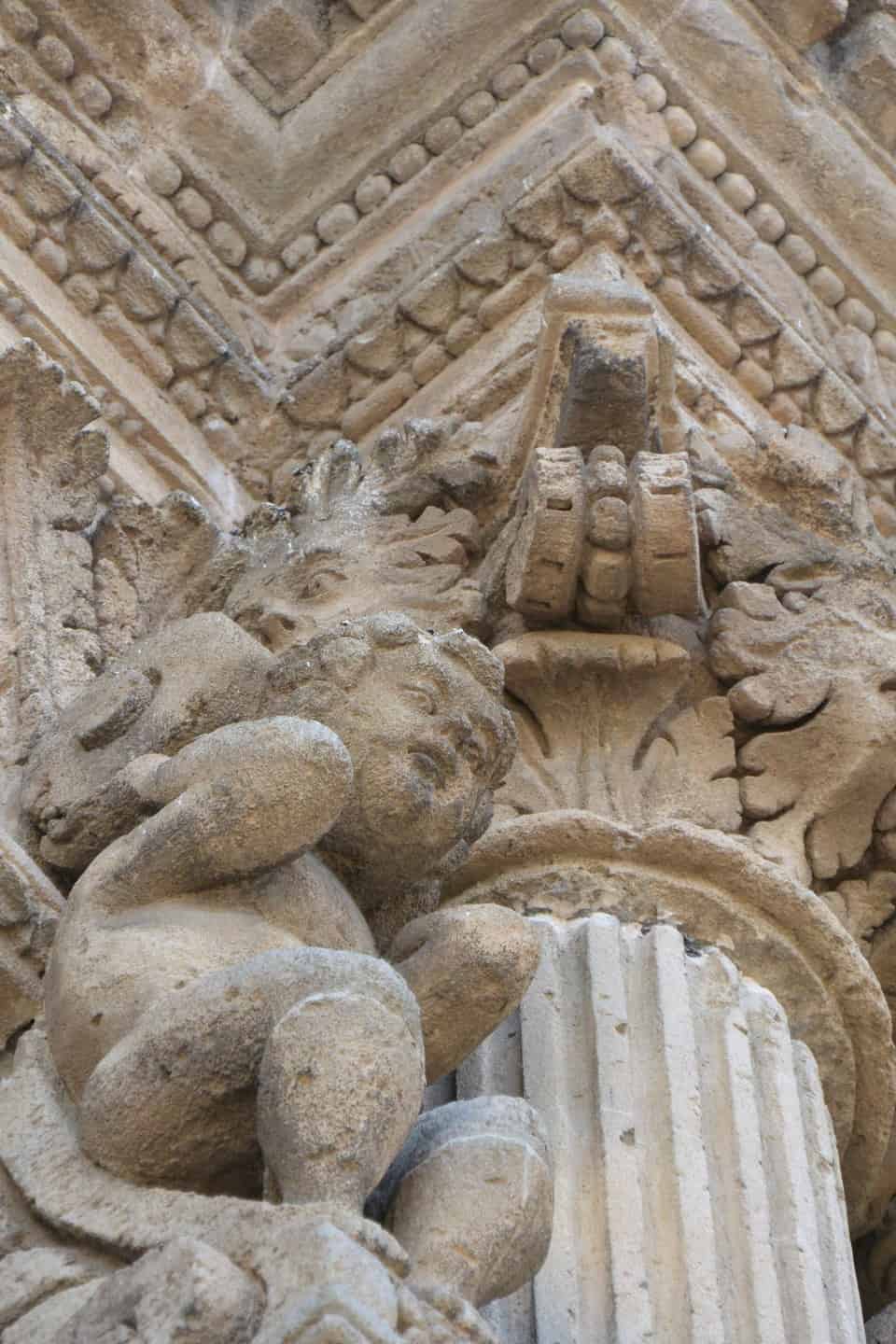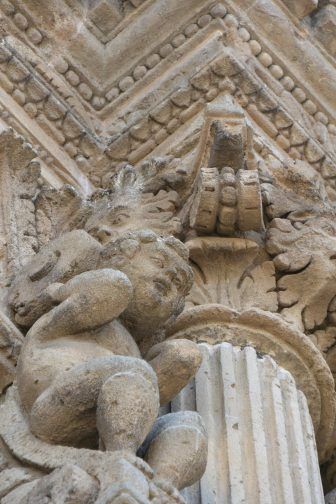 After the cathedral,  we went to the main square in the old town called Salandra Square.
In the centre of the the square, there is the Spire of Mary Immaculate.
This is another example of the Baroque style architecture, which was built in 1749.
Its height is 19 metres.
There is a 16th century building called the Town Council Seat of the Mayor "Sedile" facing this square which houses the tourist office.
Here we bought the simple guidebook (€5) and asked the staff to mark the important attractions on the map.
One of them was Church of Saint Dominic which surprised me by its intricate sculptures on the facade.
So many human figures were carved in.
According to the guidebook, it is made of the local stone called Carparo.
This church was built between 1580 and 1594, but in 1743, the terrible earthquake destroyed it nearly completely apart from the facade.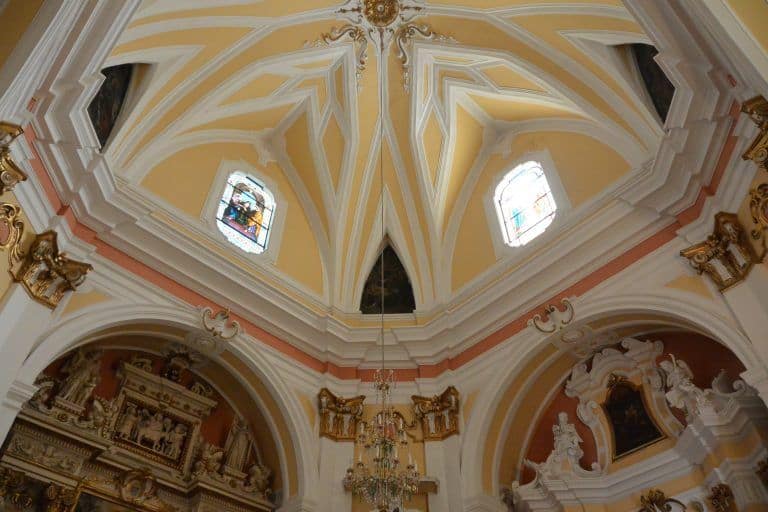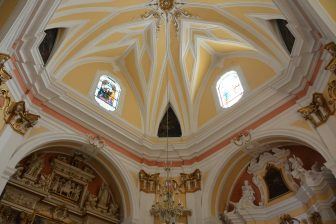 Maybe because of that, the inside was disappointingly simple.
Another church we went in was Church of Saint Joseph.
I was surprised to see the unexpected shape of the space inside which was elliptical, totally different from ordinary churches.
This one was built in the late 18th century.
The last place we visited was the castle, built in the 15th century.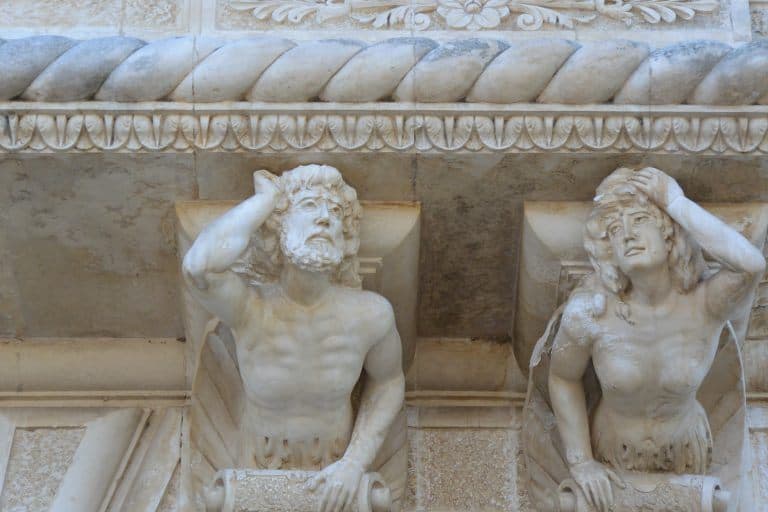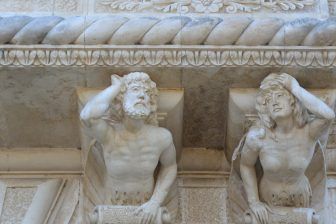 It was originally a fortress to defend the city threatened by frequent incursions on the coast, but in the 19th century it was rebuilt to be a residence of a local noble family, Persone.
Currently it houses some museums including the Museum of Peasant Culture, which did not interest me, so we just visited the garden.
The carvings of a man and a woman under the window were interesting.
Our visit ended with my husband's haircut at the barber in front of the castle.
He likes to have his hair cut while travelling.