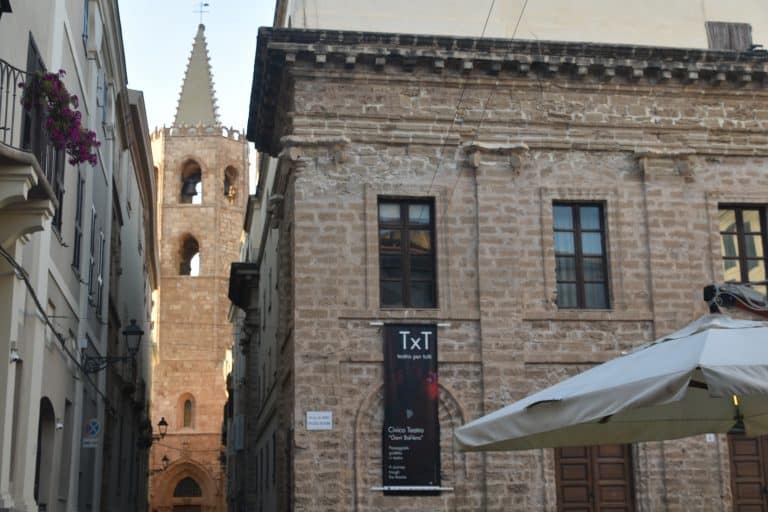 [ Aug.2020 ] I continue talking about our walking tour in Alghero, the town in Sardinia in Italy.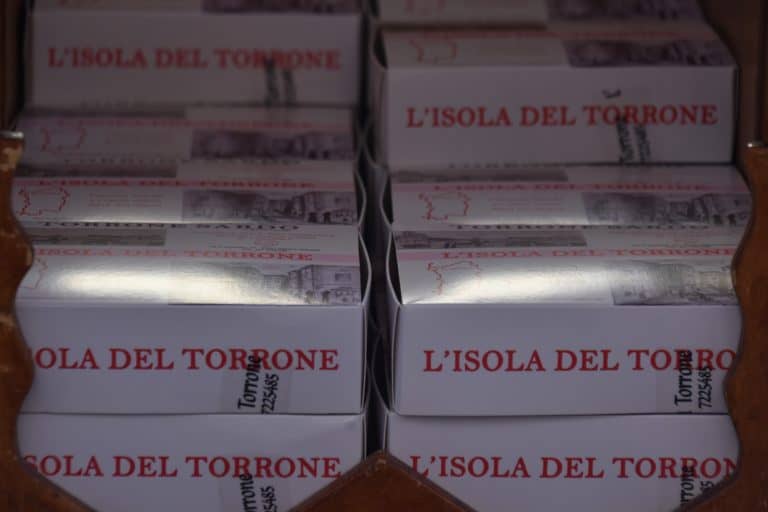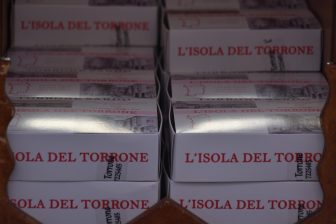 We were at Piazza Sventramento and tried a piece of L'Isola del Torrone sold at one corner in the square.
Torrone is Nougat.
No sugar was used and the sweetness was from honey.
It was nice and soft, though we did not buy any.
Then we kept walking on via Gilbert Ferret and turned right on to via Principe Umberto.
At the end of this street, we could see the bell tower of the cathedral, Cattedrale Santa Maria.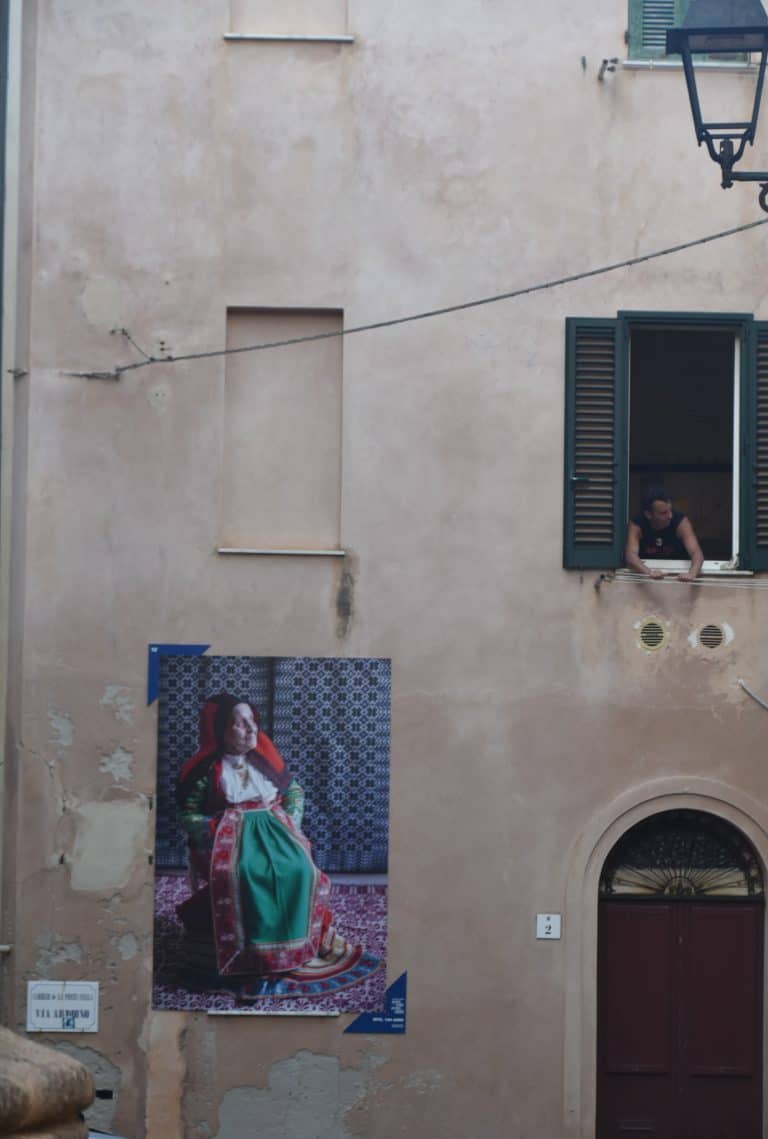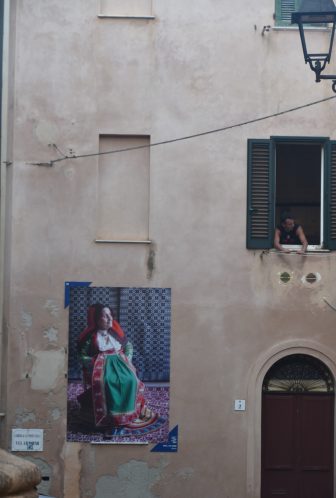 We reached the entrance of the bell tower and turned left and when we looked back, we could see another photograph of an old lady who was more than 100 years old.
She was wearing a folk costume in green and red.
Looking at that, our guide, Sabrina said "She is from the centre part of Sardinia. Our costume in the north is black".
Her apprentice who walked with us said "Ours in the south is red and gold".
But they wear these costumes only occasionally in festivals.
The only tradition which is still followed is that the widows wear black clothes, they said.
It just so happened that one of them were passing.
"But probably this tradition will also die down soon" Sabrina said.
After that, we went out to the seaside and walked along the promenade a bit.
Sabrina pointed out that the shore was rocky and it was well defended by a row of bows and arrows and cannons.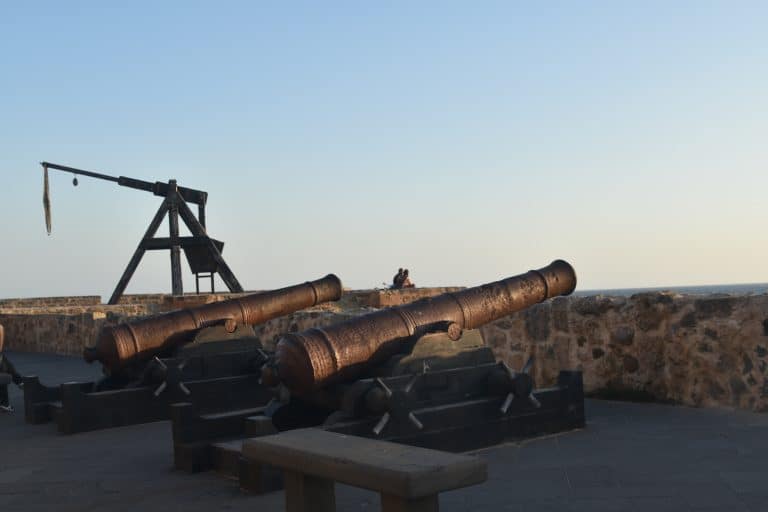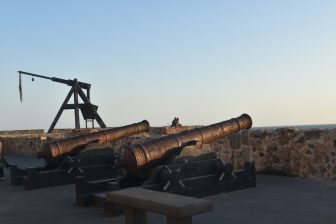 The small tower at the end of the promenade was the powder magazine.
From there, we went back to inland to Piazza Santa Croce.
Around here it used to be the Jewish town.
Now the buildings of a library and the architecture faculty of the university are surrounding the square.
According to Sabrina, when Sardinia was under Spain in the 15th century, the King of Aragon and the Queen of Castile got married and formed Kingdom of Spain.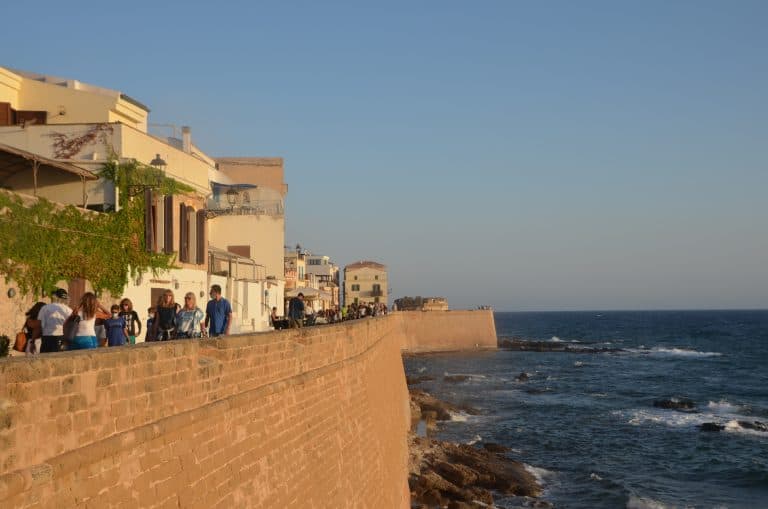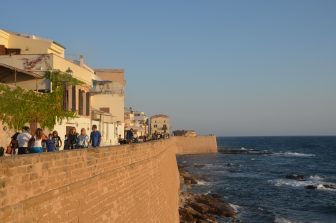 She said "They declared that it was the Catholic country, so the people with other religions had to either convert or leave, even in Alghero".
That was the end of the Jewish town, but some of the Jewish people who had made a fortune here did not convert or leave.
The Jewish town here was not a ghetto, but just an area many Jewish lived.
"Just like the Muslim immigrants now who live together in one area" she said.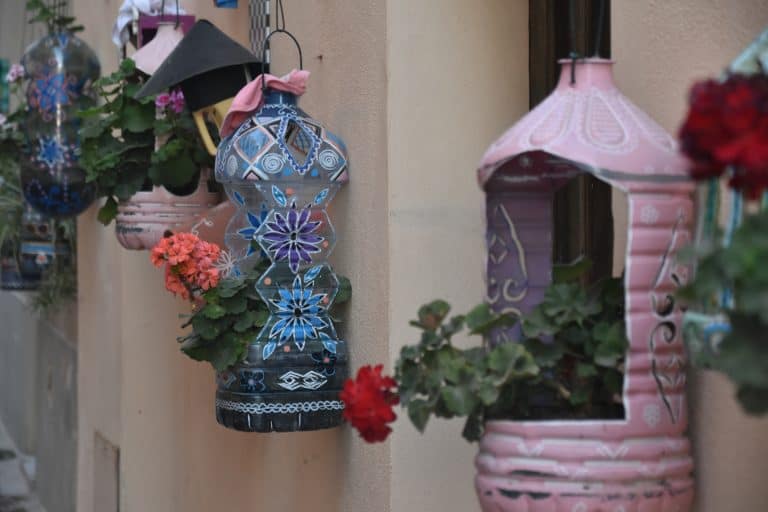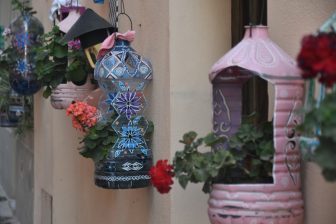 By the way, near this area on a street with the name plate Carrero' Dels Hebreus, there were many decorations on the wall.
Apparently, the women living here started making ornaments using waste materials.
Sabrina told us that this movement spread to other towns in Sardinia, for example in Bosa in the south.
Yes, I remember that when we visited Bosa two years ago, we had seen many flowers in the coloured empty cans on the walls.