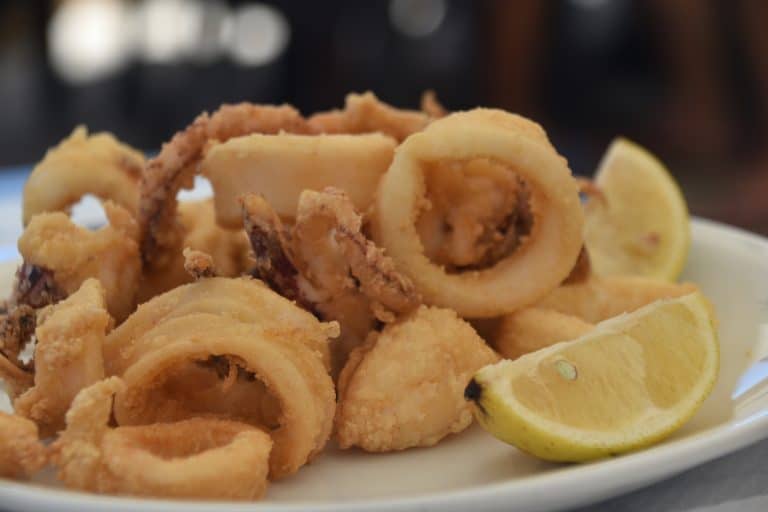 [Sept. 2020] On the day we spent a day on the beautiful beach of La Pelosa at the tip of the northwestern part of Sardinia, Italy, we had lunch at a seaside restaurant that was only one in the area.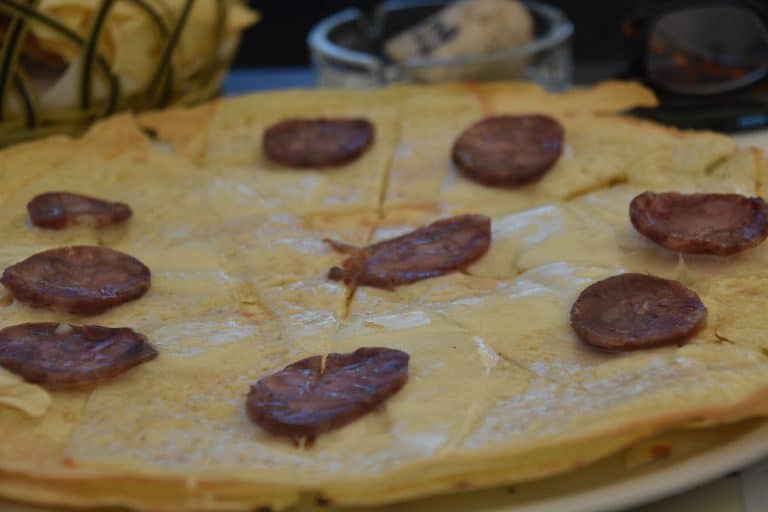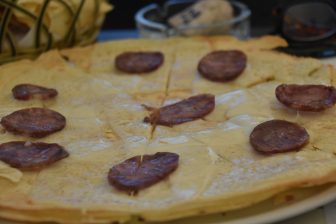 We shared some fried squid and something like Carasau pizza and drank Campari Splits.
Pane Carasau is a crispy, lightly baked thin bread that always comes with Sardinian dishes.
It was surprising to use this for pizza, which was interesting and delicious in its own way.
The cheese on it was Provola.
This simple lunch wasn't cheap at € 50, but it was expected because of the location.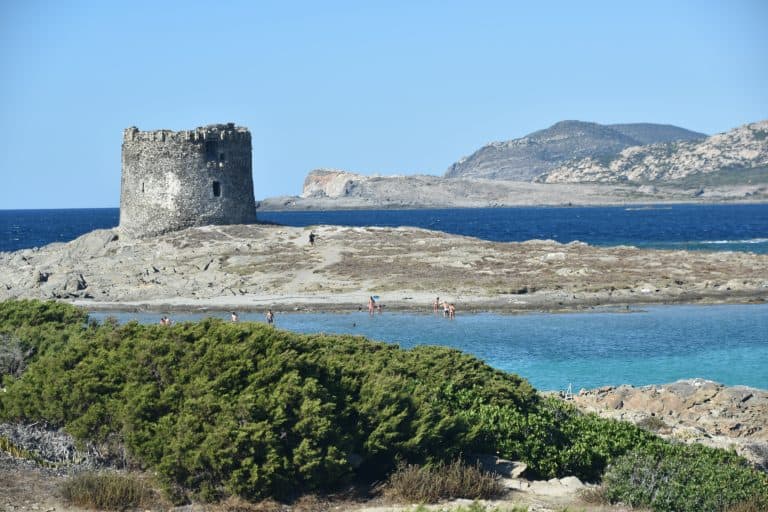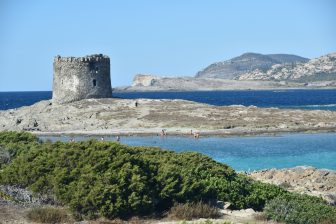 It was normal that this place was crowded at lunch time, but we did not have to wait for a table.
That was maybe because many people came to the beach with their own lunch.
In the afternoon, the angle of the sunlight made the colour of the sea even more clear and beautiful.
When he was a kid, my husband was told that he shouldn't go into the water for 3 hours after eating, so we kept it and had a walk around the area without going into the sea.
We went to the rocky area where the Tower of Aragon was located.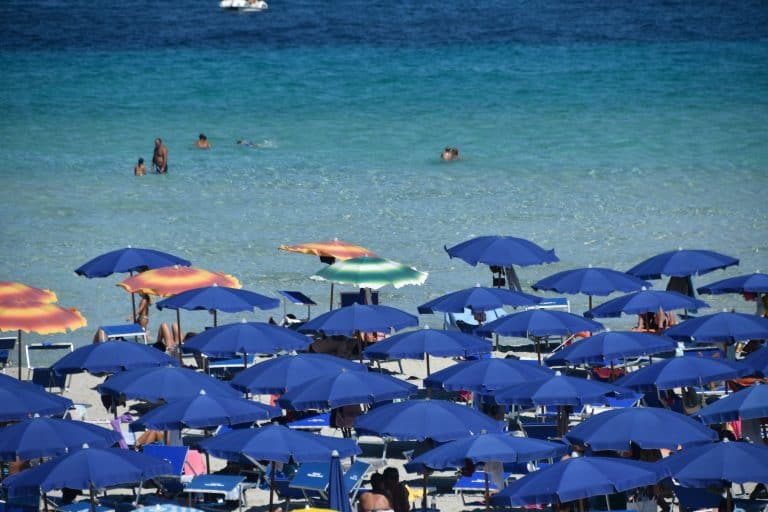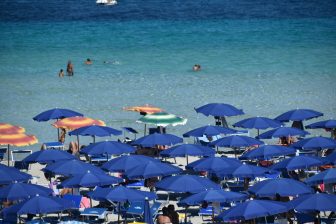 The tower was built on a small island separated by the sea, but the sea was shallow, so it seemed that you could walk there.
We only saw it from the hill on the opposite bank, though.
Anyway, it was so beautiful that I took a lot of pictures.
At about 4 o'clock, we went into the sea again.
I felt the water was colder.
It was okay for me once I jumped in, but it seemed too cold for my husband.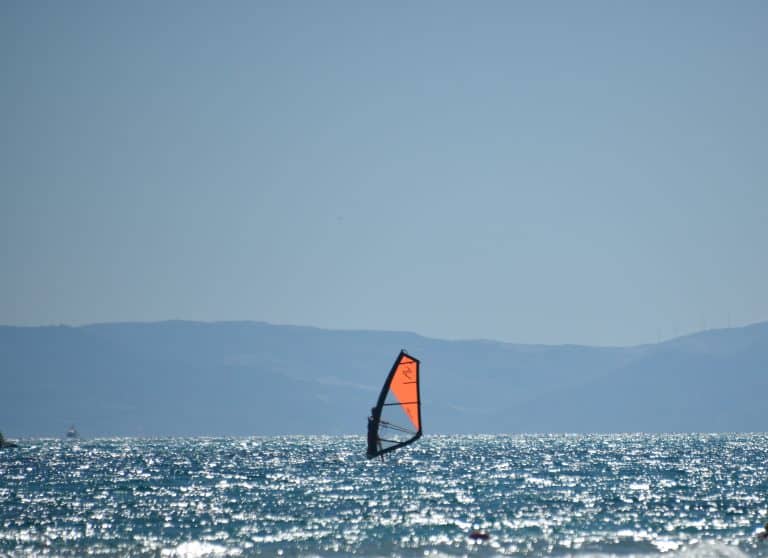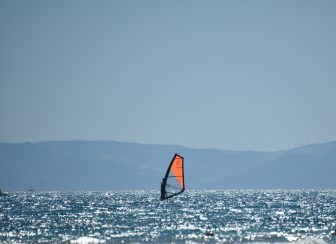 Spending one day on the beach is unusual for us.
Europeans' summer vacation is mostly this, though.
We were afraid that we would be bored, but in fact, we did not get bored and the relaxing time passed nicely.
The pick-up bus came at 6 pm.
After returning to the town of Alghero where we were staying, we headed for our usual restaurant, Il Pesce D'oro.
We entered as soon as the restaurant opened, but this was weekend.
They said that inside tables were full of reservations, so we were guided to a small table outside.
My husband had the seafood pizza and I had the grilled sea bream.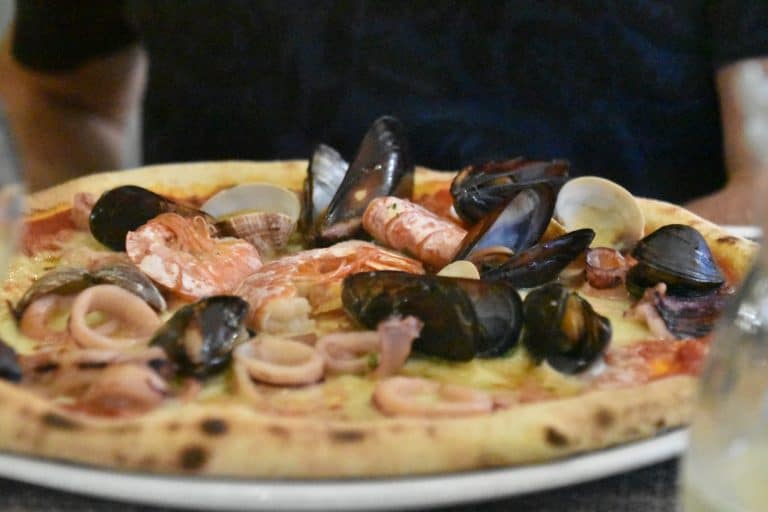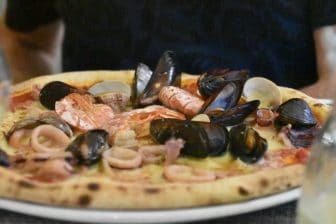 The fresh fish was very delicious as expected.
The dessert was a pastry called Seadas that we had had the last time.
This was the pastry with cheese in it, and this time we chose honey on top of it.
A total of the bill was € 60 with red and white Mirto liquor and 500 ml of house wine.
It's always reasonably priced here.
If our Airbnb had been a little closer to the old town, we would have gone back and dressed up for dinner, but it was too far to go and come back, so we had a meal wearing T-shirts on top of our salty bodies.