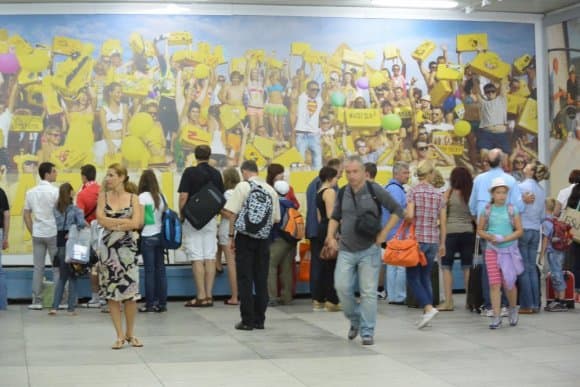 [ July, 2013 ] I do not know why, but I have always been attracted Crimea Penisula at Ukraine, so this summer we decided to visit there. We needed to change the airplane in Kiev and then landed at Simferopol finally.
When the airplane landed, all the passengers clapped, both times in Kiev and in Simferopol, which made me smile. I had had the same experience somewhere, but cannot remember where…
It was already after 9pm when we arrived in Simferopol, we climbed down the ramp in the dark and walked to a sort of platform outdoor. At the end of this space, there was a conveyor belt for the luggage as the photo shows.
It was so simple that I was a bit apprehensive, but the luggage arrived OK and the taxi driver we had ordered was there without any problems.