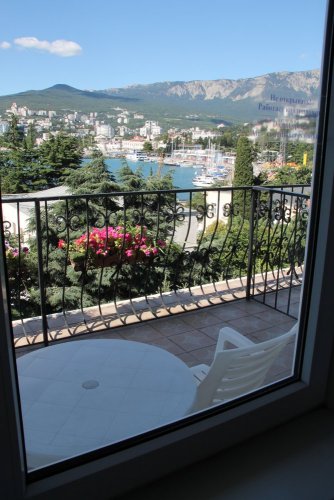 [ July, 2013 ] Our hotel in Yalta was Bristol Hotel.
This year, they had their 150th birthday.
For a long time, it had been the only hotel in the town.
I imagined some kind of gorgeous hotel, but entering into our room, I got disappointed, because the carpet was just like the one of the pub's which we often go and the interior generally was like English cheap inn.
But next morning, I got out to the fairly large balcony and found that I could see the sea and the mountain.
They served quite good breakfast in their restaurant which was in a separate building.
It was buffet and they changed the menu a little every day.
The staff was nice and friendly and above all, the free internet connection was very fast, which was great.
Although this is 3 star hotel, they have a indoor swimming pool and you can get services like massages and use the gym.
During our stay there for a week, my first negative impression was totally gone in the end.