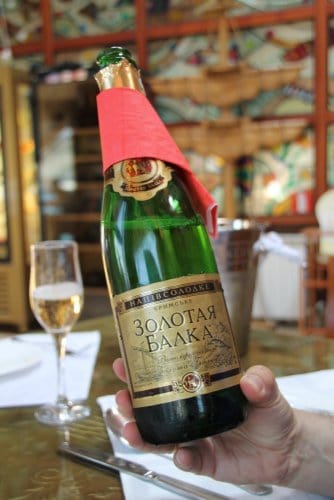 [ July, 2013 ] We moved from Sevastopol to Balaklava and had a very good seafood lunch.
This time, we had a sparkling wine, which was a little sweet and was called "Champagne".
Yalta in the south of Crimea, they produce dessert wines, but here it is famous for sparkling wines.
Local people has been calling it "Champagne" and that caused a conflict against France.
Very easy to drink, so much so that Svetlana, the guide, who does not usually drink alcohol very much had the second glass.
By the way, on the way here, we went through a area called 'valley of death'.
Here during the Crimean War, many British soldiers died in vain, because the order was not precise.
I remember hearing the same kind of story in Turkey last year.
British military is not really as expected, is it.