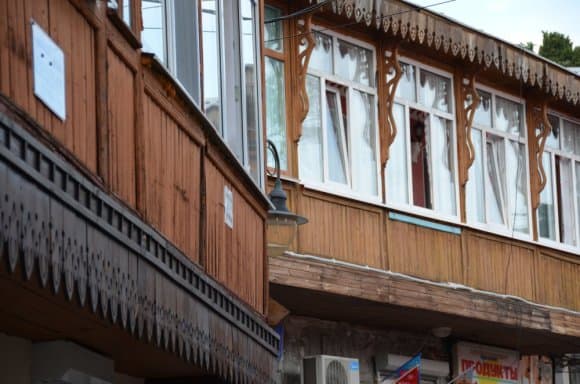 [ July, 2013 ] The town, Gurzuf in southern Crimea has been famous as a resort for artists since 19th century.
Not only Chekhov had a dacha, but also the famous Ballet choreographer, Petipa died here while he was resting.
It is a small town, but has got a nice atmosphere and there are some traditional old wooden houses.
Our guide, Svetlana described, "it is like walking in a medieval street", but in fact it was not that old or grand.
Her remark let me think that here probably there is not a movement to keep the old features of towns, so even this small scale is special.
There was a small market in a square.
The red onions were hanging there, which I had seen on roadside as well.
Svetlana got into the shopping mode suddenly and started negotiating with vendors.