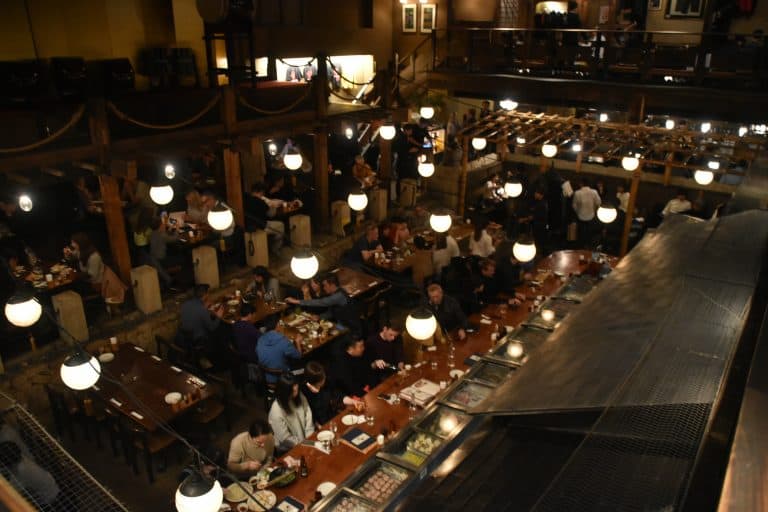 [ Jan.2020 ] On the day we visited Akasaka Palace in Tokyo, we went all the way to Minami Azabu to the restaurant called 'Gonpachi'.
A friend of ours in London recommended this restaurant long time ago, saying "This place was used for a film location and every foreign visitor likes it".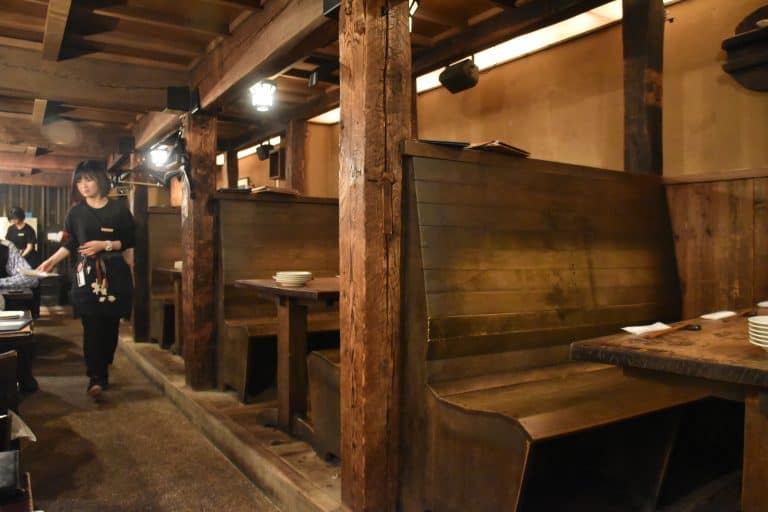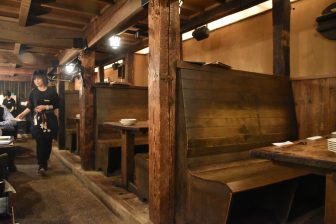 The film she mentioned is 'Kill Bill' by Quentin Tarantino released in 2003.
I have not seen this film, so I had not been interested so much in this restaurant for a long time, but when we got in this time, I understood what she meant.
It was a unique place with the wooden interior which had an atmosphere of a large Dojo, a practice hall for martial arts.
This place reminded me of the restaurant in the hotel called 'Aomori Ya'  in Aomori prefecture we went a few years ago.
In the middle of large space on the ground floor, there is a bar counter in which cooks are working and many tables are surrounding it.
Our table was on the first floor from where we could see this spacious ground floor.
There is another floor on top and there are many tables with sunken kotatsu there.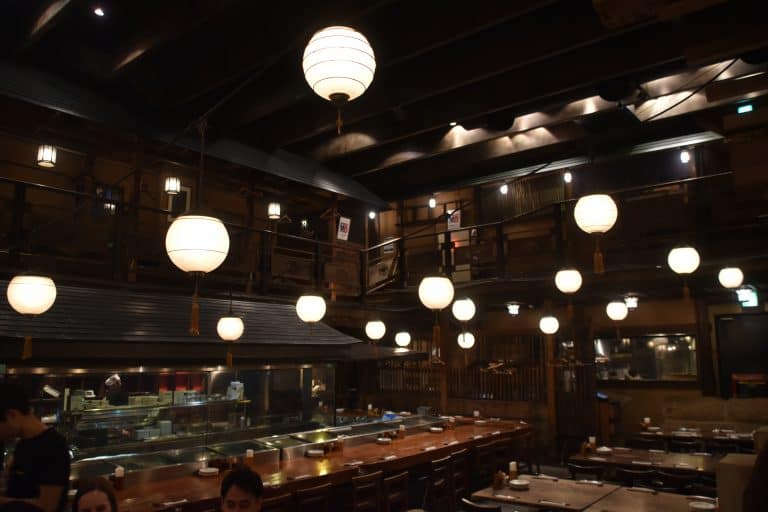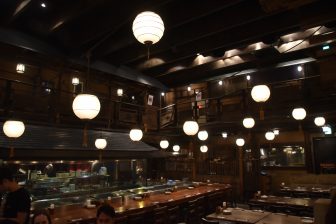 Apparently there are as many as 260 seats in this restaurant.
We had booked a table at 5 pm, quite early for dinner, so at first we did not see many people, but gradually nearly all the tables were filled.
The noticeable thing here was that many of both customers and workers were non-Japanese people.
And it is true that this place was used as a model of a scene in 'Kill Bill' and also it was the location for so called 'Izakaya (pub) Summit' by the former Japanese prime minister Koizumi and the former US president Bush held in 2002. 
I wonder if they reserved whole the restaurant for themselves, though I think if there were not many people around, there could not have been the atmosphere of Izakaya.
Anyway, the main thing is food.
We all had their Tokujo (top quality) Course, which included fried chicken, roasted meat and vegetables on skewers, Sukiyaki and so on.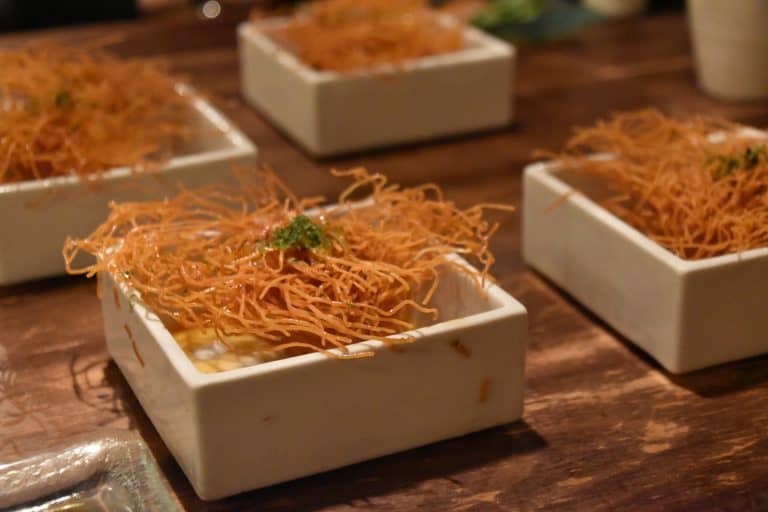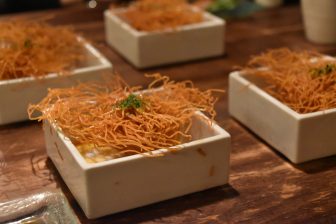 As a Japanese food, there were many meat dishes included in the course maybe because they have many foreign customers.
One of the dishes was the fried prawn which came with some dried noodle that reminded us of Baby Star Crispy Noodle Snack which we used to eat when we were children.
Also handmade Soba noodle and dessert were included and it cost less than 5000 yen (£37.5, €42.5, $46.5) .
Even with some Sake we had, the bill was less than 6500 yen per person, which was very reasonable.
I cannot say that their foods were astonishingly tasty, but overall we were satisfied.
Looking this restaurant up on the internet, I found that it is run by a big restaurant chain company called Global Dining.
They have some restaurants even in the US and Hong Kong.