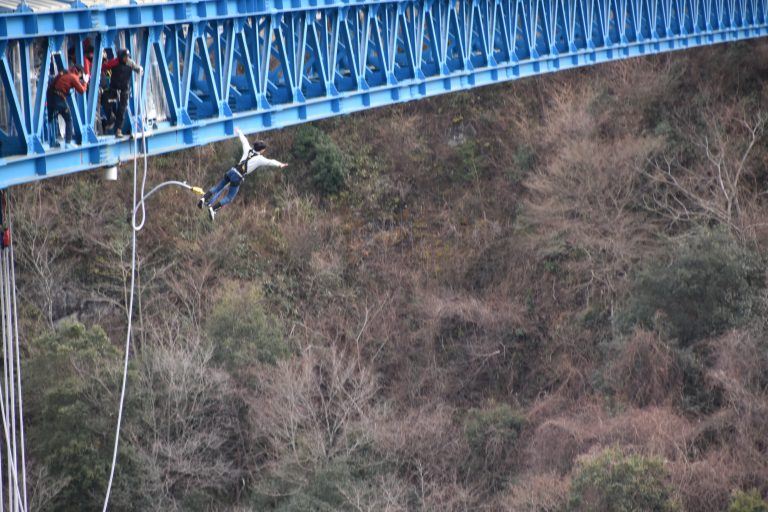 [ Dec.2017 ] When we went to Ibaraki prefecture in Japan with my family, we visited Ryujin Big Suspension Bridge in Tokiwa-ota, too.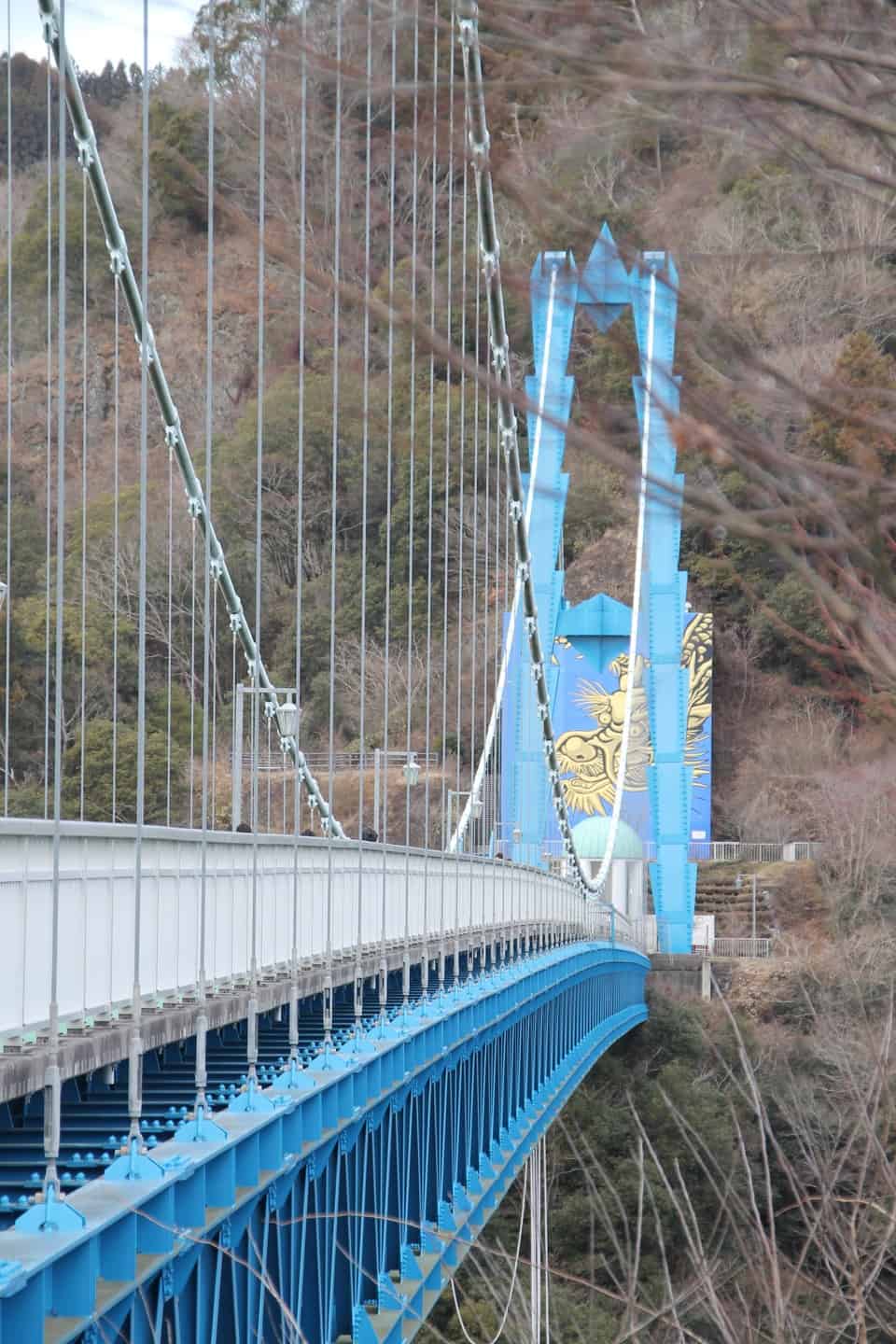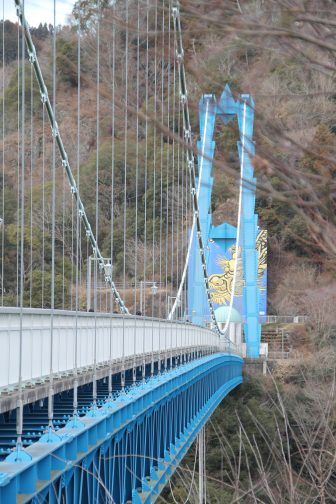 This bridge is only for pedestrians, its length is 375 metres and the width is 3 metres.
It was completed in 1994 and it was the longest pedestrian suspension bridge in Japan in those days.
But after that, a longer one was built in Oita prefecture in Kyushu, so now they call themselves 'the longest in Honshu'.
According to the internet information, even this is not true now, but anyway, it was a long bridge for sure.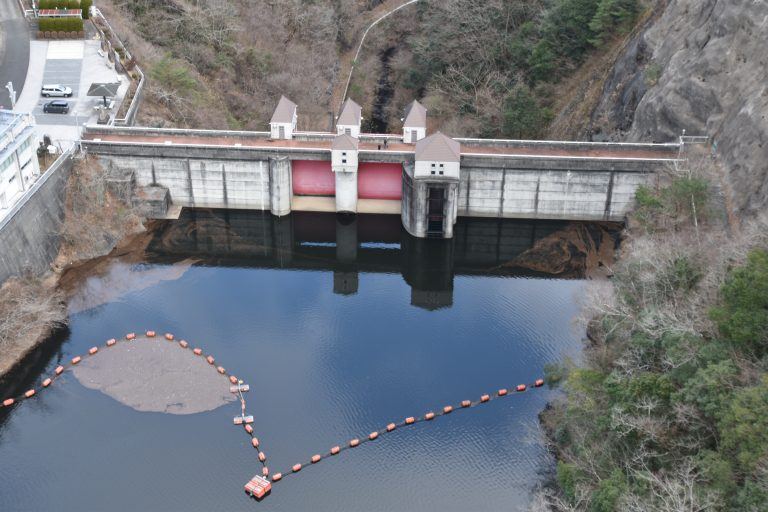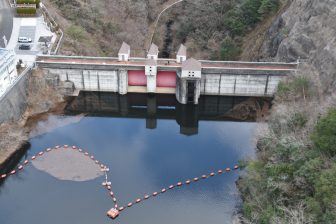 It is above a lake which was made by damming the Ryujin River and the view from there was lovely.
The height from the lake is 100 metres.
They utilize this height for the bungee jumping.
When we were there, people were jumping one after another.
At first, I did not know about it and when we were walking, in the middle of the bridge I heard some rap music out of place and found that that was the place for the jumping.
From the surface of the bridge where people walk, there was a little staircase to go down to the lower part of the bridge girder and people were jumping from there.
The music must be for cheering up the jumpers.
We crossed the bridge to the other side, and from there, we watched how they did.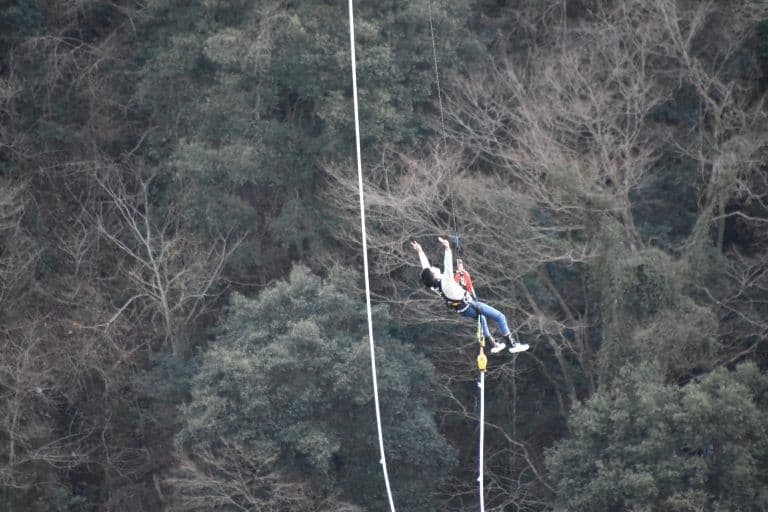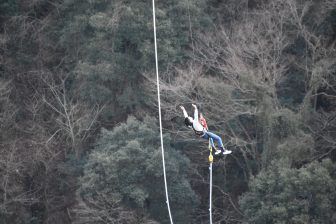 It was the first time for me to watch people bungee jumping.
They jumped from the bridge and they were hanging upside down for a while but when they removed some sort of equipment, their feet went down.
Then there was a rope coming down from the bridge to pull them up (apparently it is called an electric winch) and they had to hook it to a part of the gear they were wearing and then they were pulled up back to the bridge.
So, the jumpers have to do some work after jumping, which stops them from fainting.
Apparently the height of 100 metres is the highest in Japan for the bungee jumping.
I found that as many as 10000 people jump here every year on the site of the company organising the jumps.
And you have to weigh more than 40 kg and less than 105 kg.
I wonder what happens if you are too light…
And to have a jump you have to pay as much as 16000 yen (about £107, €122, $150)!
It is expensive.
If you jump second time on the same day, the second jump costs 7000 yen.
Bungee jumping became popular around the world in the 1980s and I have a feeling that I used to want to try at least once when I was young, but now, looking at them, I did not feel like doing it at all.