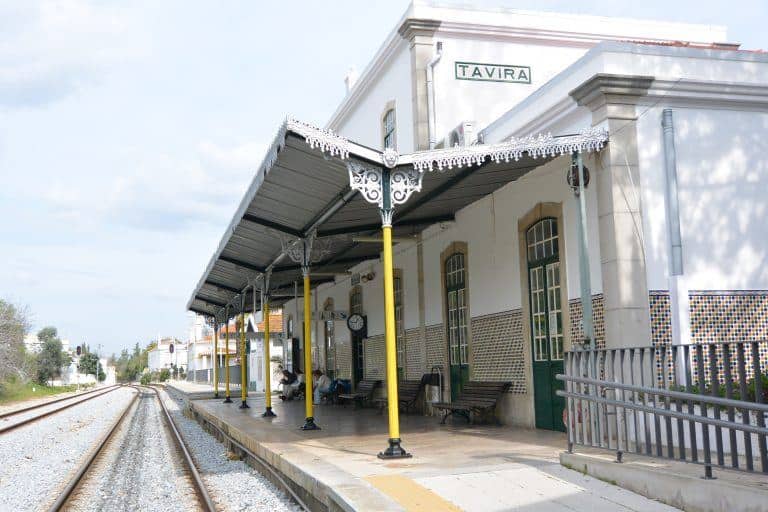 [ Feb.2017 ] When we are not on an organised tour, our travelling plans sometimes go wrong.
The Saturday we traveled from Tavira to Faro in Portugal was one of those days.
First, we planned to see the museum located within the Pousada we were staying in in Tavira first thing in the morning, which we heard about during our guided tuk-tuk tour the previous day . But the museum did not open until the afternoon when the bar in the hotel opened, because we had to go through the bar to enter the museum.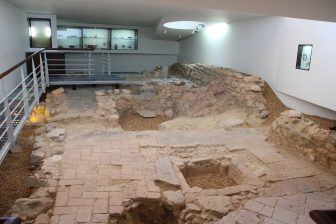 So we killed the time walking around the town again.
The museum we saw finally was much smaller than I expected.
It was an archaeological site of the Almohad quarter from the 13th century.
The Almohad Caliphate started in present day Morocco and in the 13th century it ruled a vast part of Iberian Peninsula.
Apparently there were 13 houses of Almohad people in those days in Tavira.
We finished seeing the museum in no time and went to the railway station to take the train to Faro about one o'clock.
Our plan was to leave our suitcase in the hut on the platform of Faro which we used a couple of days before and walk around the old town of Faro.
But when we went there, we were told that the luggage hut closed at 3 pm at weekends, though it was open until 5 pm during the week days.
3 pm was too early for us, so we took a taxi with our suitcase and asked the driver to go to the restaurant which was listed in our guidebook.
Here we had the third setback.
The restaurant was not in business any more.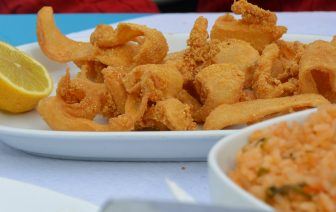 Well, our guidebook was published in 2009, so this was quite possible.
We asked the driver to recommend a seafood restaurant and take us there.
It was called Taberna Modesto and they had only outdoor tables.
Obviously it was a touristy place, but my grilled sea bass was tasty.
My husband's calamari was unusual and it looked like a side dish.
I saw the sign saying that this restaurant was established on the 1st June 1978.
So the restaurant introduced in the guidebook was closed and this one was surviving.
While we were eating, the weather changed.
Strong winds started and the clouds were spreading.
We were not vigorous enough to walk around the cobbled streets in the old town with our suitcases, so we asked for a taxi and went to the hotel we had booked for the night.