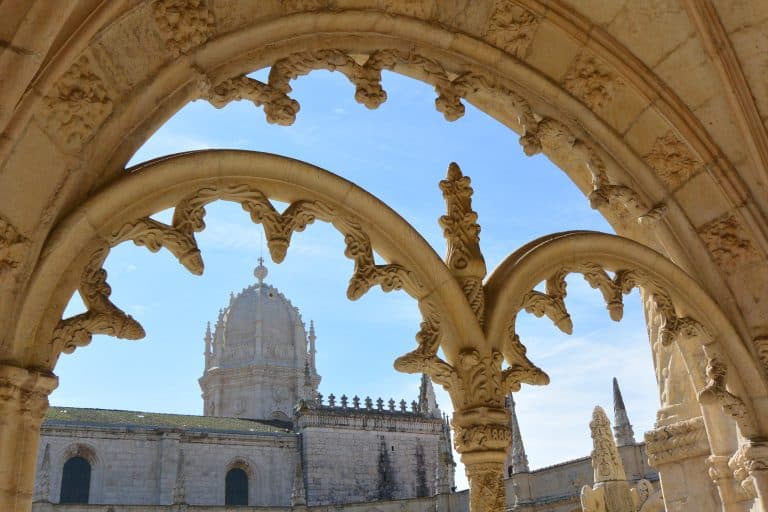 [ Feb.2019 ] After seeing inside the church in Jerónimos Monastery in Lisbon in Portugal, we went to see the cloister, which was not free to enter.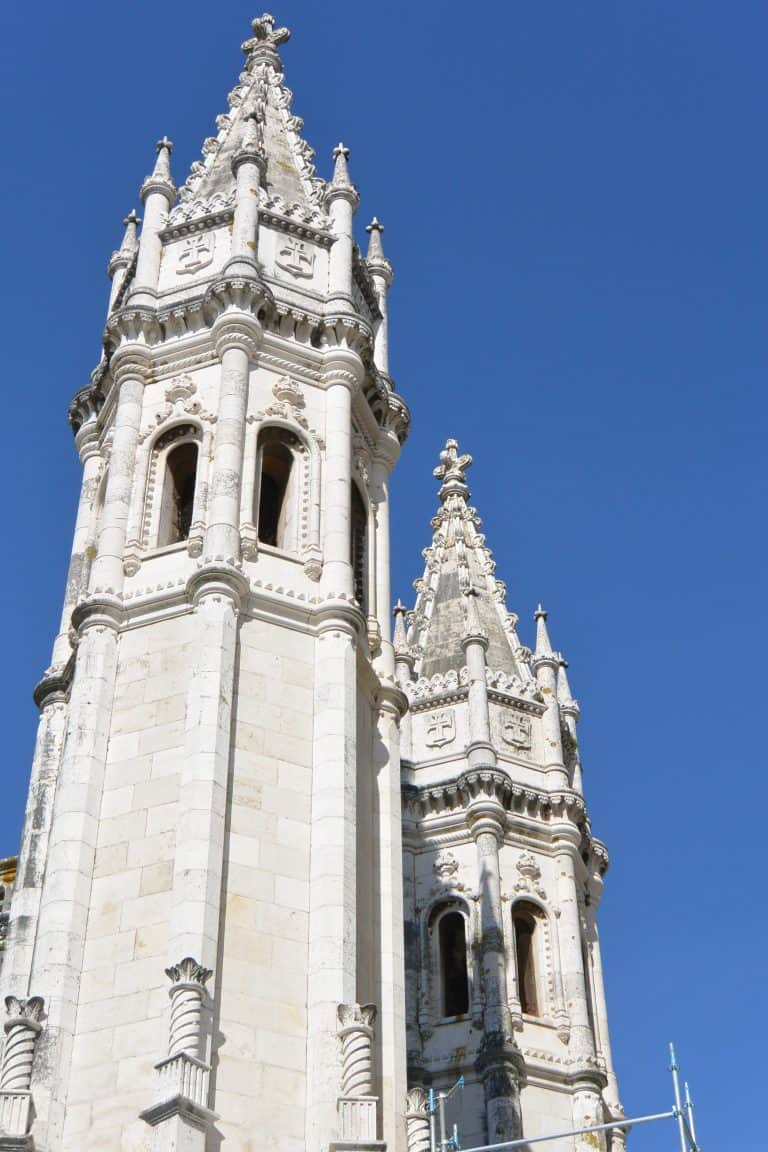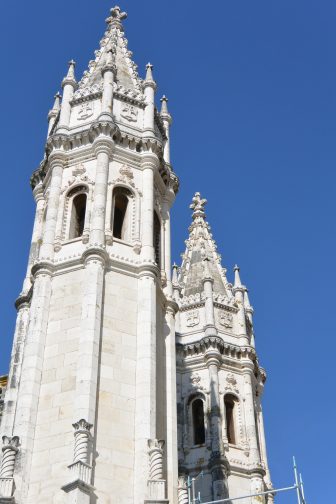 To get the ticket, we had to go to the far end of this huge building, though the entrance for the cloister was the same as the church entrance.
The ticket was sold at the same entrance for the museum.
That means that most of the parts of this long building are used as museums.
I was expecting to see the interior of the building as the monastery, so I was a little disappointed.
I read the leaflet, which we got here, later and found that the monastic order was abolished in 1834 and the state started managing the building.
Today, the Casa Pia Educational Institution, the Maritime Museum and the National Archaeological Museum use the building, apparently.
There was not a manned window for selling tickets at the museum entrance and everyone had to buy one using the vending machines.
The machine had an English version, but many tourists were confused, standing in front of the unfamiliar machines as there were so many different kinds of tickets, so they were taking their time.
That was why the queue moved very slowly.
Because it was February, the off season for tourism, we did not have to suffer by waiting too long, but I could not help worrying about the summer time.
The ticket for the cloister was €10 per person.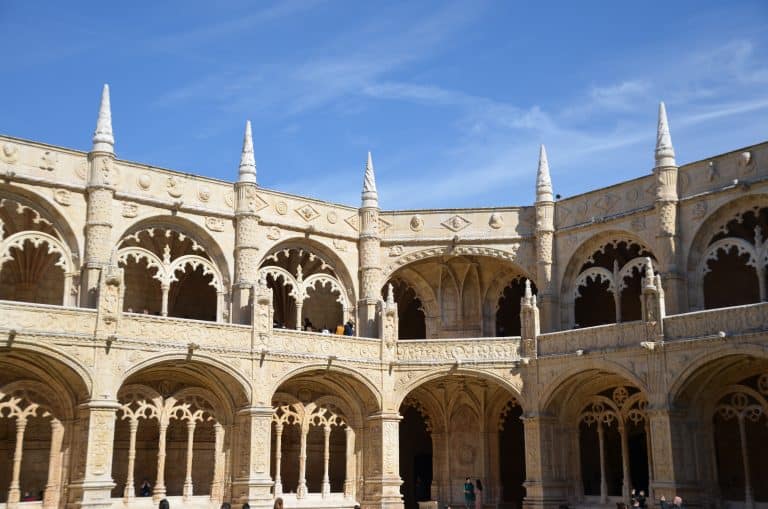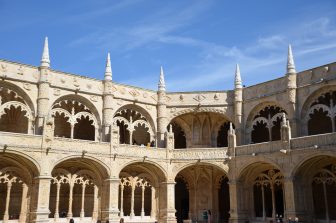 After buying the tickets, we went back to the other queue to wait and then finally entered the cloister.
It was a stunning beauty.
The carvings of the warm cream colour stones were gorgeous.
According to the leaflet, it was completed in 1540-41, after three architects worked on it.
It is another masterpiece of the Manueline architectural style and the mixture of religious symbols, royal symbols and the natural elements are included in the carvings.
The cloister had two storeys and when we went up the narrow staircase, we found that we could get back into the upper floor of the church.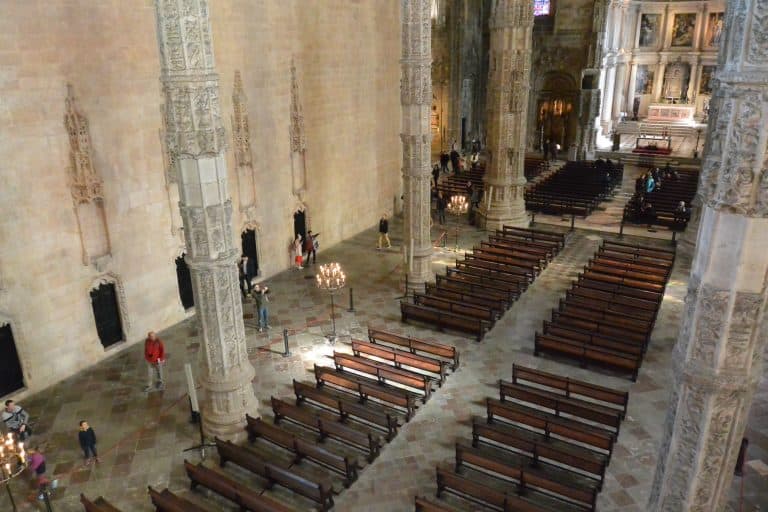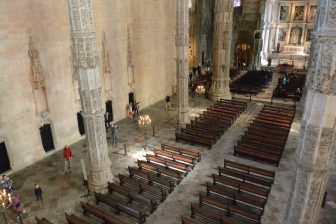 From there we could see the sheer size of the nave.
There was also a choir here on the upper floor, but unfortunately, it was under restoration work.
From the cloister, we could look at the meeting room where the grave of the 19th century writer was placed, as well as the dining room with the Azulejo (tiles).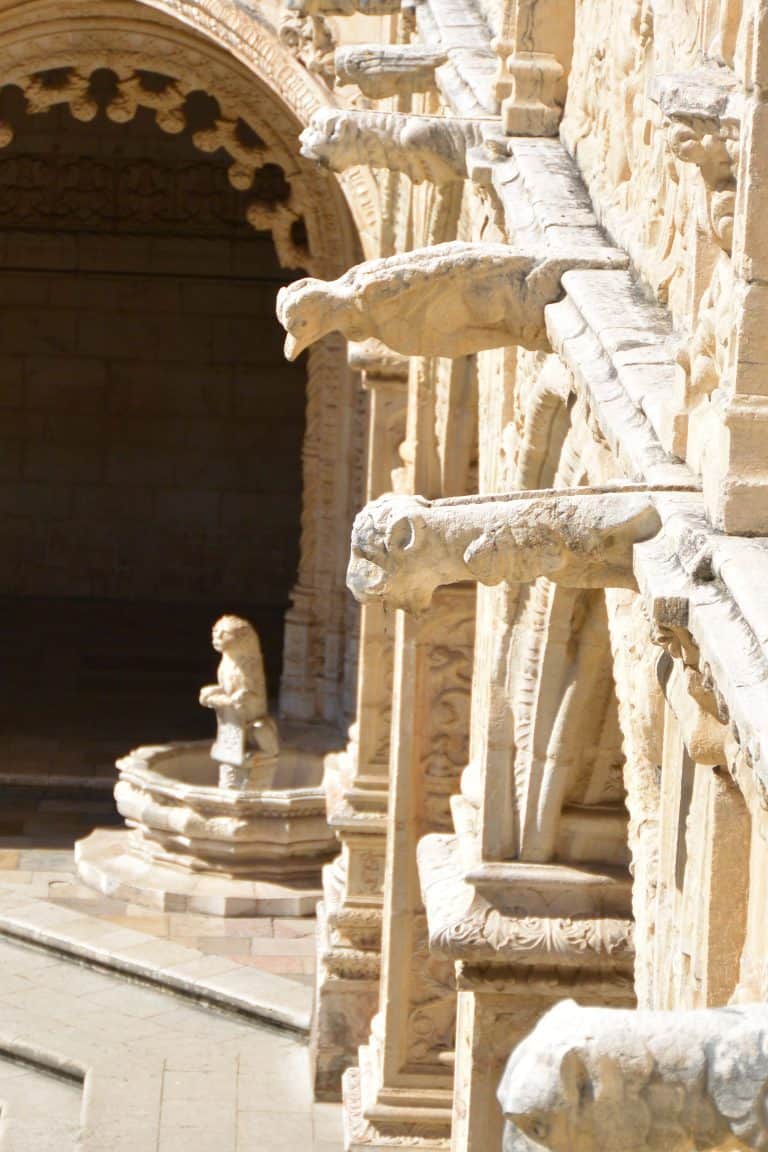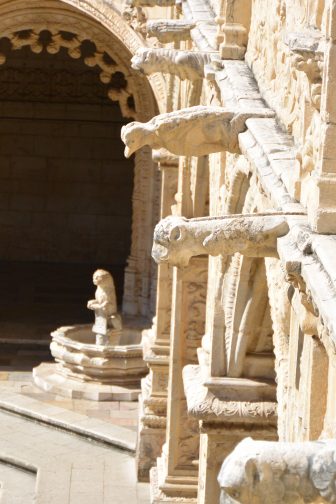 Also, there was a lion fountain on the corner which was used by the monks for washing their hands.
By the way, when King Philip II, who was also the King of Spain, Naples and Sicily, inaugurated this monastery in 1604, it was situated on the bank of River Tagus, looking over the docks on the river.
Currently, nearly 500 years later, there is land of about 300 metres wide between the monastery and the river and there is a park there.