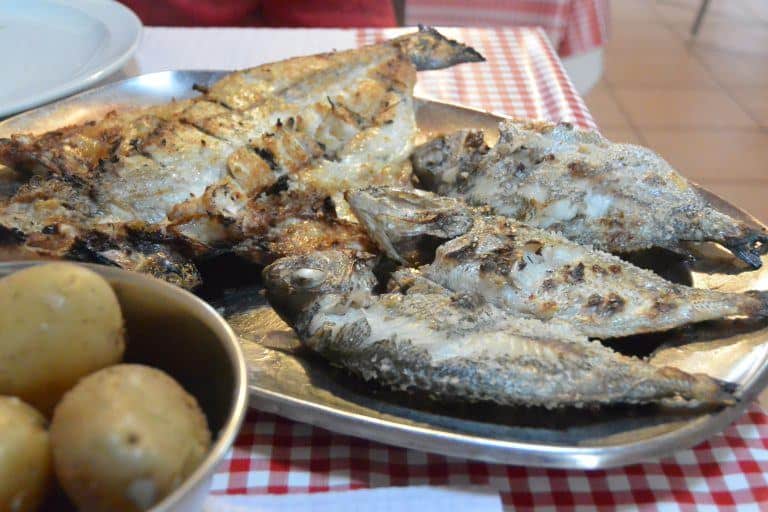 [ Feb.2017 ] We got up at 3 am again, this time to go to Algarve in the south of Portugal.
Every time we say that we must not plan like this, but because of the timing of the flight to where we want to go, we often have to get up very early.
This time, we changed planes at Lisbon airport, which was the first time for us.
We found Lisbon airport unfriendly.
There were not enough signs, so it was difficult even to find a toilet.
My husband was asked the way by several people as usual.
Among them, there was a man who was so agitated that he tried to go over a no entry fence.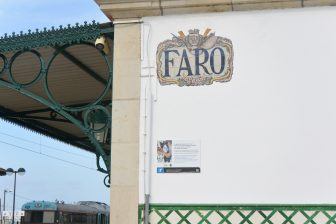 You had better have plenty of time if you have to change at Lisbon airport.
The flight from Lisbon to Faro was only about 30 minutes.
We took a taxi to the railway station and left our luggage in a small hut on the platform.
The fee was 1.10 euros per hour.
Now we could travel light and we headed for the restaurant which was recommended on the internet, because we were so hungry.
We thought we found it and ate there, but we realised afterwards that in fact this was a different restaurant to the one we were looking for.
Anyway, the one we went to was called O Chalavar.
The door was open so we entered, but it was very quiet and nobody was there even though it was after 12 o'clock.
I wondered if it was not open yet, but soon a waitress came out and said "It's open" in English without smiling.
And she continued "You choose".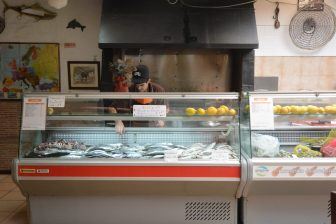 We got confused but soon we realised that here the customers choose the foods from their glass case, the one you would see in a butcher at the end of the shop. Then the chef cooks them in the charcoal kiln.
There was both fish and meat in the case, but because Faro is a seaside town, we chose fish.
A salad, some bread and some potatoes were included.
I chose small fish and three of them were served.
One was very tasty, but the others were not.
My husband chose a larger fish which could be horse mackerel and he liked it.
We were the only customers for a short while, but soon many locals came in and the restaurant became full.
As for the dessert, we had to have either mango mousse or creme caramel.
Including that and coffee and a carafe of wine, it was only 27.20 euros.
It was a simple and interesting restaurant.
I would like to try their meat, if I have another chance.