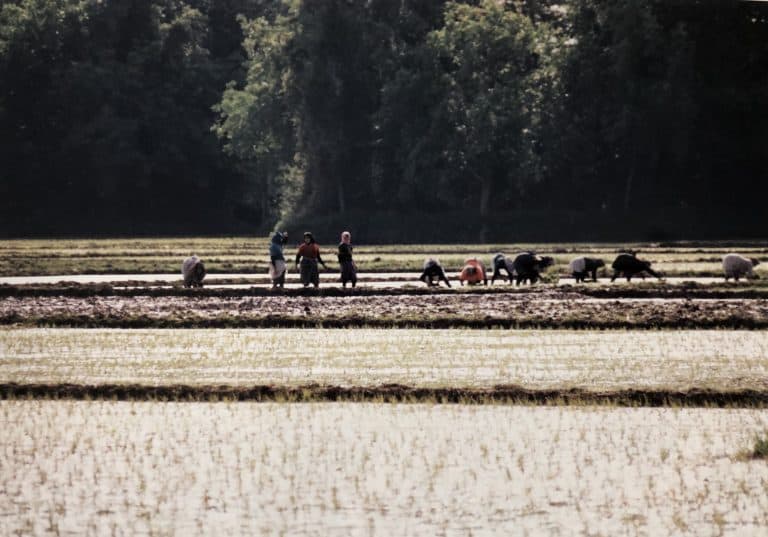 [ May 1999 ] Next day, we left Tehran, the capital city of Iran and headed northwest.
It was a day for driving.
Soon after we left the city, the the landscape became a sort of desert.
After going over one mountain, we had a short break.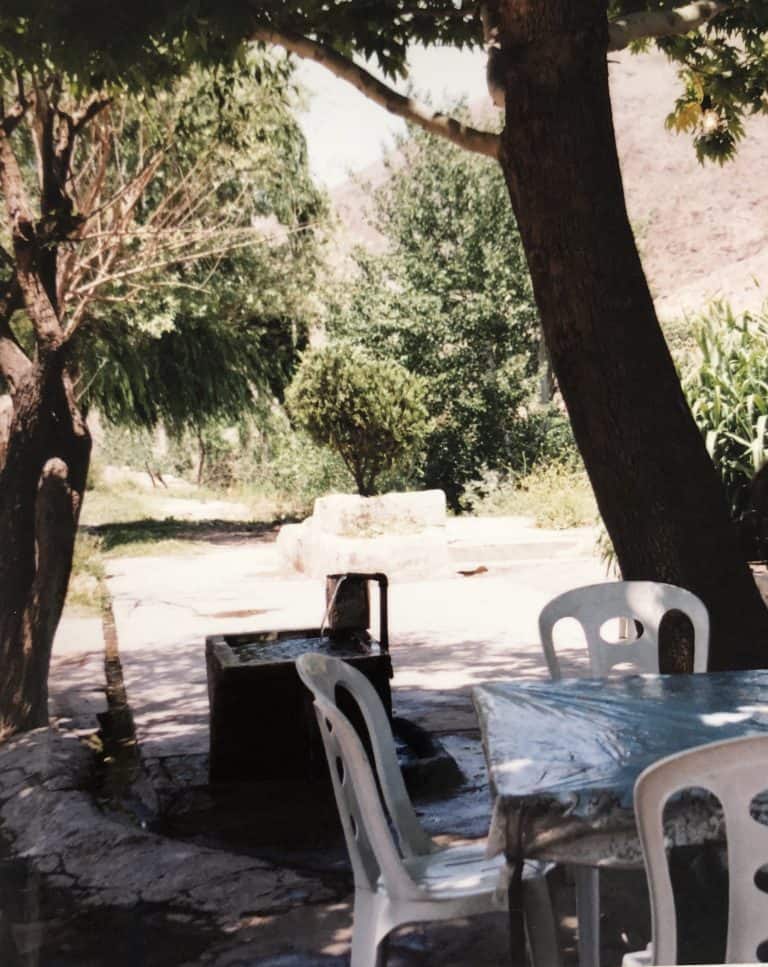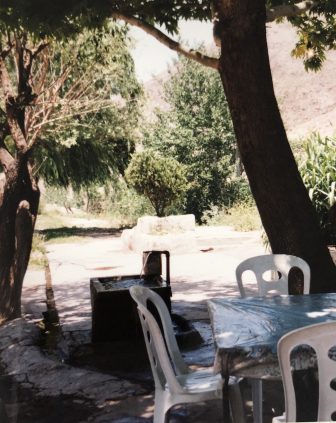 They put a mat with the pattern of a Persian carpet on the ground and we had a cup of tea.
According to our guidebook, in Iran, people drink tea in a different way : first, you dip a lump of sugar in the tea a little, then take it in your mouth and drink tea.
Our driver Ali was doing exactly that, so we copied him and kept doing that during the holiday.
The sweet flavour soaked into the mouth, which was really nice.
We moved on and in front of a small hut which served foods, they put a table under a tree for us to have lunch.
Since we arrived in Iran, all our meals had been Kebabs and it was the same here, too.
I like Kebabs, so it was OK.
This time, the chicken Kebab was nice.
They also served a bawl of yogurt made of sheep milk, but it was too sour for me.
The scenery around here reminded me of Turpan in China.
The surface of the mountains were beige and the valley was deep green.
The wind was blowing, that felt good.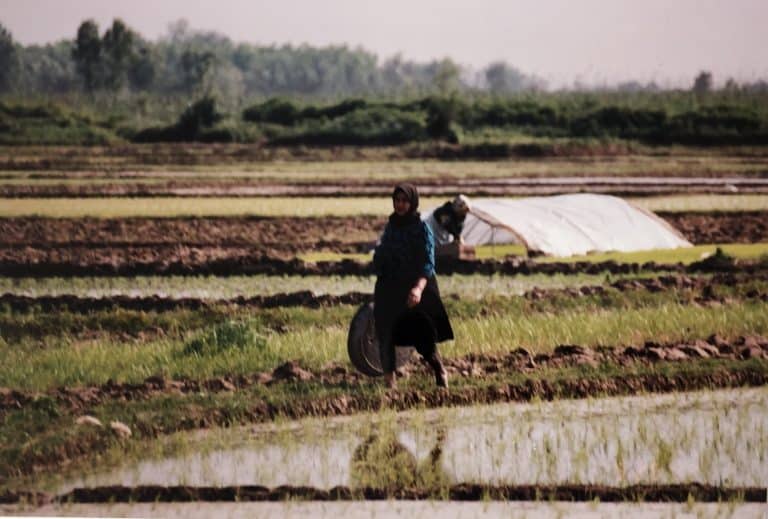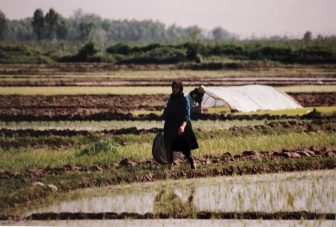 After lunch I slept in the car and woke up to find the scenery had changed.
We were in the paddy field area, which was not different from Japanese countryside.
The women stood in a row bending down to plant rice, which was the scene I had seen in Shiga prefecture in Japan, where I had lived for a while.
Those workers were of course not wearing the big black Chadors, but a skirt on top of trousers.
After that, we passed a large historical city called Rasht, but did not stop there and went on to Lahijan which was famous for its tea making.
And we had another cup of tea here.
Iranians seemed to love tea, which could be more than British.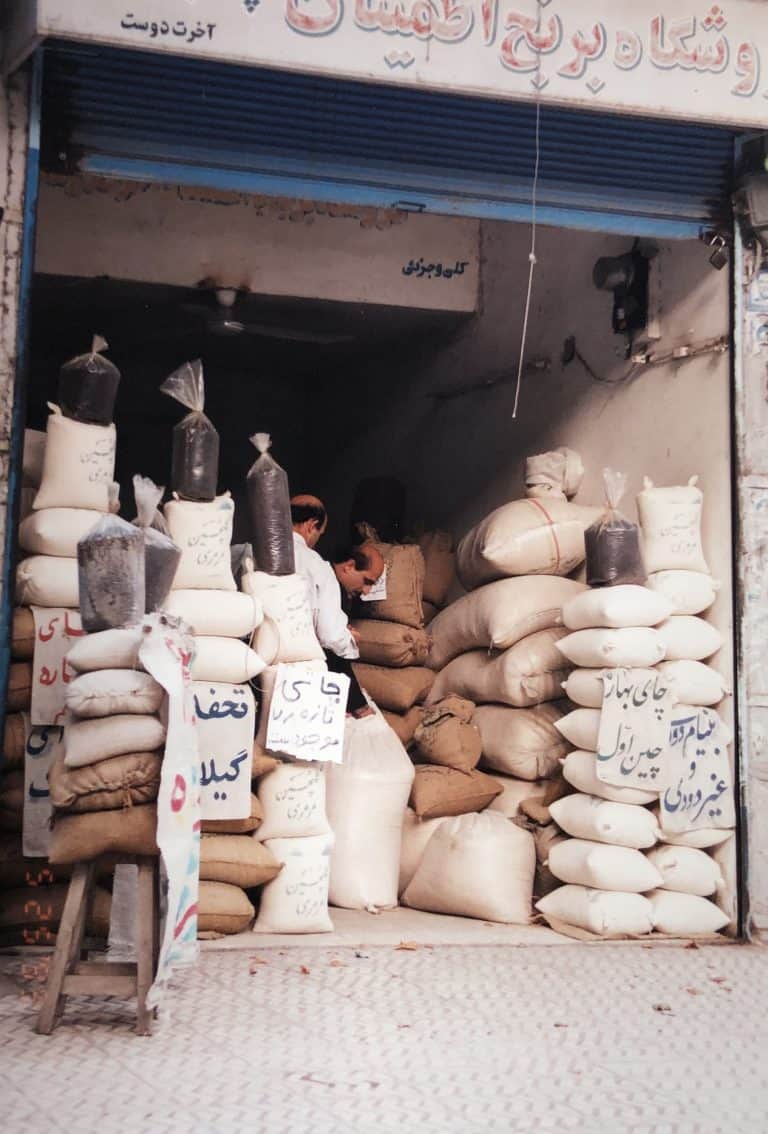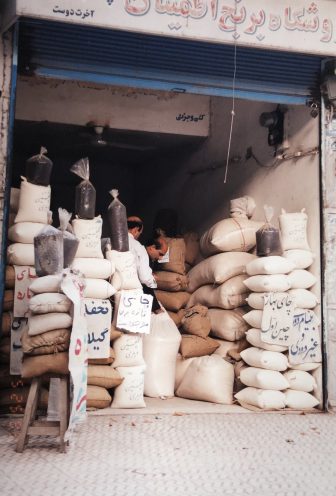 They say that Iranians used to be coffee drinkers, but since late 15th century, they have been drinking tea, because it was easier to import tea leaves than coffee beans.
They started planting tea only at the beginning of the 20th century.
Ali bought a pack of rice here.
He was a 50 year-old man who used to be a pilot for a fighter for the air force.
He said that before the revolution in 1979, he had been to the US to get trained to fly Phantom.
So he spoke quite good English.
Therefore we were lucky that we could talk and listened to both the guide, Khalil and Ali.
The destination on the day was Bandar-e Anzali, a port town on the Caspian sea.
Before arriving there, we came across the flooding area, so needed to make a detour.
Finally we arrived there and had dinner at the hotel restaurant.
This time it was fried fish.
I did not catch the name of the fish, but it was good anyway.
Khalil was eating the sturgeon Kebab.
He gave me one piece, which was hard like meat.
After that, we had a cup of tea again at the lounge.
Ali and Khalil expressed different opinions regarding Khomeini, which was interesting.