[ Jun.1999 ] We had a long drive in the hilly terrain from Daran, a small town in Iran to the area called Marboreh.
On the way, there was a dam and we were checked thoroughly.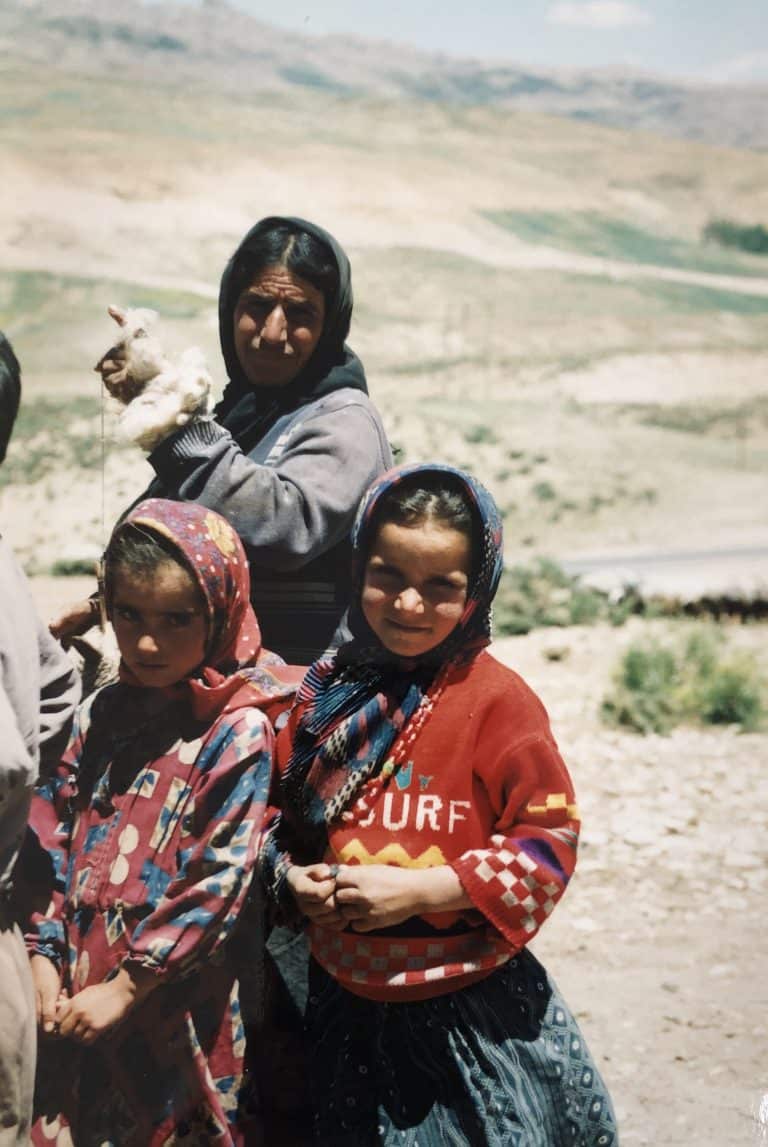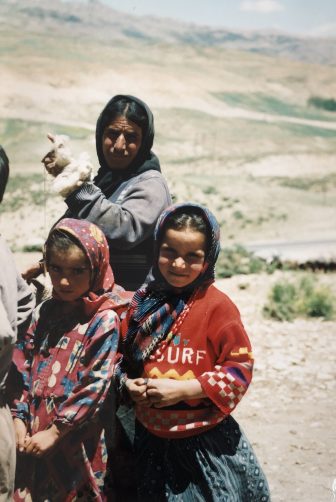 Dams are one  strategic bases for defence.
After that, I dozed off and when they woke me up, I could see that there were simple tents dotted around on hills.
They were the tents of Bakhtiari people, one of the nomad groups who are famous for their weaving.
We stopped at one point and when I started taking photos, a small boy called out to visit them in a loud voice.
We did not go to his place, but went on for a while and got off the car to visit a tent on a hill nearer to the road.
The first thing I noticed was that one of the girls was spinning wool.
She was standing doing it and making a great progress in a short time.
The technique was the same as the Turkish people I had seen in Turkey before.
I asked a couple of questions through our guide, Khalil and learned that they sold some of the wool they span as well as used for themselves.
And they did weaving during winter mainly to make bags.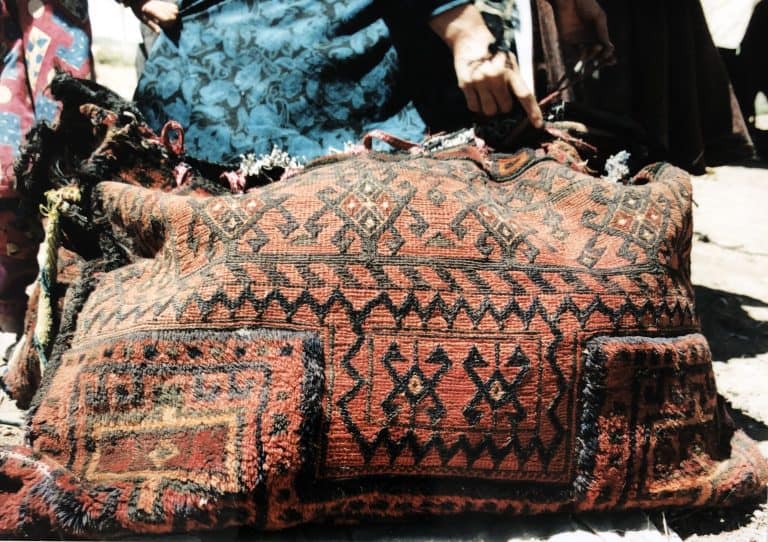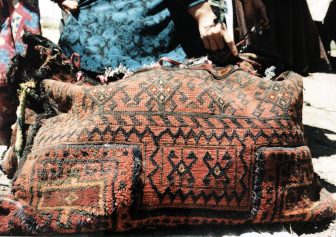 They showed me one of the bags they had woven taking it out from the tent.
It was partly woven in plain weave and partly knotted and the main colour was a soft red colour.
I liked it very much and I was happy taking a photo of it with the weaver, but seeing that I liked it, a man of the family wanted to sell it to me.
In that case… we started to negotiate the price.
His first price was 300,000 rials (about 153 US dollars in those days) and Khalil haggled down to 200,000.
I was very happy.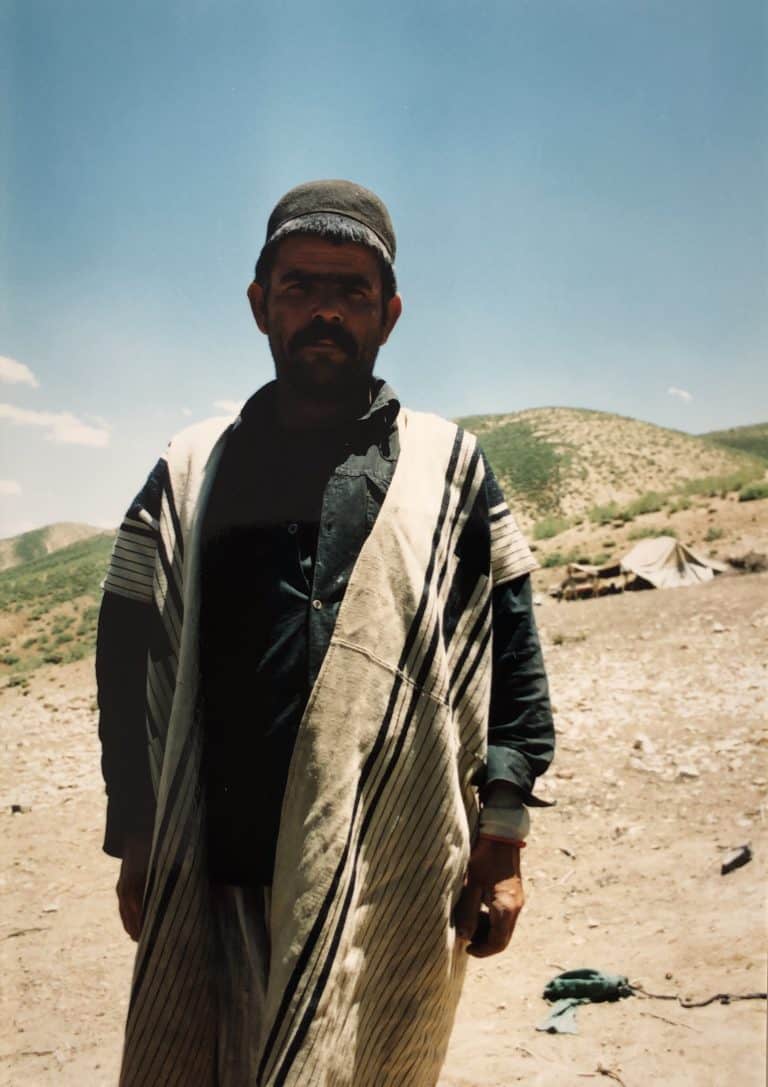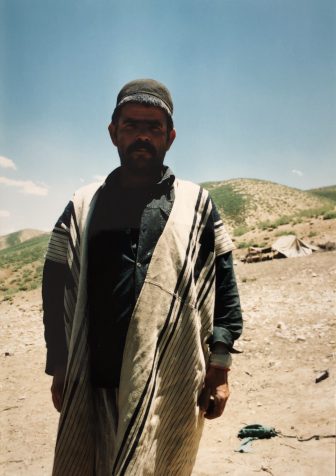 Buying something directly from the actual weaver was my dream.
But of course it was very dirty as it had been used in the tent, so it was a hard work to clean it, though.
These people were all relatives and three families were living in the three tents next to one another.
The man's jacket with the short sleeves were apparently woven by the family women, too.
It was a strange design with the stripes in black and white like keyboard and many of the Bakhtiari men around here were wearing it.
We left there after having a cup of tea with them.
The girl who was spinning came to see us off down to the road.
Her name was Shirbie (sounded like that) and that was a nickname of the proper name which means 'the light at night'.
We left her waving our hands a lot.
Then we came to a small village and had lunch of Kebab which smelled animals.
The villagers were settled but still they were Bakhtiaris.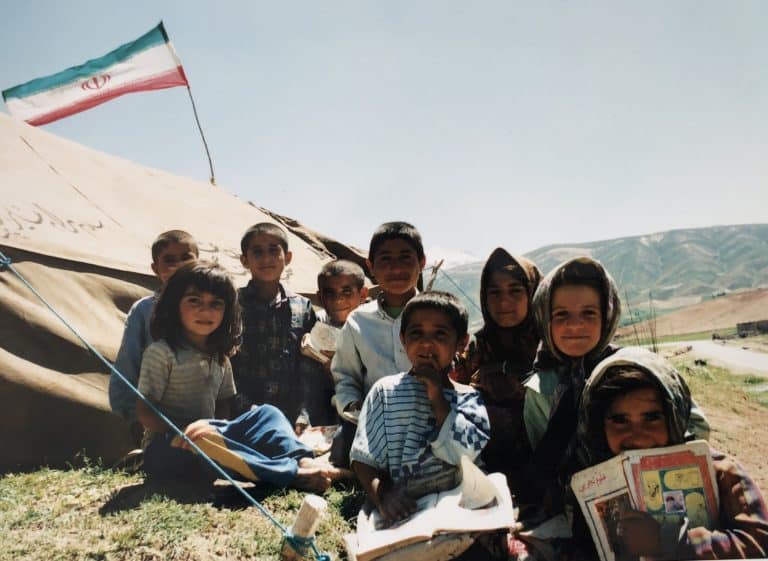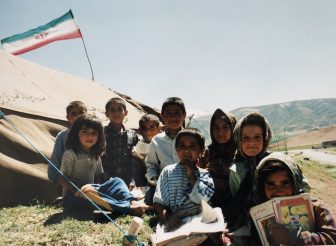 The way they grilled the fat only skewers reminded me of Shahsavan people we had met a few days before, who were doing the same.
We visited a school for nomad children, too.
Children were all very friendly.
And I was impressed that the English teacher spoke perfect English in this remote place.
On the way back, we found the young boy we had met earlier was still calling out to us, so we visited his tent.
His family were religious wearing blackish clothes because it was the 10th anniversary since Ayatollah Khomeini died.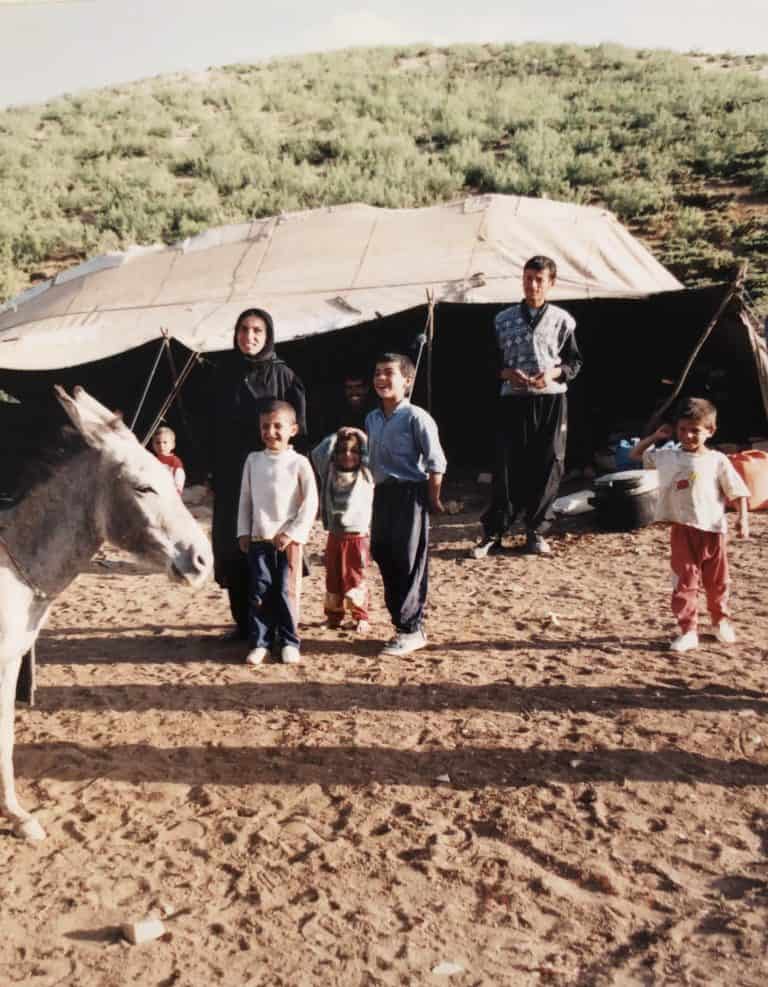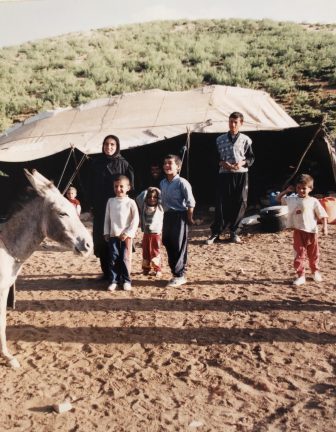 The boy who was calling us was called Ibraham.
I gave him a pack of biscuits and he ate them all within three minutes.
Here they served tea, too and when I put a lump of sugar on the saucer, children laughed at me pointing at that.
Seeing that, their grandmother taught me that the sugar should be separated and put on my clothes.
So many countries, so many customs.
It was a small thing but very interesting.
They encouraged us to ride on a donkey here.
I tried and it was not a comfortable ride at all, but a great fun.
My travelling companion bought a hand-made felt hat from them, recommended by our driver, Ali.