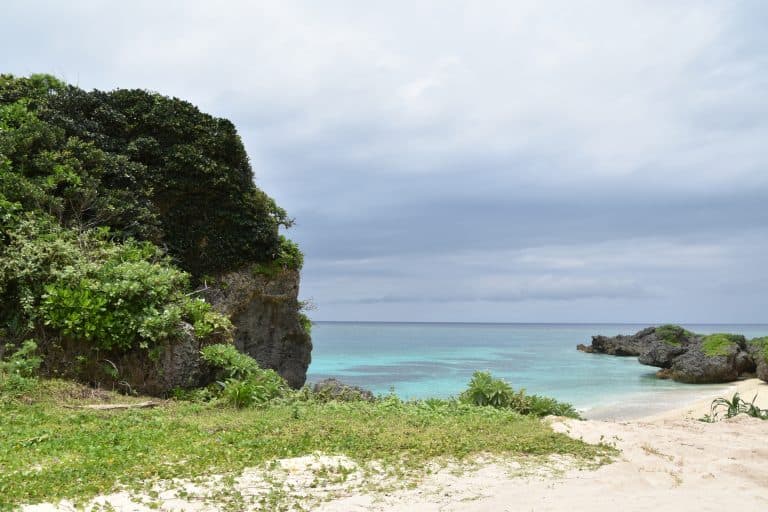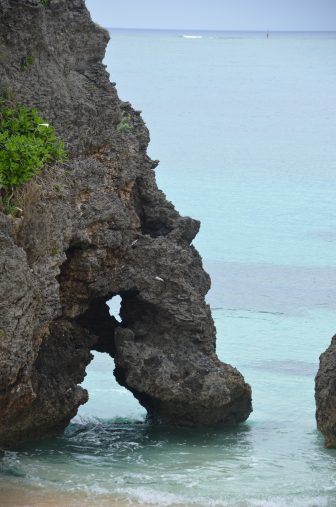 [ Apr.2019 ] On Ikema Island, a small island located north of Miyako-jima, in Okinawa in Japan, we went to see a rock with a heart-shaped hole.
This was apparently used in a popular drama in Japan called "Jun and Ai".
To be honest, for me, the hole just looked like a triangle, but I suppose it could look like a heart from a certain angle.
It was nice and quiet at the water's edge.
Then we moved back to Miyako-jima and looked at the view at the foot of the Ikema Ohashi Bridge.
Unfortunately, it was cloudy and the colour of the sea was grey.
Our driver, Mr. Nohara, told us that the shops around there were not private ones, but "The community collects money to run the shops".
The pensioners can shop in those shops on their tabs when they do not have enough money.
When the shops have any profit, they return it to the community.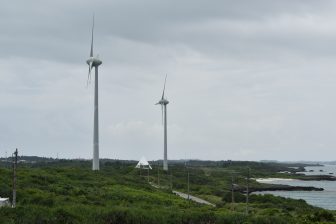 Apart from this system, Mr. Nohara said that in Okinawa, there is a kind of financial system called Moai.
I could not understand exactly how it works, but roughly it is a sort of fund created with the money paid by friends, such as graduates from the same school, and members can borrow money from that, instead of borrowing money from banks.
So many places, so many customs.
We saw two huge wind turbines at one point.
He said that there used to be four, but two of them fell down when they had a strong typhoon about 10 years ago.
"They were new at that time. We had just bought them from a northern European country" he said.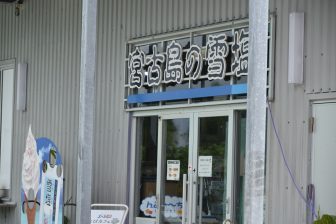 After that, we went to a shop called 'Yukishio', which sells the salt that was in the Guinness Book of World Records.
I asked Mr. Nohara "Why does it have a world record?" and he answered vaguely "Maybe because their salt is particularly powdery".
It sounded strange, so I looked it up and found that he was wrong.
The reason was that the salt by "Yukishio" had the most kinds of minerals in the world.
According to their website, because this category is no longer included in the Guinness Book, they cannot say that it is listed in it anymore.
Anyway, we did a bit of shopping there.