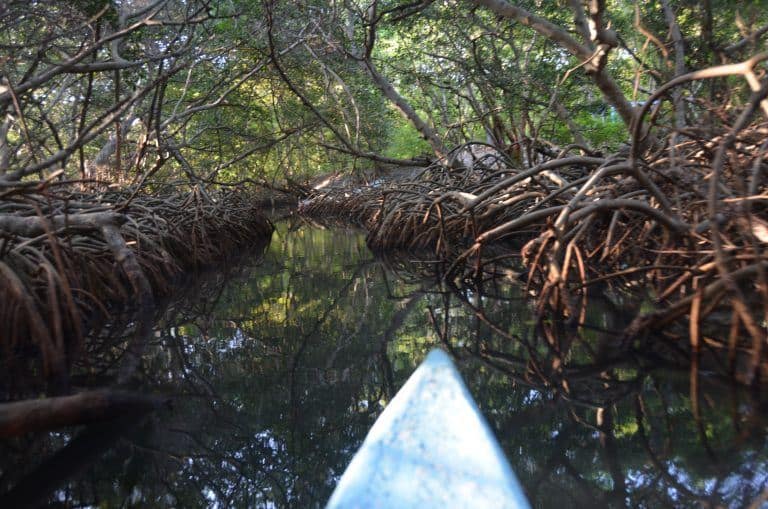 [ Jan.2017 ] On the first day of our stay in Isla Grande, an island in Colombia, we joined a canoe tour to see the mangrove forest.
We were the only people to do this tour with one guide.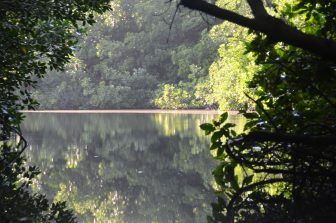 Immediately after leaving the hotel from the back door, we saw that this island was like a jungle, full of tropical trees.
Our canoe started very quietly as if it was gliding.
The view and atmosphere were fantastic, apart from the fact the sun was just in front of us.
Before reaching the mangrove forest, we went through the south coast of the island and there were some second houses of rich people.
The owners were apparently French, Brazilian, Chilean and Peruvian.
Then we arrived at the forest.
I have never seen anything like this.
The still water was like a mirror and the reflections of the complicatedly twisted plants which our guide called 'Mangrove Roja' were so clear and beautiful.
And it was so quiet.
I felt really lucky that we could keep this wonderful scenery to ourselves as there were no other canoe tourists.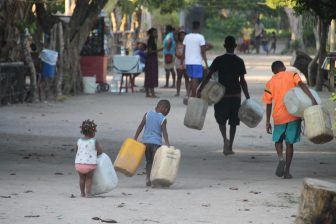 After this dreamy time, we got off the canoe and started walking.
We saw a lake which was said to be in the centre of the island and then went to the biggest village on the island called Orika.
Here there were some huts which were too simple to be called houses and animals on the ground which was too rough to be called a road.
It was a shock for me.
The people there were all black and I wondered if the African villages I have never been to would be like this.
Even in this environment, there was a disco building facing a square where children were playing football.
Our guide told us that they enjoy dancing salsa and bachata.
He took us to a souvenir shop which I suppose every tourist was taken to and we bought a big spoon and a fork made of coconut skin.
I cannot remember how much, but remember that they were quite expensive.
I thought it's OK, though, because our purchase would help the local economy.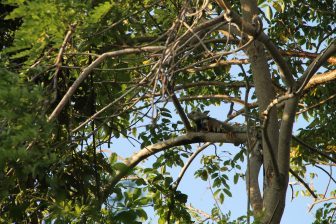 On the way back to the hotel, we saw quite a few iguanas perched on the trees.
I did not know they live on the trees.
They look fierce, but apparently they do not do anything to humans.
Our guide gave some information on crabs, birds, herbs and so on, too.
The tour was only about one hour, but it was very interesting and worth doing.