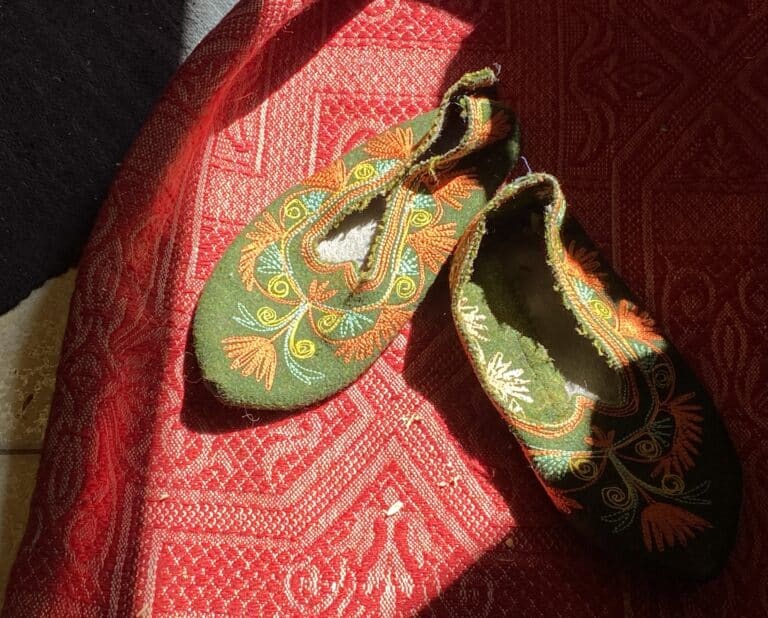 [Apr. 2022] Taking a break from sightseeing in the old town of Plovdiv in Bulgaria, we went to a souvenir shop.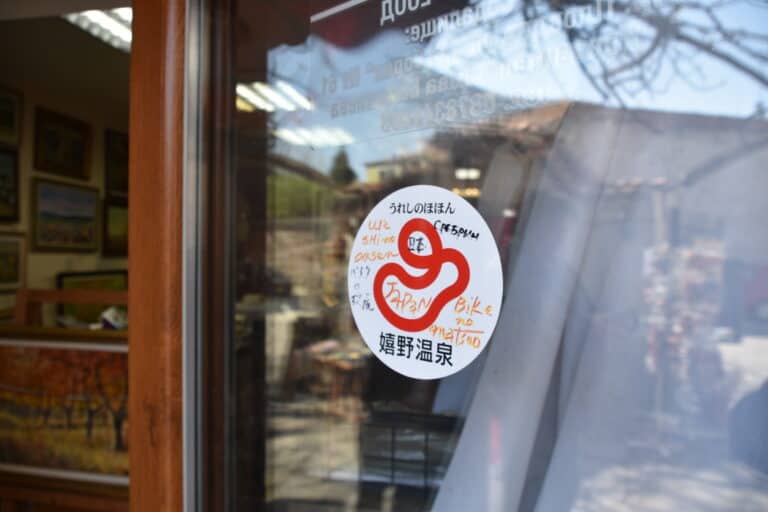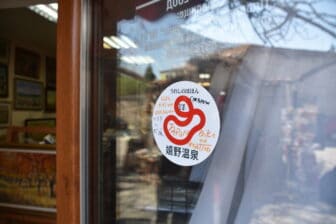 It was a shop where crafts were rather messily placed in a shop that was not very tidy.
The owner was also a simple person, and I thought he wouldn't speak English, but when he found out that I was Japanese, he said, "another Japanese have come before," and showed me the sticker which was on the glass door.
The round sticker had "Ureshino Onsen"(a hot spring resort in Saga prefecture in Japan) printed on it, and "Matsuo", who was travelling by motorcycle, was written by hand.
Mr. Matsuo is probably a person who promotes his hometown Ureshino Onsen while travelling around the world on a motorcycle.
In the first place, I can feel his determination from carrying such stickers.
I wondered if the results of his effort had come to fruition, and if Mr. Matsuo had returned to Japan safely.
We have been to Ureshino Onsen, but we couldn't enjoy it due to a disappointing incident, so we would like to take another opportunity to visit this destination.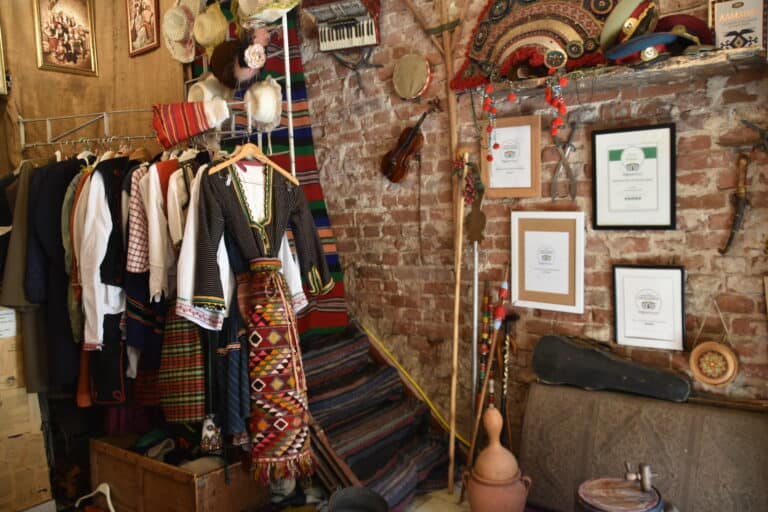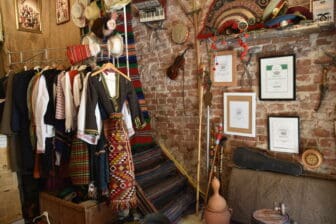 By the way, I bought a small kilim bag at this shop.
Kilim looked old and could be from Turkey, but I'm glad I found it here as there aren't many genuine hand-woven old kilim bags sold in Turkey anymore.
When we left this shop and looked diagonally opposite, I found a shop called "Old Plovdiv retro photo".
It wasn't obvious at first glance, but it was a photo studio that took pictures of customers in old Bulgarian folk costumes.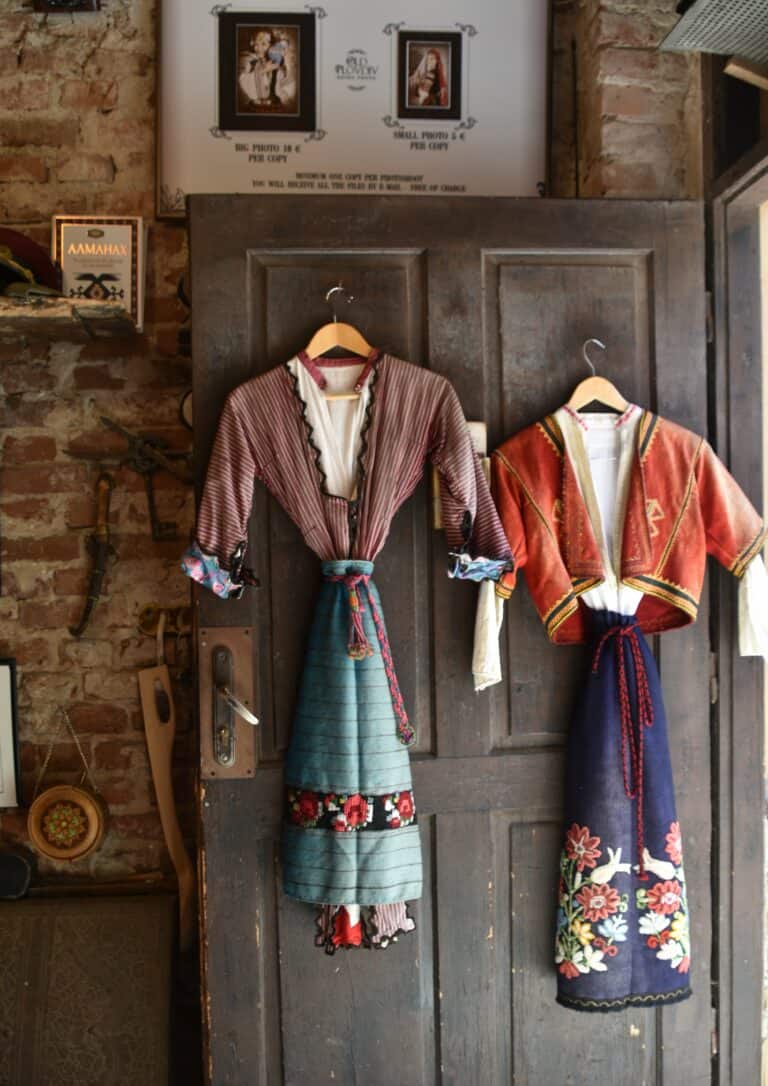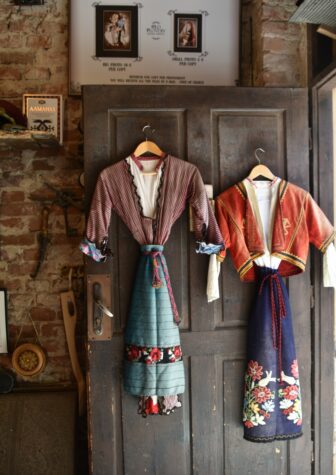 I love this kind of thing.
I haven't done this for a while, so I jumped in without hesitation.
The last time we did this was probably in Lviv, Ukraine.
It's rare in Western Europe, but it's a service you often see in Eastern Europe and Asia.
In this Old Plovdiv, for 44 Lev (about 22.50 Euros), they will take about 10 pictures of various poses with various accessories, and give you the data.
Then, the selected one will be printed in a retro style and handed over in about 20 minutes.
It seemed to be real antique folk costumes, and I was able to try on the clothes I saw at the ethnographic museum earlier.
The owner was a round-faced middle aged man.
He was instructing the young apprentice.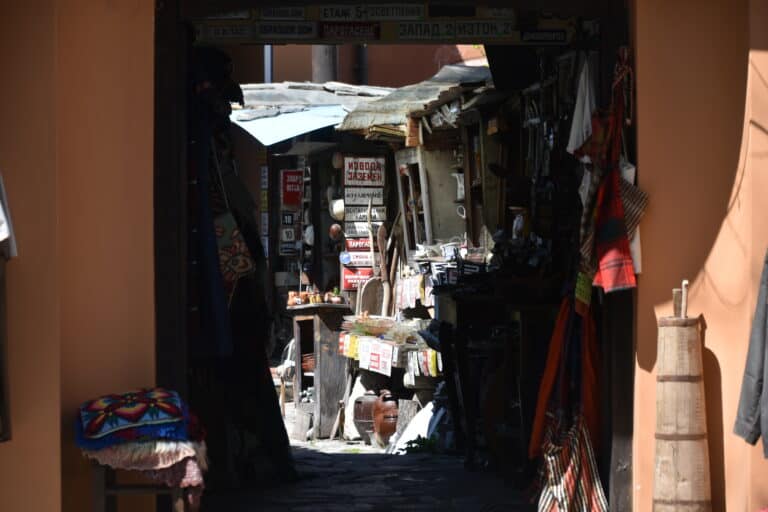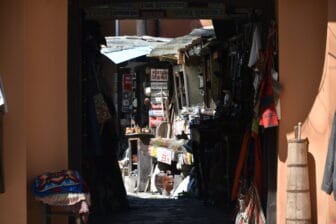 After having a good time here, because my husband recently got into an antique TV show, we took a look at an antique shop.
We didn't buy anything, but the things that were exhibited in the museum were lined up with price tags on them here.
Shops that you have a possibility to buy may be more interesting than museums.