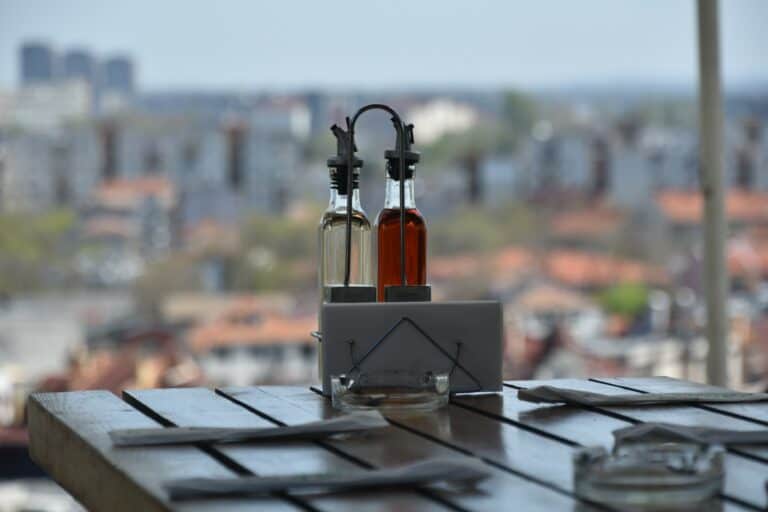 [Apr. 2022] It was almost lunch time on the day of sightseeing in the old town of Plovdiv in Bulgaria.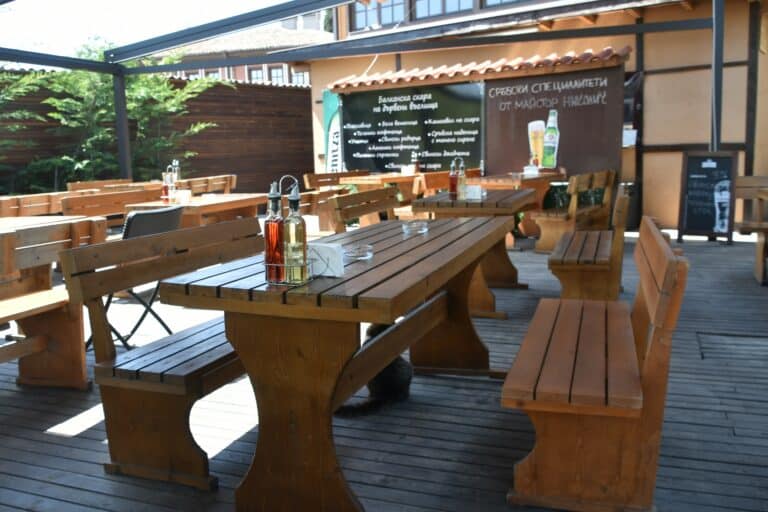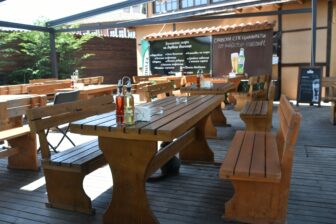 We went to a restaurant called Rahat Tepe, which was recommended by the proprietor of a costume photo shop.
It is located at the end of Saborna Street, the main street, at the foot of the ruins of Nebet Tepe, which we visited this morning.
The entrance is normal size, but when you enter, you will be surprised at its size.
There are plenty of tables outside as well as an indoor space, and it's on a hill so you have a great view.
We settled down at a table in the shade.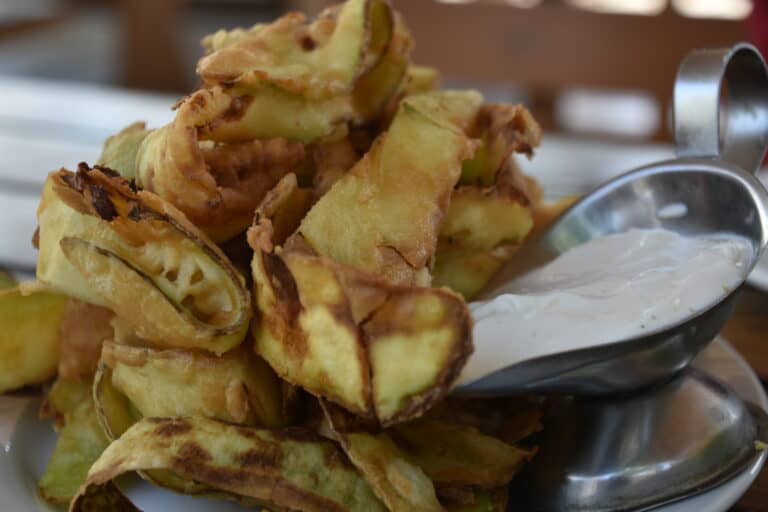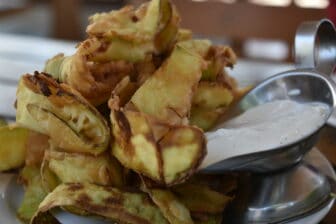 From the menu with photos, we chose a normal salad and fried zucchini with aioli sauce as starters.
The zucchini was thinly sliced ​​and easy to eat, and it went perfectly with the aioli sauce.
The main one is called "Sach Extra".
This is a local dish with sausages, chicken, pork and lots of vegetables on a hot plate.
I would say it is the Bulgarian version of Teppanyaki.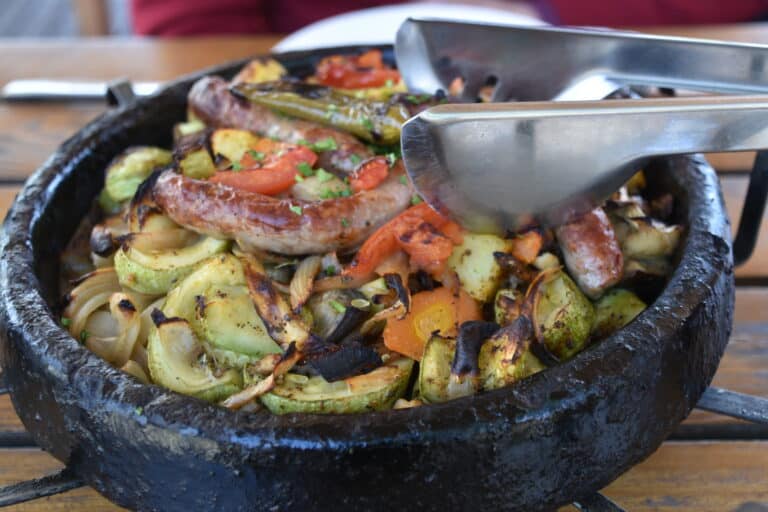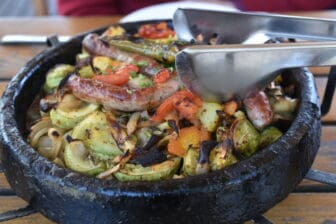 This was very delicious.
I especially liked the thin sausages.
At first, when we tried to order two of this Sach, the waiter stopped us.
It looked small in the menu photo, but one was plenty enough for two people to share.
When I looked carefully, the number of grams was written on the menu.
For dessert, I chose yogurt.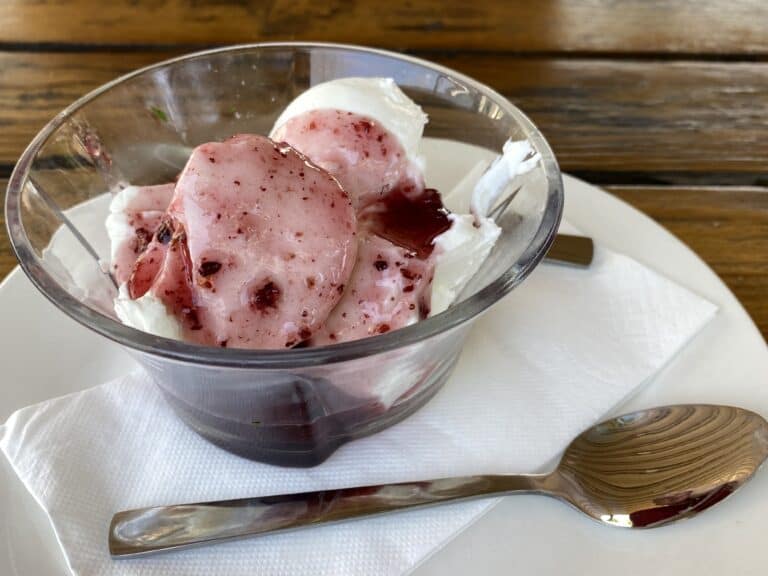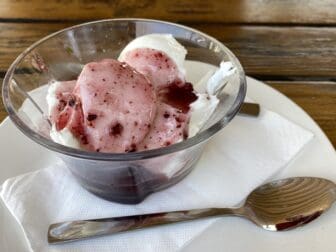 Bulgaria is synonymous with yogurt (at least in Japan), but this was the only time I ate yogurt on this trip.
It was a slightly sour and sticky version of panna cotta, and it was richer than I expected and I liked it.
My husband had a glass of grape Rakia instead of dessert.
Rakia is a strong distilled liquor found everywhere in the Balkans.
It seems almost the same as grappa.
I don't like grappa or rakia though.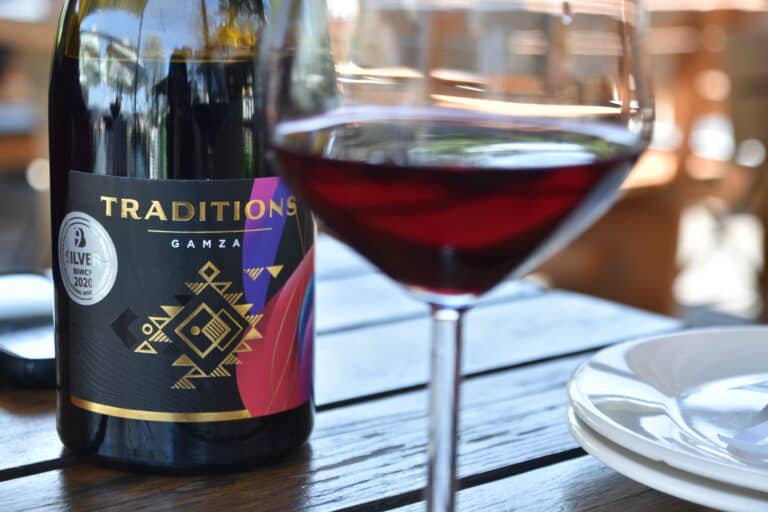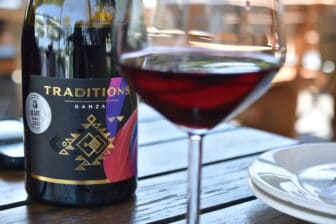 This terrace seat has a beer garden atmosphere, and in fact many people were drinking beer, but we drank a bottle of local wine.
The bill was 77 Lev (about 40 Euros), which was very reasonable.
It was a satisfying lunch.
By the way, there was a craft centre across from this restaurant.
It was closed when we passed by in the morning, but it was open at lunch time so we took a peek.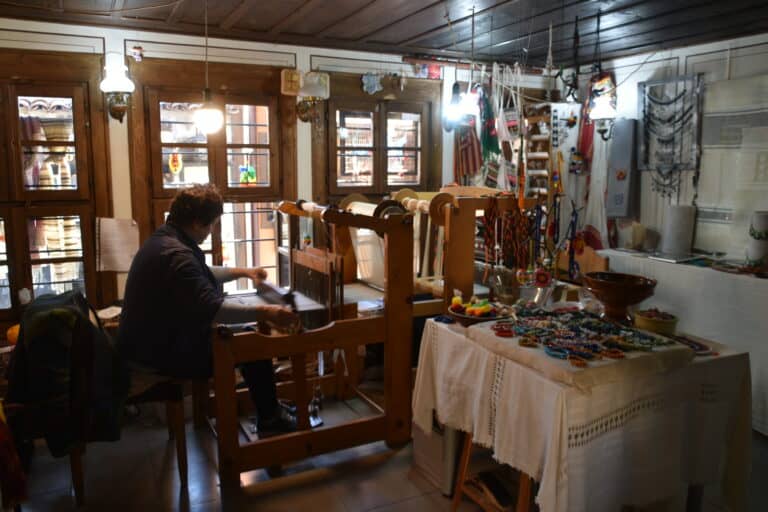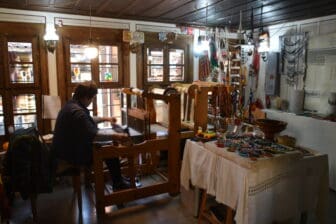 Several craftsmen work in this building while also selling their products.
On the day only one person was working and she was weaving.
It wasn't very clear to me, but the facility appeared to have been funded by a Japanese cultural institution, and had a sign with the Japanese flag on it.
It seemed that craftsmen representing Bulgarian crafts were selected and placed here.