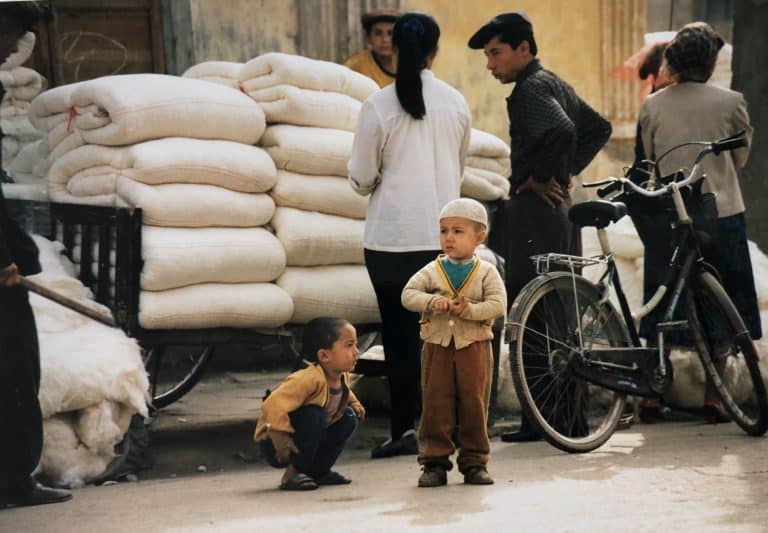 [ Sept.1996 ] The bazaar in Kashgar, the town in the western part of Xinjiang in China is genuine.
In Turpan a few days before, I had been disappointed at their bazaar, so this time I went there with my expectation lowered, but here it was much better than expected.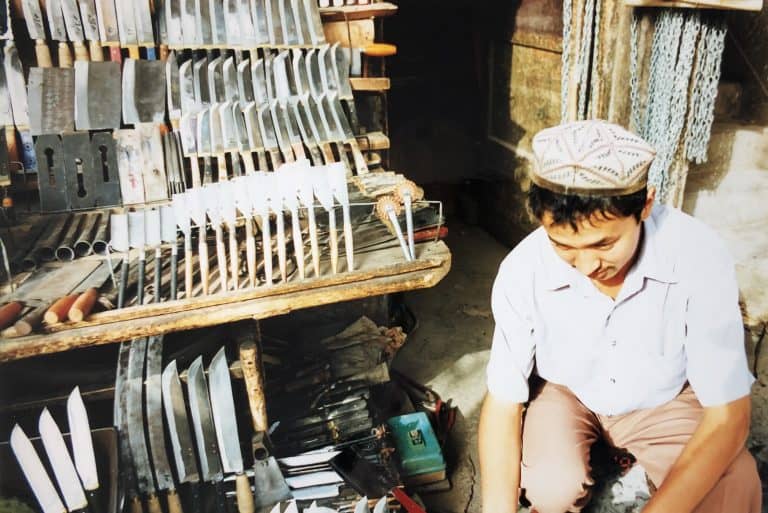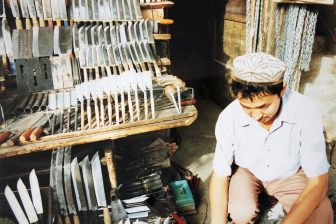 The handiwork shops were lined up, such as woodwork, knife making, quilt making, blacksmith's shops and so on and we could see that they were making things in the shops.
The area was divided by the items they were selling.
There were some friendly children, too, so I was not short of the subject for photography.
I bought two lamb hot buns from the stall baking by attaching them on the inside wall of a big pot.
It was too hot and I got a bit of burn.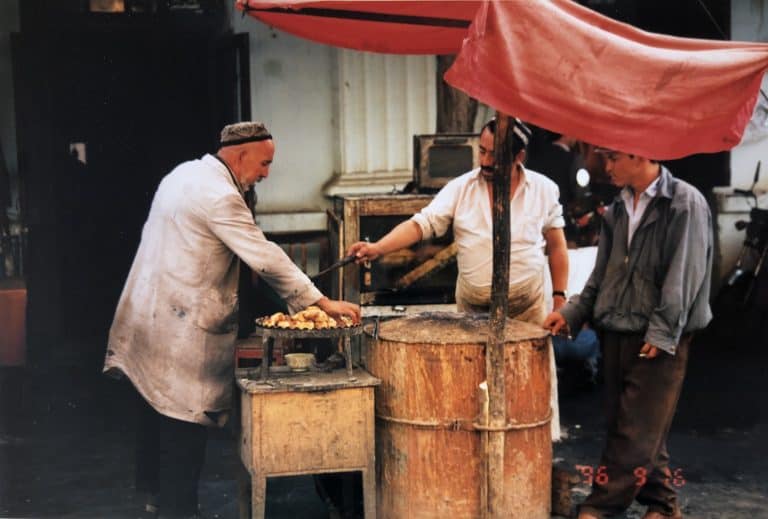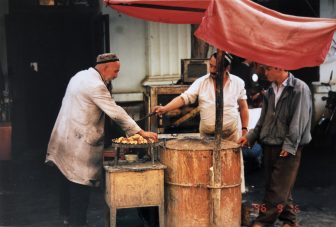 The meat was quite fatty, but the bread was nice.
There were more carpet shops than in Turpan or Urumchi and when I showed some interest, they took me not only back of the shop but also downstairs in the basement and showed me various rugs.
I was attracted to a silk rug made in Kashgar which cost $230 and another silk one made in Hotan sold for 1300 yuan ($1=8.28 yuan in those days), but they were over my budget.
Another noticeable thing was hats.
They were selling many and some of them were fur hats.
There was a beautiful hat apparently of Tajik people which had a long tail with the intricate embroidery and I wanted it, but it cost as much as 700 yuan.
My travelling companion wanted to buy a warm jacket for the upcoming journey over mountains.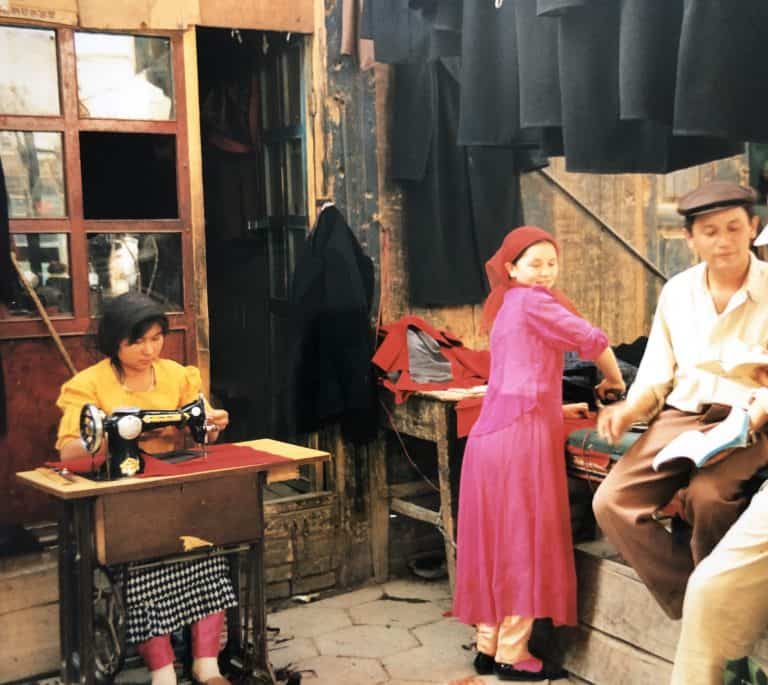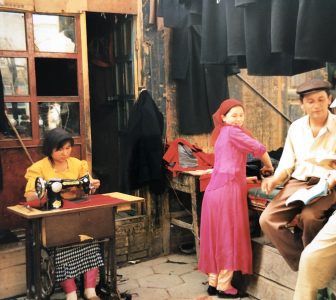 When we went into a narrow arcade, we found many coat shops and he bought a black woolen jacket from one of them.
It had the fur collars which I thought was astrakhan.
The vendor changed the collars to the better ones on the spot.
He told us that he was 33 years old and now he was teaching the women there how to sew.
A child looking similar to him came up, too.
It was a small communication, but I enjoyed talking with them which was the real joy of travelling.
As for the hotel, we moved from People's Hotel which we stayed one night to 280 yuan room in Seman Hotel.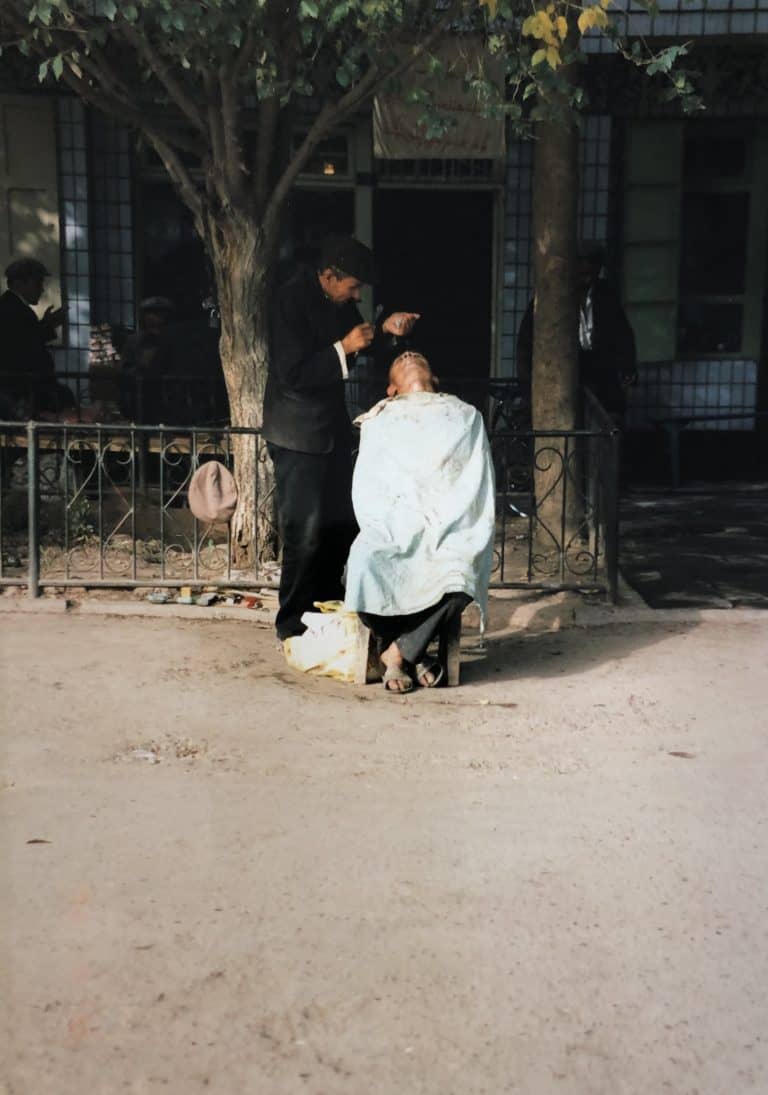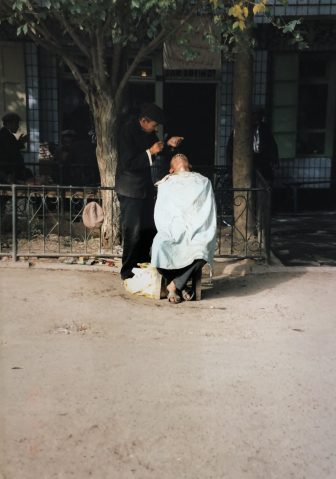 After booking a room on the phone, when we went there, the room was not ready and we had to wait, but they served us some water melon.
The room was very clean.
Even the floor was clean and that made me thoroughly relieved.
So it was a very good day, but only one thing which made me uncomfortable.
We went to one Chinese restaurant for lunch where there were a few men in uniform as customers.
Those men cast glances at us and talked with the waiter, then the waiter came up to me and talked to me in Chinese.
I tried the phrase "I do not understand Chinese" which was in my guidebook, but he did not understand me.
So I wrote "Japanese" on a sheet of paper, then he nodded "good" and went back to those uniforms.
The atmosphere was not friendly and it was like a police questioning, so I felt a little scared.