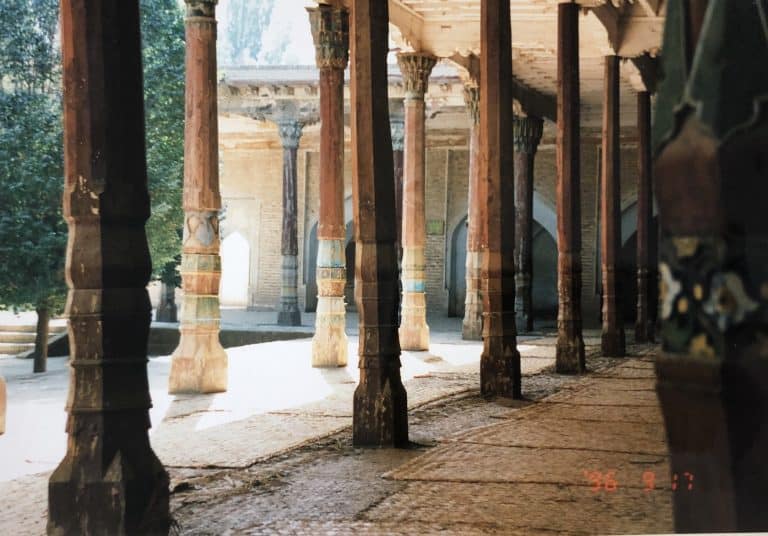 [ Sept.1996 ] On the third day in Kashgar in the western part in Xinjiang in China, we rented a bicycle and went to Afaq Khoja Mausoleum.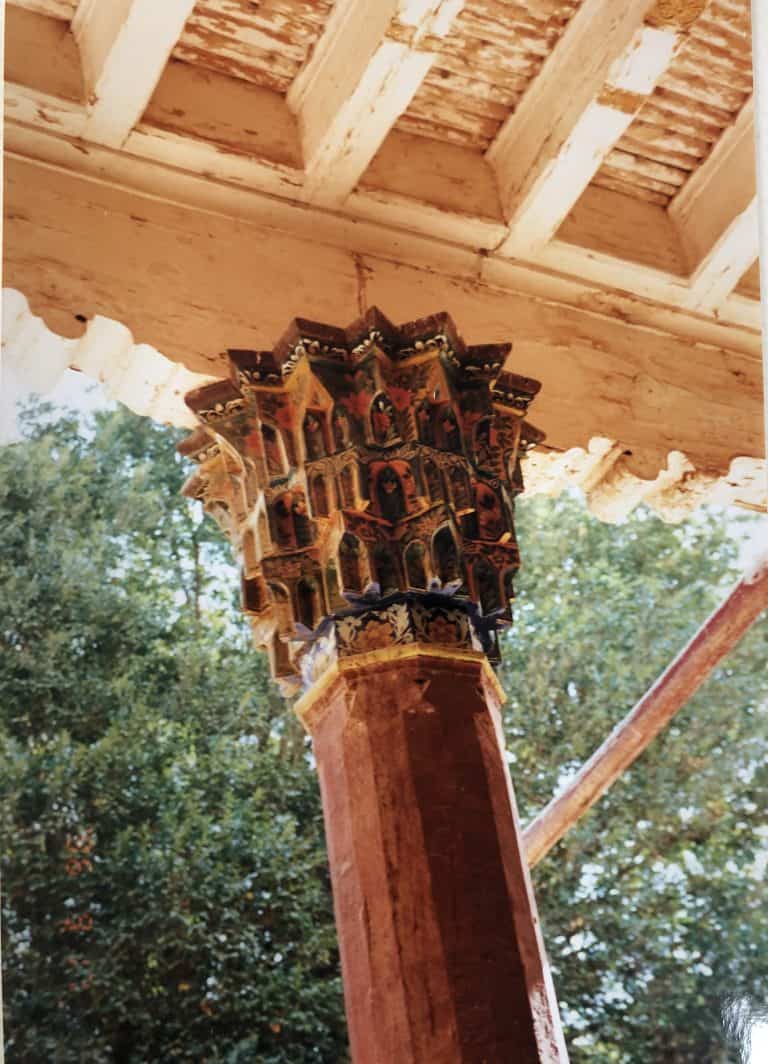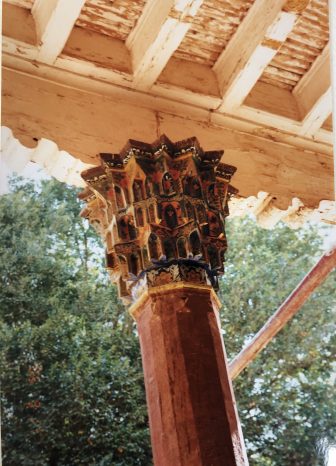 I struggled to pedal on the slope with a row of thin trees on both sides, trying to avoid carriages, donkeys, motorcycles and buses.
The mausoleum was about 5 km away from the centre of Kashgar.
Afaq Khoja was a son of Muhammad Yusuf who spread the Sufism here in the early 17th century and he had the power not only religiously, but also politically in this region.
His granddaughter was a famous concubine in Beijing, so this mausoleum is also called Fragrant Concubine's Tomb.
We finally arrived there to get disappointed because the main building which was supposed to have a wonderful tiles were under restoration work.
Even so, there were some architectures worth taking photos of, so we took quite a few shots there.
On the way back, I noticed an area on a hill there were houses made of mud stood attached one another.
Only colour was the aired carpets and the rest were all beige.
But when I peeped into the open gate, I could see some flower pots and realised that they enjoyed their lives in their way.
After cycling, we went back to the bazaar.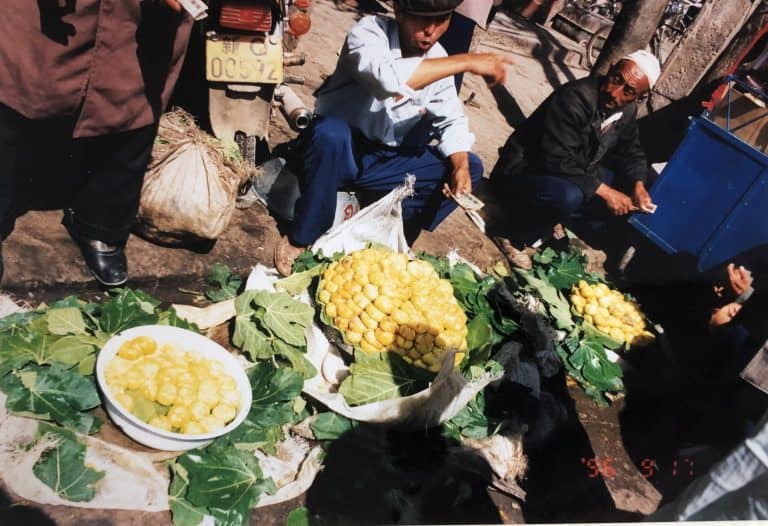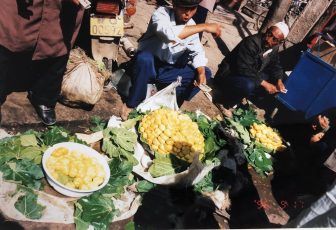 Our long travelling in China finally reached its closing stages, so our plan was to spend as much as yuan here.
First we bought a bag and a music instrument for souvenirs for 200 yuan ($1=8.28 yuan in those days).
Then we went into a no-frills restaurant to have some Shish Kebab, which had the firm substantial meats.
After that, we had a piece of melon (1 yuan) as well as yellow figs (3 for 1 yuan) at the roadside stalls.
The fruits here were all good.
Because I was still thinking about buying rugs, we went back to the rug vendors area.
I had given up those expensive silk ones, but tried to get a nice woolen rug.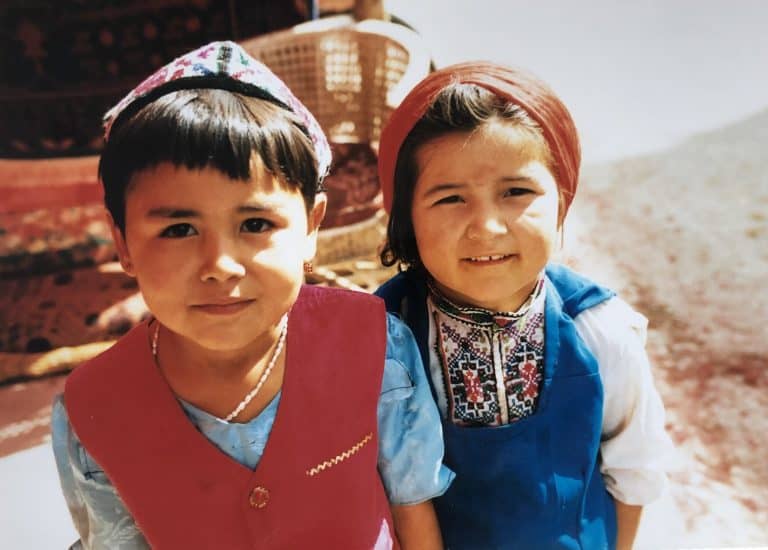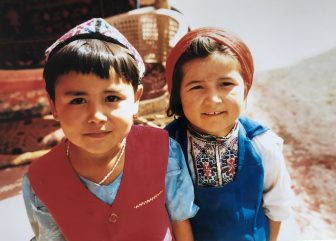 After seeing many of them again, I chose a red rug in Turkmen design and started the price negotiation, using a calculator.
His first price was 750 yuan and when it came down to 600, he seemed to want to agree, but I held out a bit more and eventually we agreed with 580.
I was happy not only because I got what I wanted for a good price, but also the negotiation itself was enjoyable.
At the bazaar, I saw several women wearing the thick brown scarf on top of their heads hiding their faces, like the ones I had seen in Urumchi.
I wondered if they could see anything in front, so I stood without moving when one of them were walking towards me.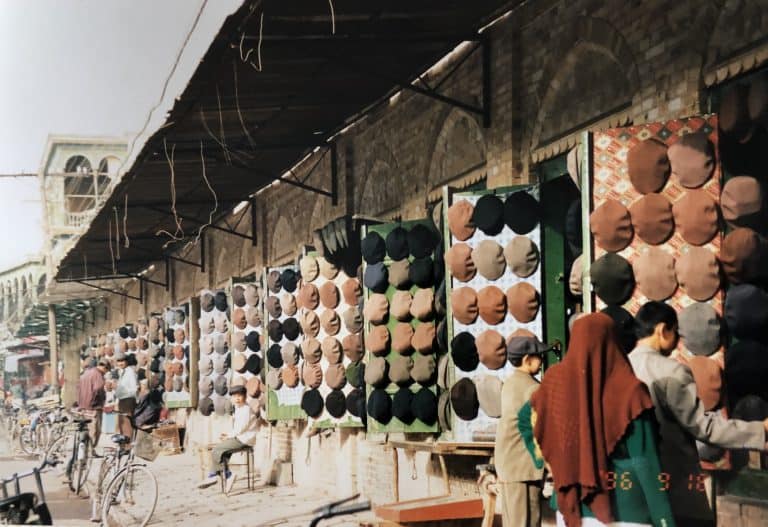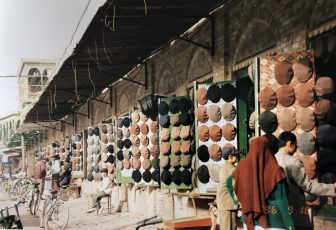 She came up very close to me and then moved away.
So as I imagined, their sight was very limited.
But apparently this was their burka for Uighur people.
After I got satisfied for my shopping, we went back to our hotel, Seman Hotel and at night we went to see "the Evening of Uighur Dance" held within the hotel (30 yuan).
It was a small but a proper theatre and many group tour customers were the audience.
On the stage, there were 4 dancers, 2 singers, 3 instruments players and another 3 who sang and played.
The main feature of the female dances was the soft movement of their hands.
The movement as well as the costumes of the male dances was more like Cossack dance.
The melodies were similar to Middle Eastern music and they were rhythmic.
A percussion caught my eyes, which was similar to a tambourine but thinner and the surface was covered by some sort of skin which looked like snake skin.
They held the bottom of it and beat it with the finger cushions.
After their performance, as expected, they said "Let's dance together!".
One male dancer came up to me and invited me elegantly, so I went up to the stage and copied his movement.
They say "What happened in Vegas, stays in Vegas", don't they.
It was a fun anyway.