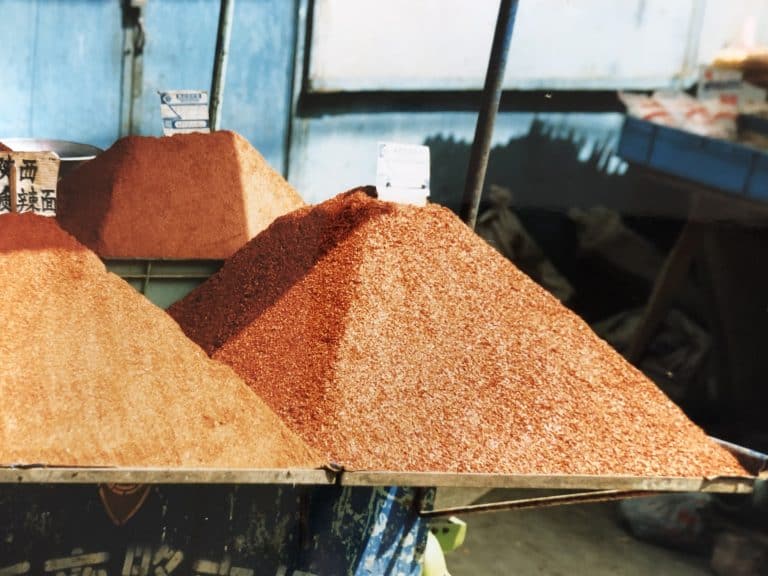 [ Sept.1996 ] Coming back from Xiahe in Gansu province in China, which was a completely another world, we stayed in a hotel called Yinbin Hotel in Lanzhou which cost 140 yuan ($1 = 8.28 yuan in those days).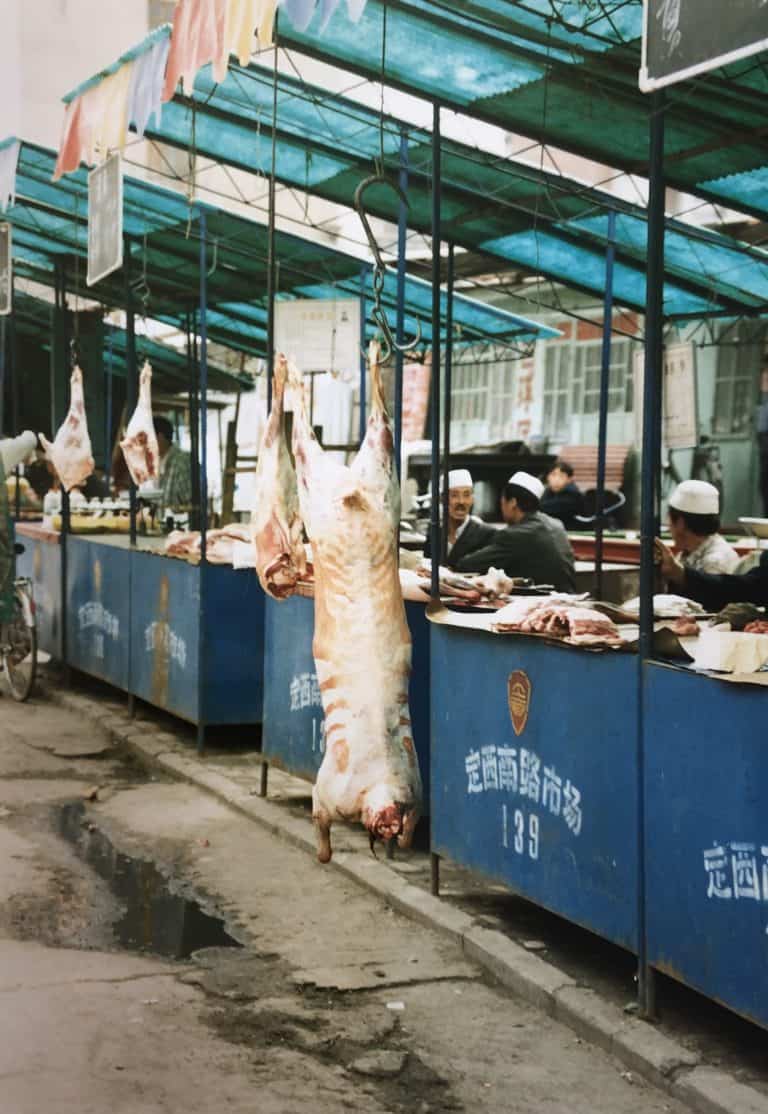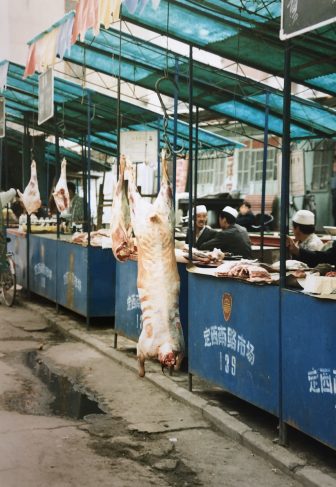 We did not do any sightseeing on the day and just spent a day in Lanzhou.
We needed to buy some things, so we headed for a department store which was in the street called Ding Xi Nan Lu.
This street was a big open-air market for local people selling clothing, foods and everything.
It was more powerful than the Farmers Lane we had been a few days before.
But the department store was dark and very quiet, which was just like the one we would imagine as a shop in a communist country.
The outside, on the contrary, was so lively that I felt overwhelmed.
We walked slowly taking photos in the street and found a woman who was repairing shoes.
It just happened that my boot was broken a bit, so I asked her to work on it.
She worked skillfully using various tools.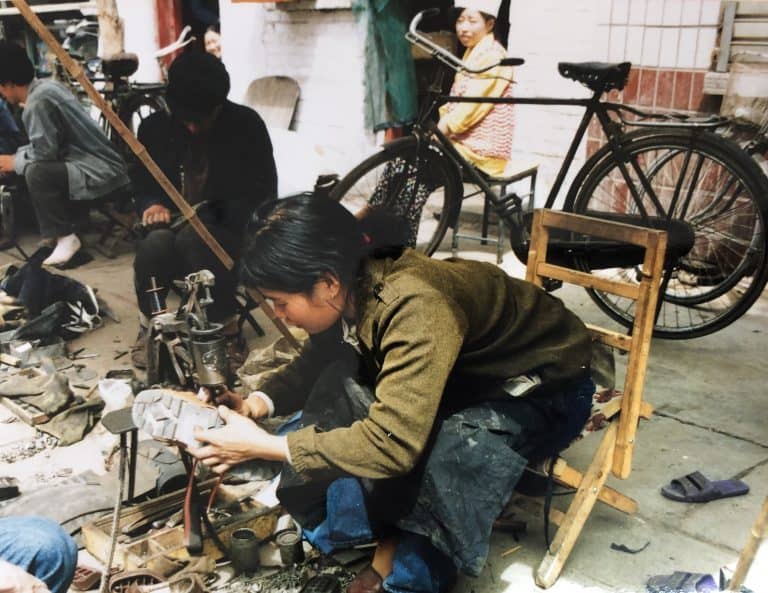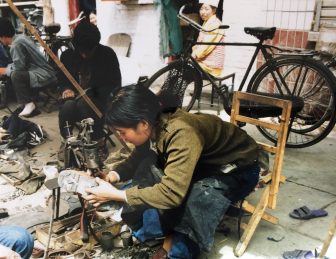 She had a piece of leather of the same colour as my boots, so it was repaired perfectly.
It cost only 2 yuan, so cheap that I felt sorry.
The market looked chaotic, but in fact, it was divided in the groups by the items they were selling.
I saw the live fish crammed in a small tank.
Some fish were gasping up side down.
There were huge piles of spices.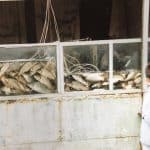 Some of the vegetables were new to me, for example the aubergines in the shape of tomatoes.
The most delightful thing I found there was stalls selling balls of wool.
It seemed there were some grades for the quality or the size and 500g ball was 25 yuan, 19 yuan or 17 yuan.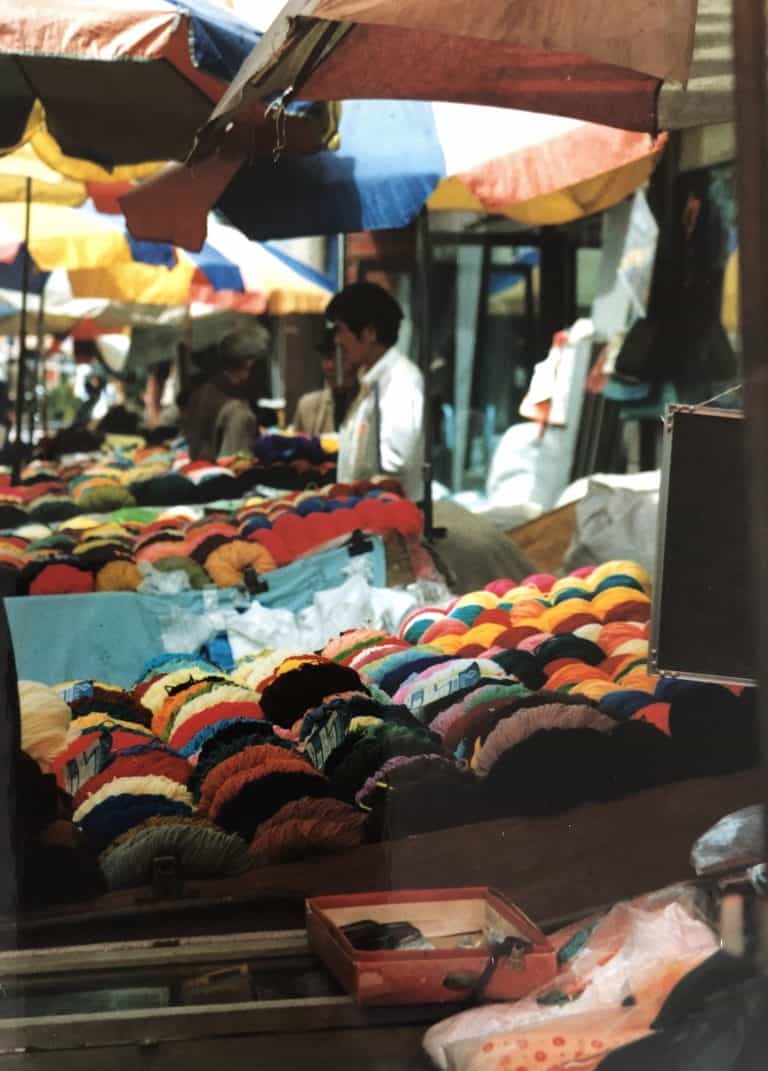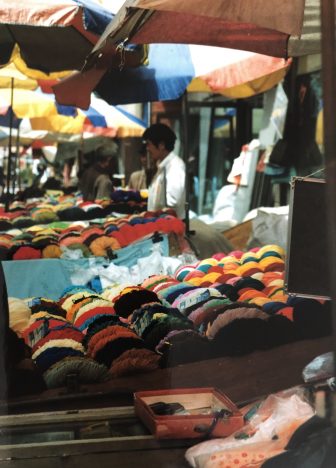 I communicated with the vendor by writing and bought 750g of dark brown wool for 25.5 yuan.
I was planning to knit a cardigan in the design inspired by Tibetan people's jacket.
A lot of female vendors in the market were knitting when they were not with customers.
Many of them were using the circular needles and they were knitting intricate Aran sweaters without looking at knitting patterns.
That reminded me of a untidy man wearing a disproportionately lovely sweater in the bus the day before.
I suppose those lovely sweaters locals wore were not off-the-rack, but all hand knitted by their family.
After having a good time in the market, we went to a post office to send this wool and other things which we did not need for the rest of the journey.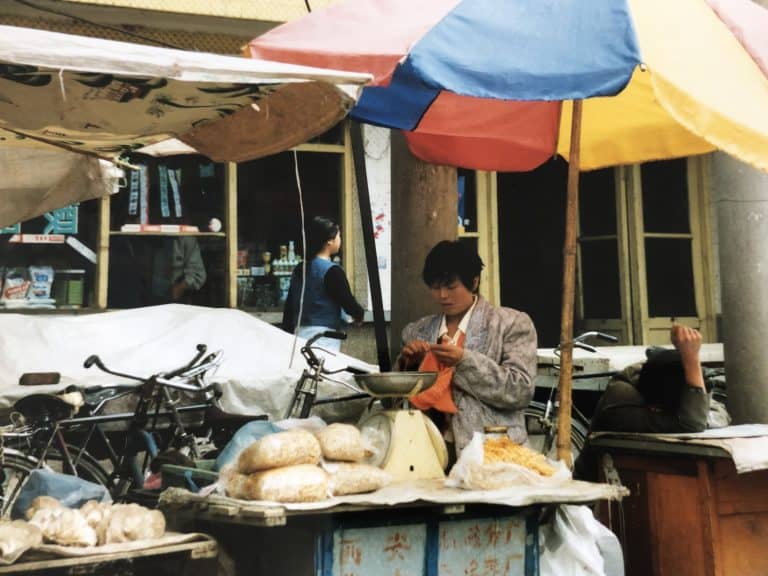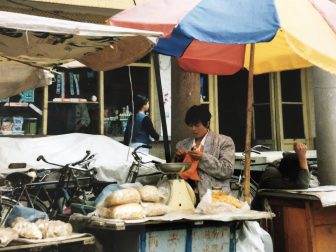 When we bought a cardboard box for 16 yuan, a young woman packed everything neatly, again using many kinds of tools and her work was free.
Then we went to the window for the parcels, filled a form and waited and when they came back with the price we got astonished.
It cost 362.1 yuan, which was more expensive than a room in an expensive hotel!
We did not have the nerve to say 'no thank you' at this stage, so we paid that.
After that to cheer us up we went to a luxurious hotel called Jinchen Hotel to have a rest drinking a glass of juice at the lobby.
When the travelling in exotic places becomes prolonged, it is important to have a rest occasionally by having familiar foods in some agreeable places.
There were many big cars in front of this hotel (for some reason there were many reddish brown cars in China), but in the street beyond that, I saw a lorry carrying hundreds of live chickens and a bus with huge luggage on its roof, which was an interesting mismatch.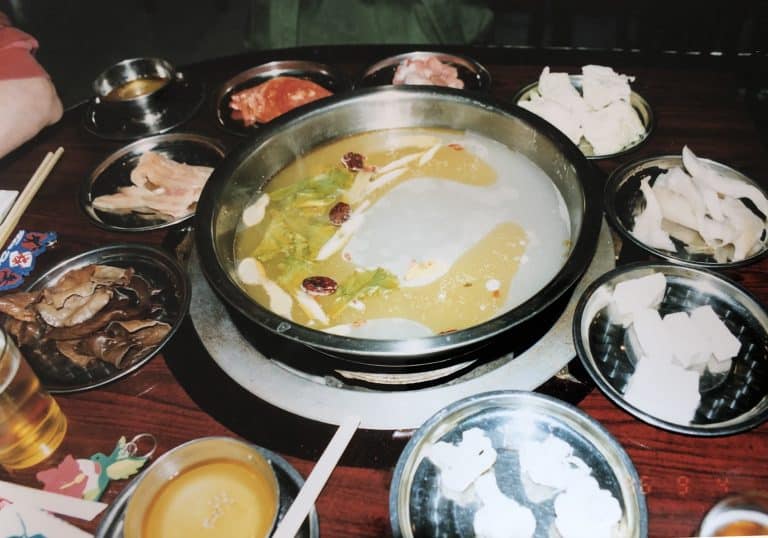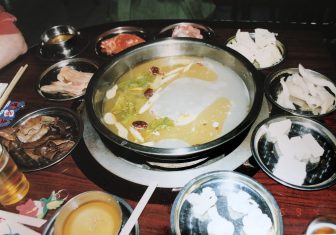 Then, we went to a restaurant which looked nice and neat.
We did not know, but this was a restaurant specialised in hot pot.
It was a buffet-style restaurant, so we went up a big table to choose the ingredients as we liked.
At our table, there was a container which looked like a washbowl which contained the hot water with oil and ginger and some other stuff.
We put our ingredients into this to cook and then dipped them in the sesame oil before eating.
There were live fish and live prawns for the choice of ingredients which put me off a bit, but those things I chose was nice and tasty.
It was a quite satisfactory dinner, though it cost 36 yuan per person, which was not cheap.