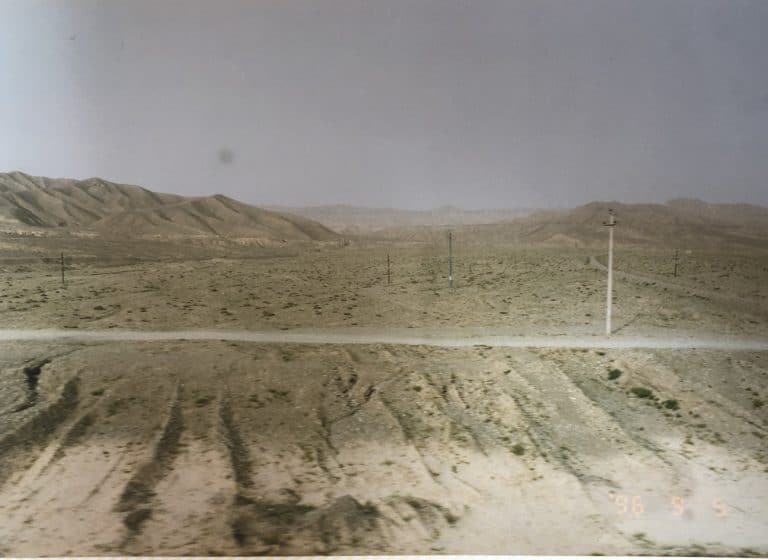 [ Sept.1996 ] On the last day in Lanzhou, the city with the Yellow River in China, we went to Baitashan Park.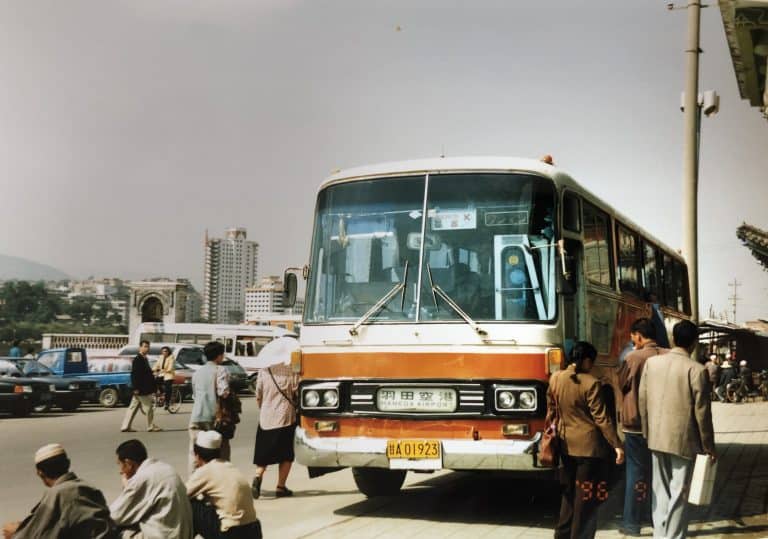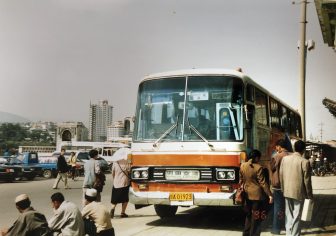 On the way, we came across a limousine to Haneda Airport in Tokyo.
For a moment, I could not believe my eyes, but in fact, it was a local bus using the secondhand limousine.
Why didn't they change the colour of the body of the bus, or at least rewrite the destination?
Anyway, we went into the Baitashan Park paying the fee of 12 yuan ($1=8.28 yuan in those days) and found that they were having a strange dinosaur exhibition.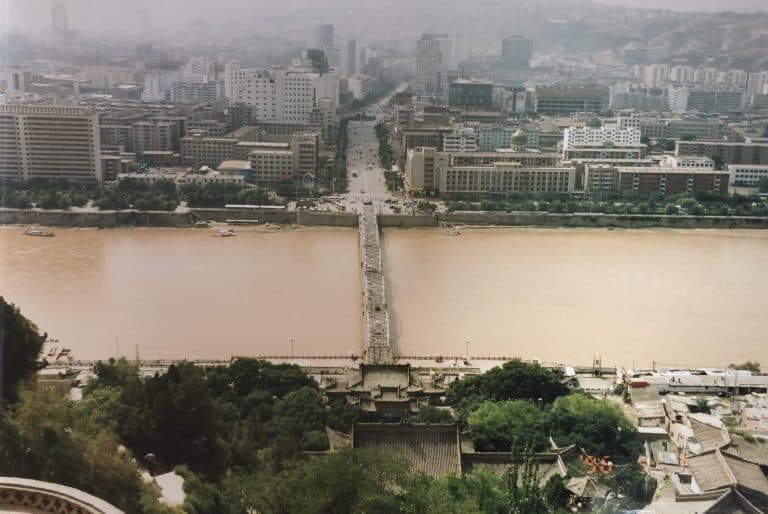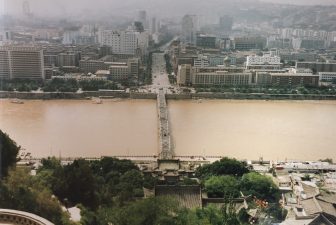 We walked all the way up the hill to see the view, which was nice, but there, they were having a terrible Karaoke party, which put me off.
When I looked down from the top, I could see the Zhongshan Bridge right below.
This view reminded me of Budapest somehow.
After coming out of the park, a man approached and invited for a sightseeing boat on the Yellow River.
Following him, we found that it was a small motorboat.
He charged 20 yuan per person and took us up to the Yellow River Mother Sculpture, one of the attractions on the river, and back.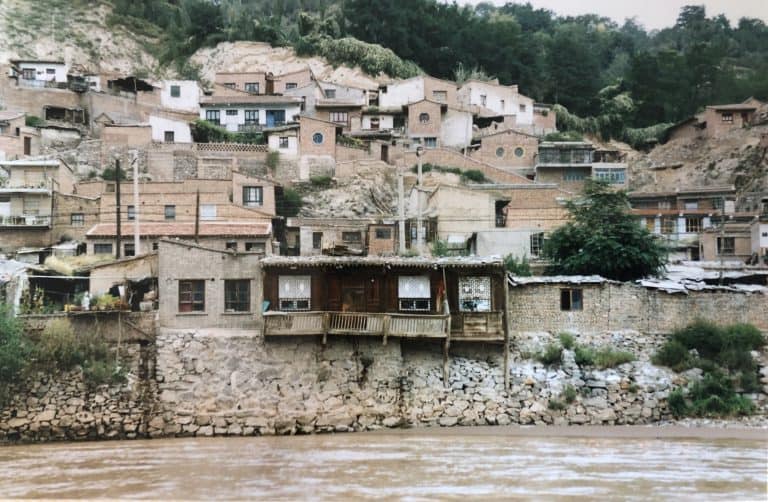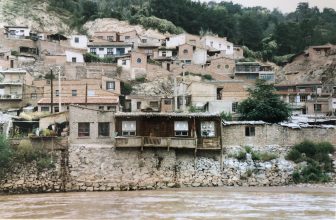 The current was unexpectedly strong, so the ride was thrilling.
He made us wear a kind of life jacket.
We could not communicate with the boatman well, but at least it was interesting to see the view from the river.
In the afternoon we left Lanzhou by 17:00 train.
When we arrived at the station, I was overwhelmed to see so many people already queuing, but we already had our tickets of a reserved sleeping car called 'Soft Sleeper', so we did not have any problems.
Only thing was that we had learned that the ticket cost 300 yuan, but the travel agent had paid us some change back, so I was a little apprehensive.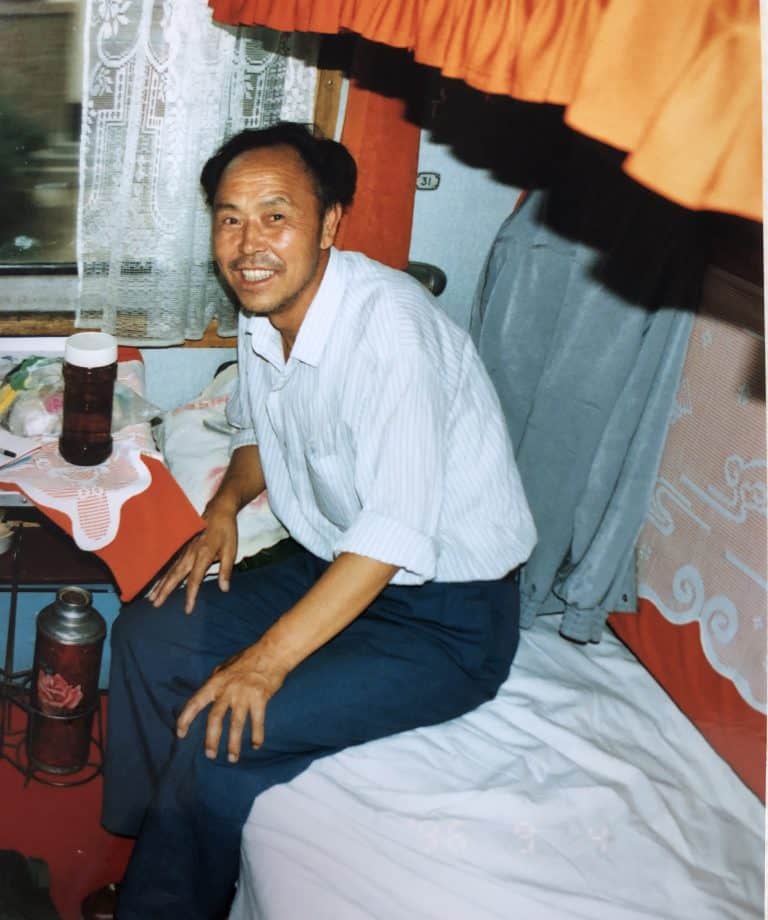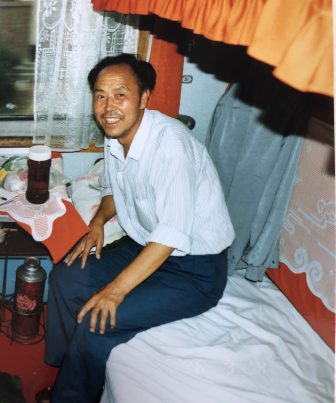 According to my guidebook, the Soft Sleeper was the first class car with good service and facilities and the passengers were mainly foreigners, but it was not so.
All the passengers we saw were Chinese and in our compartment of 4 people, our roommate was a middle aged Chinese man.
Until I showed my passport to the conductor, he seemed to have thought I was a Chinese, too.
And when he realised that I was Japanese, he started talking to me in Japanese, which was a surprise.
He was a 56 year-old senior engineer and after staying in Lanzhou for business, he was now on the way back to his hometown, Jiayu Pass, which was one of the important points of the Great Wall.
Relying on his Japanese language, we communicated with him, learning some Chinese words, exchanging some foods and so on.
At one point a couple next door popped in.
They were elites form Beijing who had been to the US, Japan and Italy and we talked in English.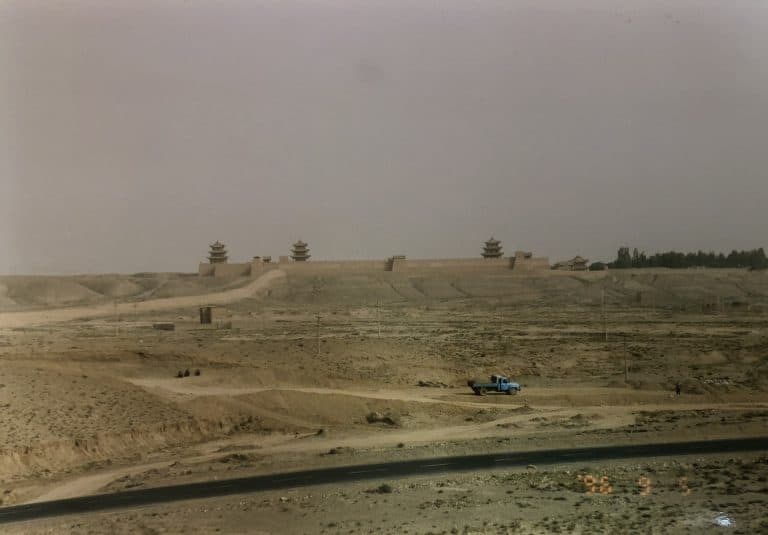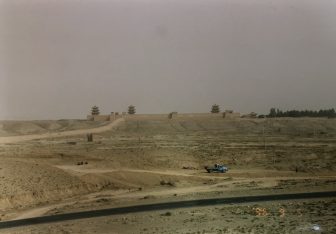 It seemed that they worked in the nuclear power industry as they said that they had worked at Tokai Nuclear Power Plant in Japan and in the US they had been to New Mexico where there was a place for the nuclear test.
The couple got off the train at a unknown small station which probably was not open for foreigners and they were welcomed by about 10 people.
I slept on the upper bunk during the night.
I could not relax because the bedclothes were not so clean, so I used my jacket to cover myself.
I slept on and off.
Another thing which was not clean was the toilet.
The guidebook said that the toilets in 'Soft Sleeper' should be clean, but ours were not.
Since I saw that, I refrained from eating and drinking.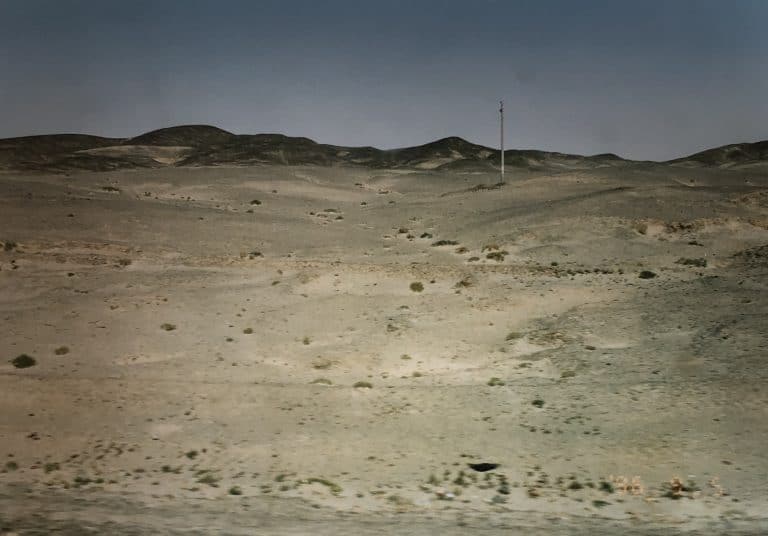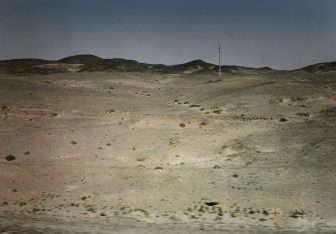 The view from the window was mainly desert.
There are a few kinds of desert; one was with some grass like hair and some flocks of sheep were there, and another type of desert was completely barren.
The colours were from beige to blackish.
No desert were like a beach with smooth sand.
The journey was very long.
The train went very slowly and once it stopped at a station, it stayed there for ages.
And it jolted a lot when it started and stopped.
We left Lanzhou at 5 pm and arrived our destination, Liuyuan at 4:23 pm next day.
So it took nearly a whole day.
I had never stayed in one train so long in my life.