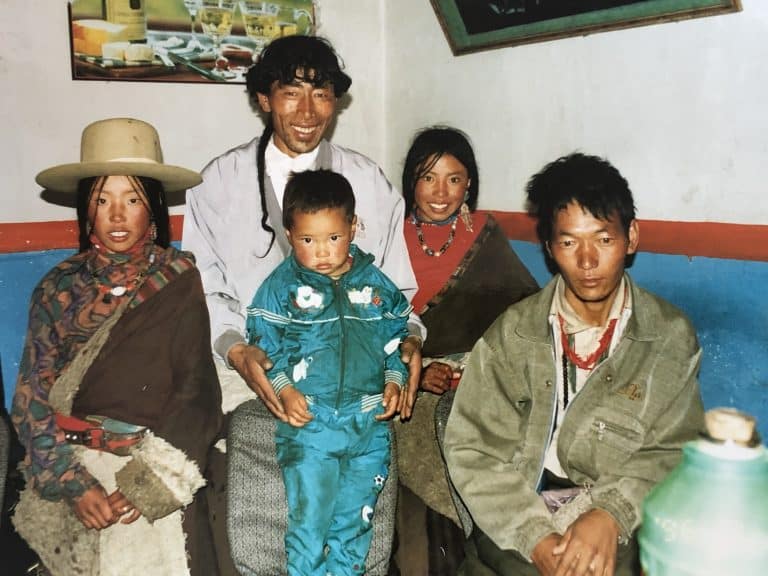 [ Sept.1996 ] Next morning in Xiahe, the Tibetan town in Gansu province in China, the temperature went down further and it was as cold as in midwinter.
And it was raining.
We visited the Labrang Monastery, the main tourist attraction in Xiahe, wearing the raincoat for cyclists which we had bought in Kunming.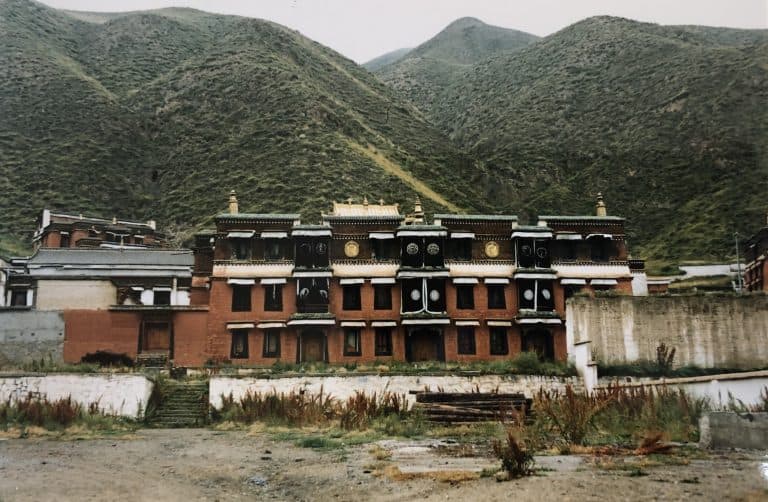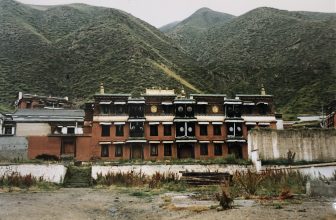 This complex of buildings is a Tibetan Buddhist temple built at the beginning of the 18th century.
We followed a Chinese group.
This Buddhist temple was far from the ones I am familiar with in Japan.
It was very colourful and showy with the peculiar odour.
I saw a huge golden Buddha painted on a wall.
The religious local people were praying, repeating standing up and lying on their stomach endlessly.
Some were walking along a fixed route around the temple, another form of praying.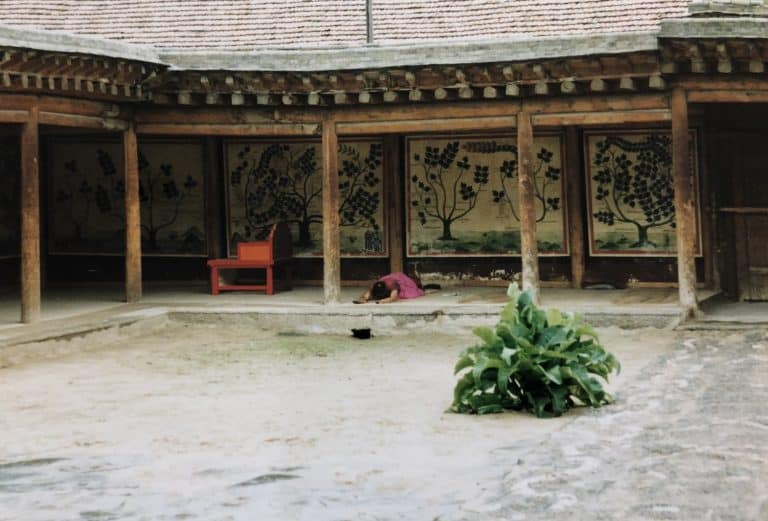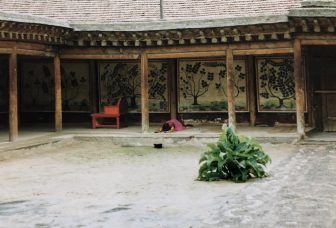 I also saw a woman turning the prayer wheels.
I was fascinated by all those people and things surrounding me, now that my weariness the day before, which could have been a kind of symptom of the altitude sickness was fortunately gone.
The rain was persistent, so we went into a small restaurant nearby and while we were having some Chinese steamed meat dumplings, a group of Tibetan people came in.
And they stared at us without even blinking.
When our eyes met, they do not turn their eyes away at all.
They were three adults and 5-6 children.
One of the boys showed a friendly smile which triggered a sort of 'conversation'.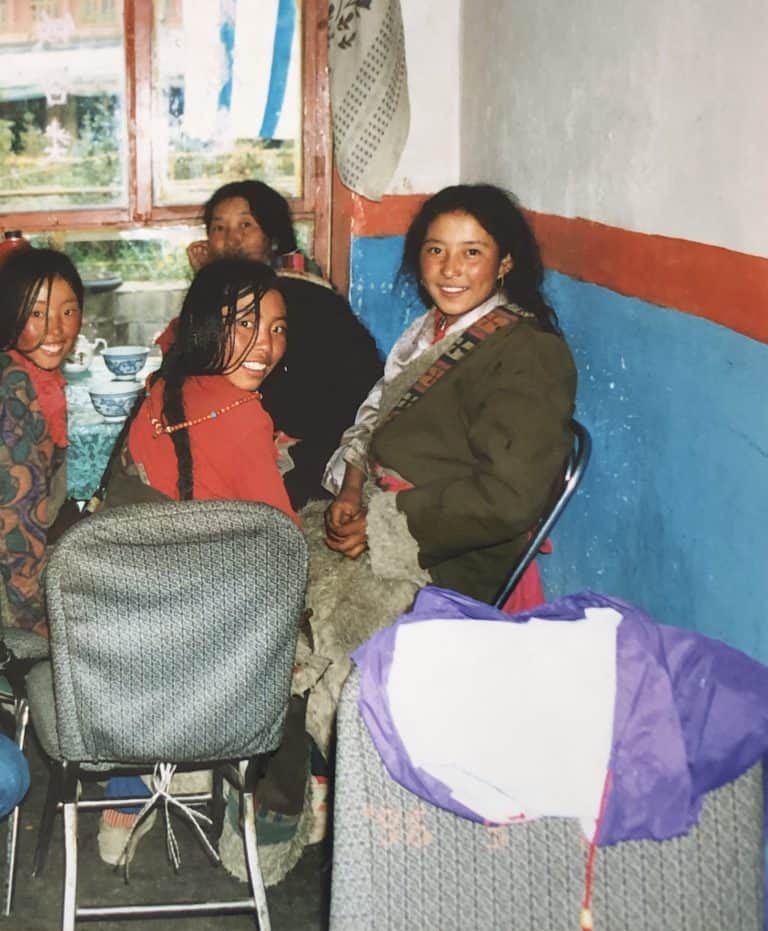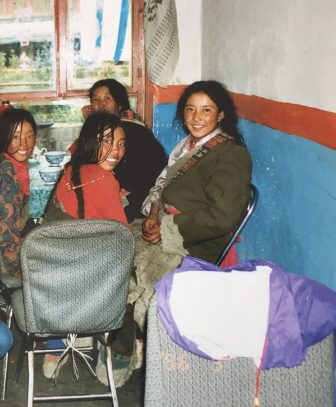 I asked if they were a family by writing, then the boy wrote something which I guessed as a summer school.
We struggled but somehow told them where we were from and that we were travelling and so on.
When I took my camera out and asked if it is OK to take photos of them, a man looked very embarrassed and said no, but when I pushed a little more, he stood up tiding his Tibetan jacket with the long sleeves.
After a while, this time he wanted me to take a photo of him wearing his new jacket he had just bought.
The women had long plaited hair which could have been never cut or washed and because it was so long that they had it tucked into their belts.
All of them had a lovely smile, though it was difficult to take a nice photo because when I pointed my camera at them, their smile often disappeared and they showed their serious faces.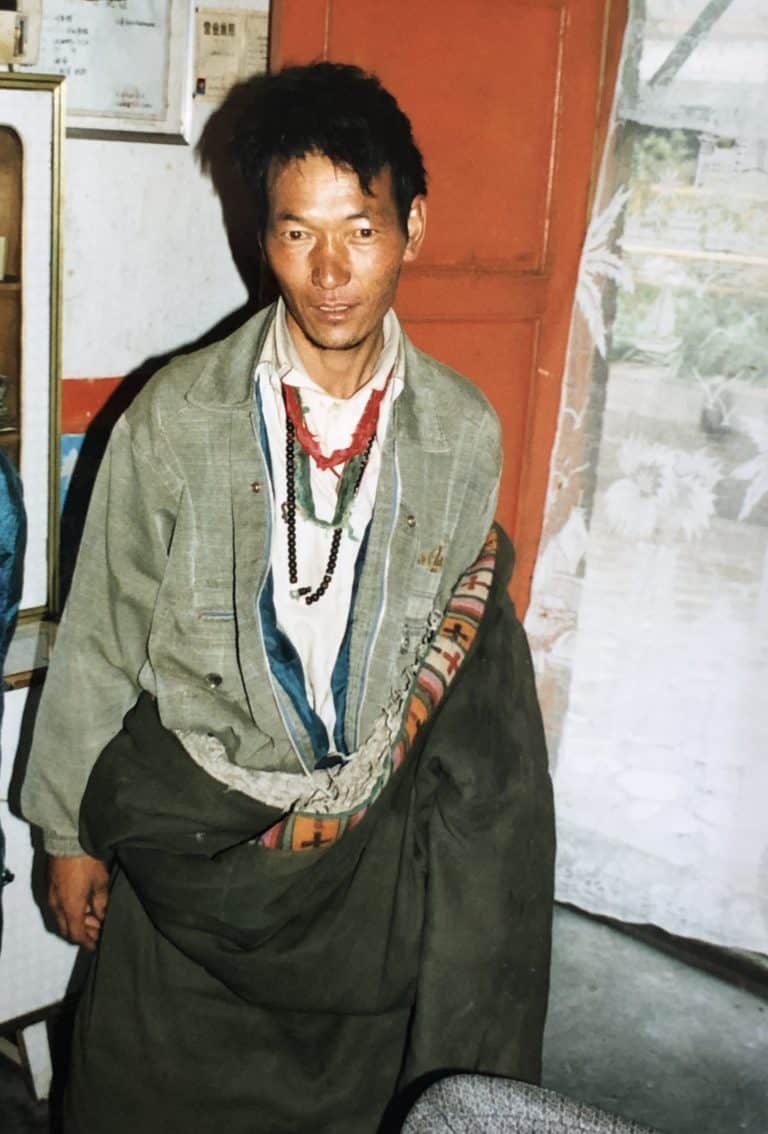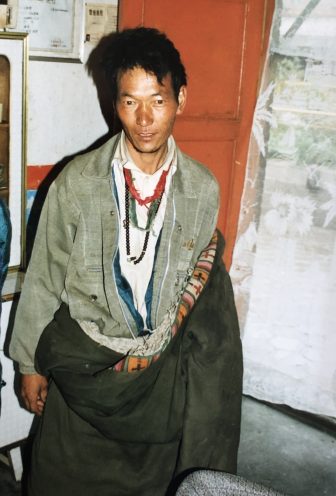 I asked their address so that I could send the photos to them and found that the address they gave me was a primary school in Qinghai province, next door to Gansu province where we were.
It was a precious time which I would never forget.
In the afternoon, we walked on the opposite side of the river, which was recommended by the guidebook.
Here there were quite many pigs walking around just like cats and dogs and a kind of cows which could be yaks were crossing the road.
There were simple houses made of mud and maybe dungs but their gates were made of wood with intricate carvings which were disproportionately gorgeous.
Next morning we got on 7:20 am bus to get back to Lanzhou.
At one point I regretted that we had decided to move up our departure, but we realised that it was a good decision because it was snowing.
It was not my imagination that it was as cold as in midwinter the day before.
This was an isolated high altitude place, so once the snow started, the place could be cut off.
The bus we got on was even worse than the previous one and it was difficult to find the dry seats.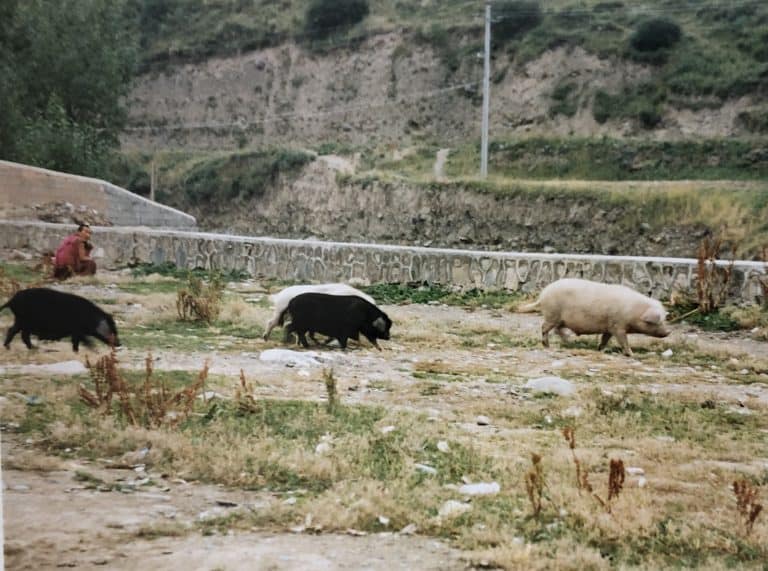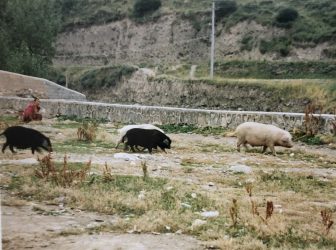 Every time the bus jolted, the windows opened and the seats fell over.
The wiper of the front glass was broken and I do not know how the driver managed to drive in the snow.
After about one hour drive, the snow became sleet and when we arrived at Linxia, the lunch break spot, it was raining.
When we were nibbling a piece of bread in the rain, a woman at the bicycle repair shop kindly invited us inside.
She looked like a typical communist party member wearing a big glasses and a square jacket with many buttons, but she was nice and friendly.
Around this area, many Hui people who are Muslims live.
From the window I saw groups of 5~6 men with a white hat squatting, doing nothing and seeing our bus went by.
Women were wearing a hood and a black lacy scarf and they seemed busy working or taking care of children.
Much fewer women were seen than men outside.
Their mosques had a minaret with the roof in the shape of tulip hat and on top of that there was a crescent moon.
In the middle of communist China, far away from Mecca, at a glance they seemed to live the typical Muslim life.
The journey of this beat-up bus took about 7 and a half hours, one hour less than on the way up, maybe because it was mainly downhill.