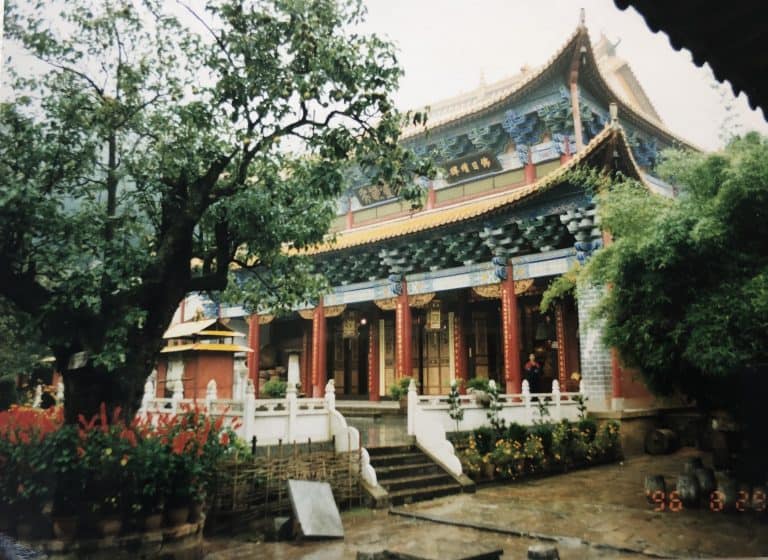 [ Aug.1996 ] After spending a great day in Shilin in China, we went back to Kunming.
Sani People helped us to do that as when we went to the bus stop at the Shilin National Park, we found that there were no buses running and the Sani woman who happened to be there told us to take a carriage to the town and take a minibus by gestures.
The conductor of the carriage was another Sani woman and she spoke Japanese.
After getting off the carriage, we waited for a minibus at a corner and when the bus came, the carriage conductor ran up to us and translated the bus fare and other things for us.
Generally I had a warm feeling towards Sani people.
Some were in the crowded bus, too, which was not a tourist bus, but for ordinary people's commuting bus.
Now, we arrived in Kunming and this time, we stayed at Camellia Hotel.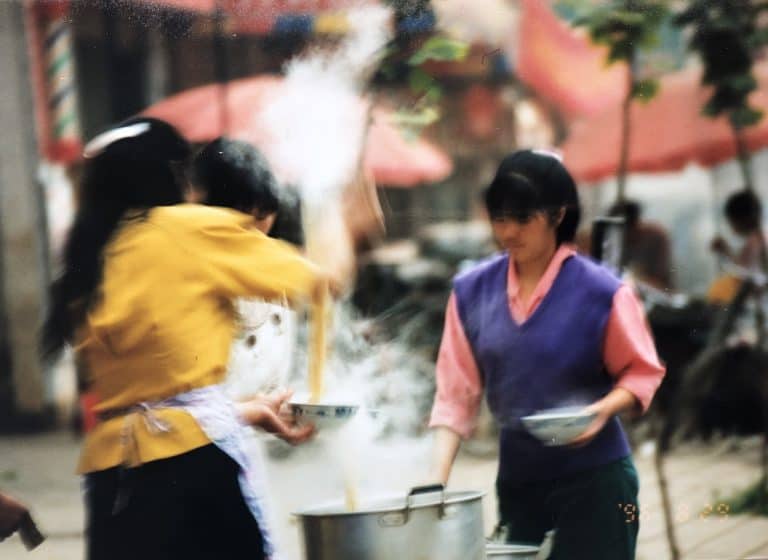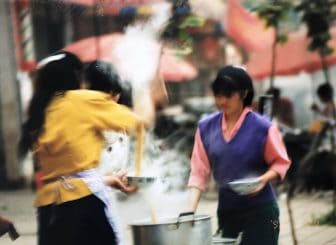 It cost 220 yuan ($1=8.28 yuan in those days) and it was comfortable with the friendly staff.
We booked a Kunming sightseeing tour at the reception (40 yuan).
The tour started very early in the morning next day.
The first stop was a noodle restaurant for breakfast.
Although we had not had breakfast, I did not feel like having noodle in the morning, so I just waited watching people around there.
People were carrying their babies on their back like in Japan in old days, but unlike in Japan, the babies' legs were hanging down from the baby slings.
Those baby slings usually have lovely embroideries and it was interesting to see that many labourer looking men were carrying them.
It was a shame that I could not take any photos of them.
Unfortunately it was raining on the day.
In the rain we visited the Bamboo Temple, one of the main attractions in Kunming.
The highlight here was the room with a great many monks' statues which were very realistic.
They were posing in different ways and very expressive, so much so that I could imagine they would start moving.
The room was dark because of the bad weather and it was eerie to see so many of them in rows.
The next destination was a clinic of the Chinese herbal medicine.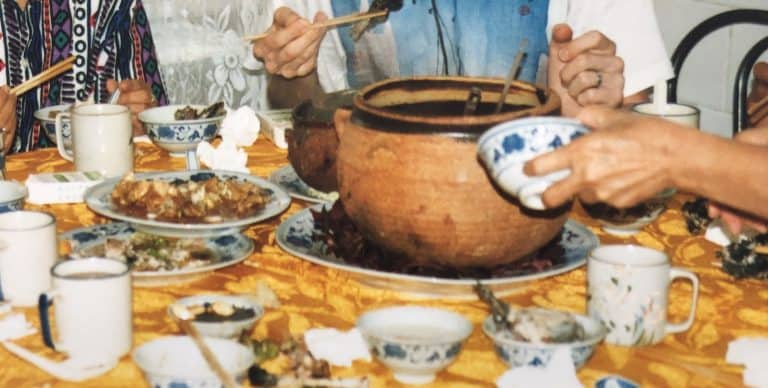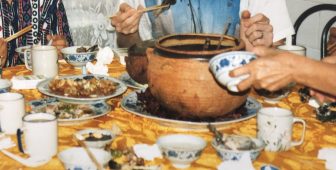 A man who was introduced as a doctor took our pulse and diagnosed.
He told me that my blood circulation was bad and my blood pressure was too low.
When he recommended a couple of medicines, he was very convincing, but those medicines were expensive (200~300 yuan), so I declined and instead had a massage for my upper body (30 yuan).
The next was lunch and that was something I enjoyed most during this tour.
It was a very simple restaurant which we would not go in on our own.
We all sat around one big round table including the driver.
I did not catch the name of the restaurant, but apparently it was a Islamic restaurant.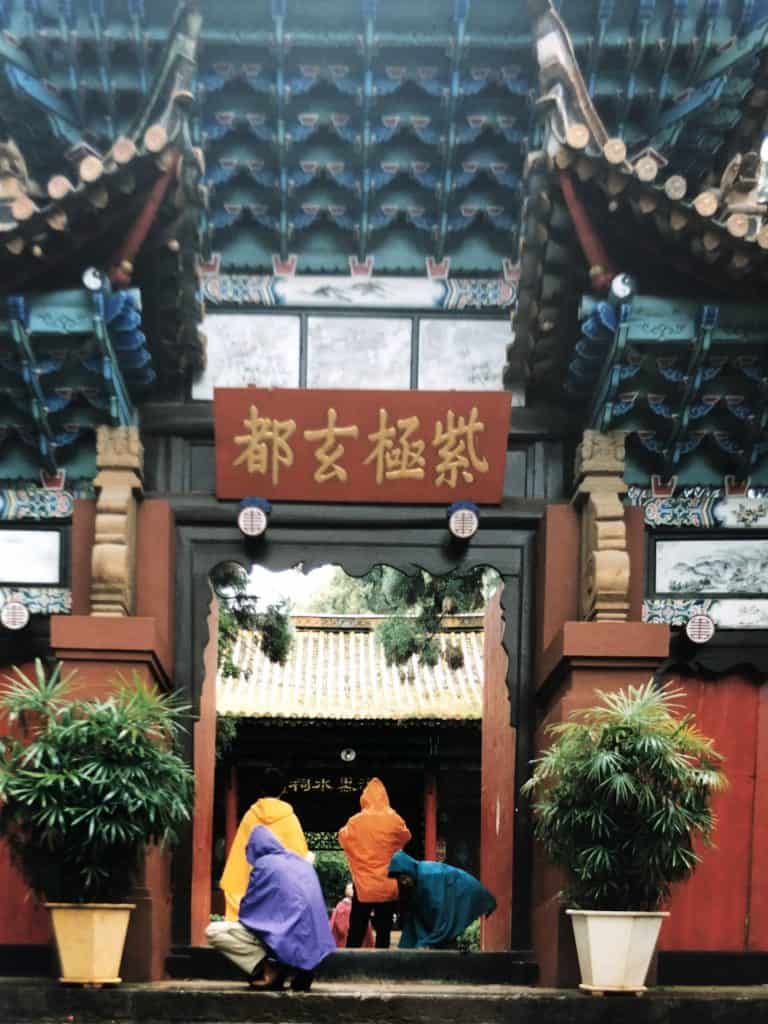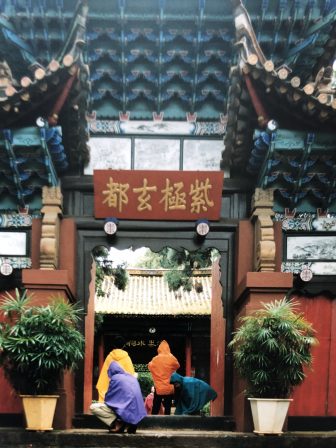 The people who joined the tour were a Chinese family of four who came from Malaysia and a single quiet man from Beijing and us.
The head of the family who was a generous middle aged man with a large tummy ordered foods on his own.
At first, only a dish of stir fried vegetables and a bowl of rice came and I was rather disappointed, but soon after that many dishes came one after another.
The one I liked was the tongue of sheep stewed in tomato sauce.
Another speciality was the one that the son of the man who had studied in the US translated as a chicken soup.
The taste of the soup was delicious, but when I saw the contents, I got shocked.
It could be a part of chicken maybe a leg, but it was very dark and it kept its original form.
They enthusiastically encouraged us to eat them, saying "The black chickens are nutritious. They are very expensive in Malaysia".
Apparently the total bill was 300 yuan including this soup which was 188 yuan.
This man from Malaysia was apparently rich, investing to Chinese chemical companies, and he paid for the lunch for all of us.
He also paid the entrance fees for places we visited after lunch, such as Hailong Palace and Golden Pavilion for us and I felt as if I were a guest of the family.
The rain persisted, and we all bought a rain coat which Chinese people wore for cycling (25 yuan).
I thought it was funny that we were walking around the temples and palaces wearing the colourful coat.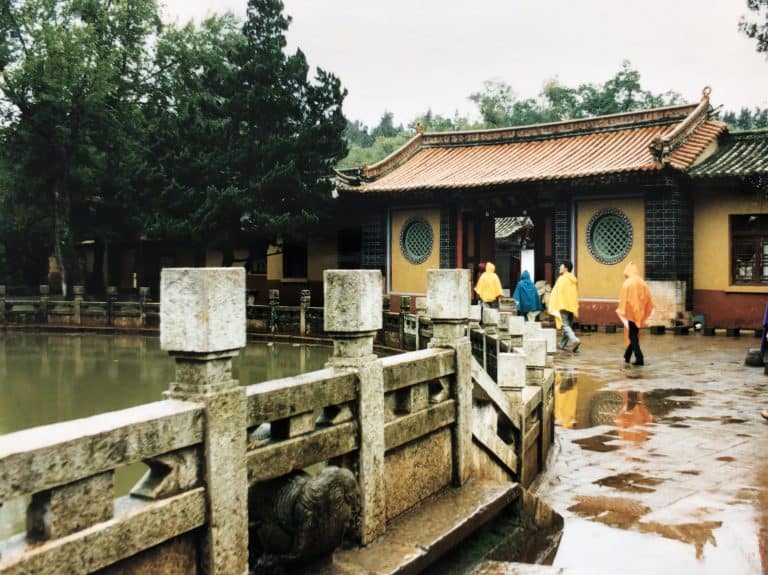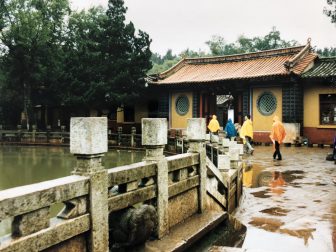 Towards the end of the tour, we had a chance to talk with the man from Beijing.
He was so quiet that at first I felt wary about him thinking he could be an official monitoring the foreign tourists, but in fact he was an engineer who came to Kunming for business and joined this tour to see the city for one day.
He was simply shy and once we talked, he was nice and friendly.
He gave me a business card and said "Contact me when you come to Beijing".
So although it was a rainy miserable day, in the end I liked this tour.