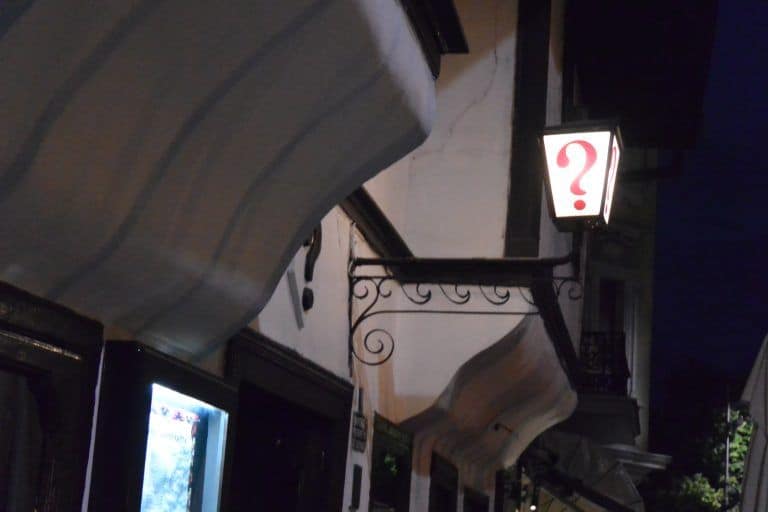 [ May 2018 ] In Belgrade, the capital city in Serbia, our first stop was the restaurant, called "?" Kafana, which was listed in our guide book.
Kafana means a traditional pub.
Originally, it was a coffee shop, but after ending the Turkish rule, they started serving alcohol, so it became a pub.
This restaurant is located just opposite an Orthodox Cathedral, so in the past its name was "By the Cathedral".
However, one time the religious authority decided that it is imprudent to have the word cathedral in the name of such a Kafana and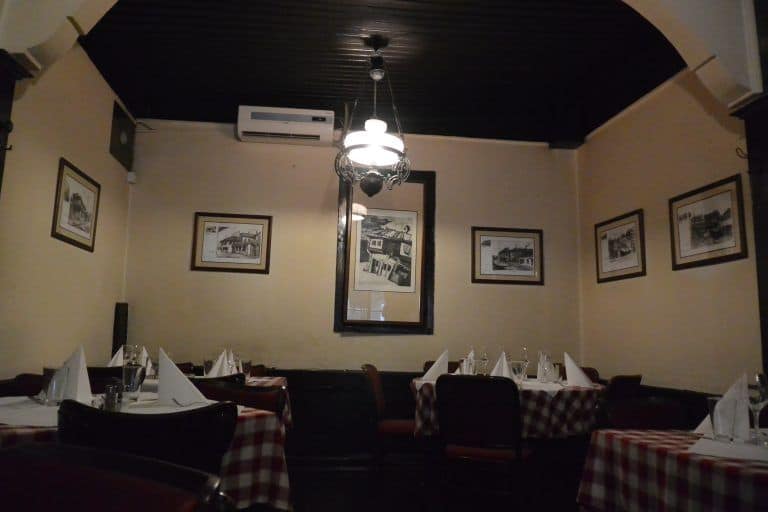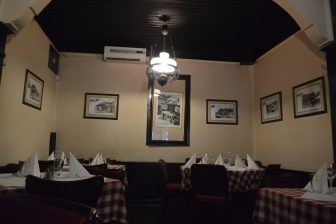 ordered them to take the sign down immediately.
The owner of the Kafana covered the sign with a cloth with a big question mark instead of taking the sign down.
The name "?" stayed on, according to the guide book.
This restaurant is housed in a rare 19th century house full of atmosphere.
We ordered the assorted ham and Bresaola, which looked like the ones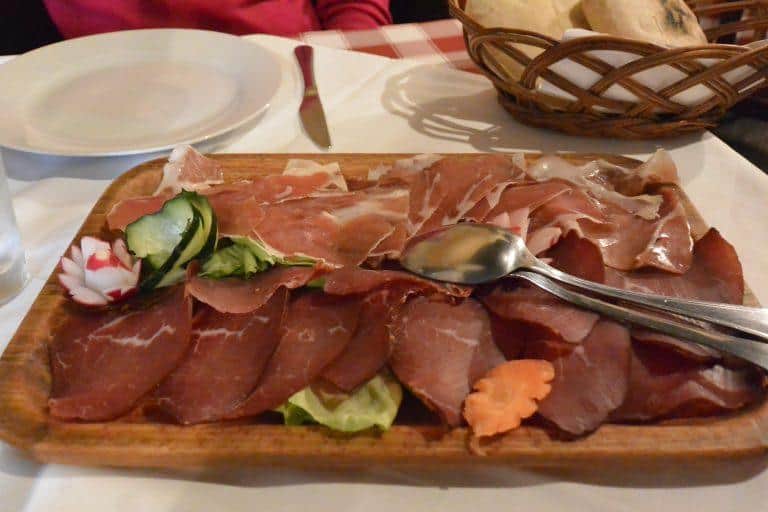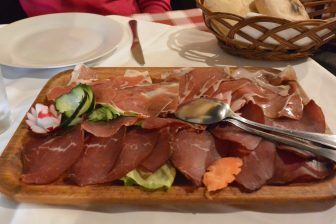 we often see in Italy, but in fact they were all smoked.
We had a bottle of local wine with it, but it probably would have been better with a glass of beer.
For the mains, we had another assorted meat dish for two.
This dish was mixed grilled meat, similar to the ones we see in Poland or in Germany.
There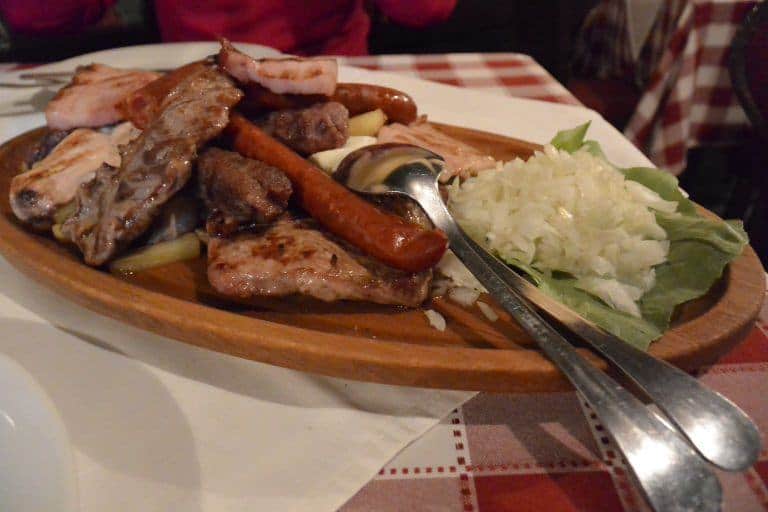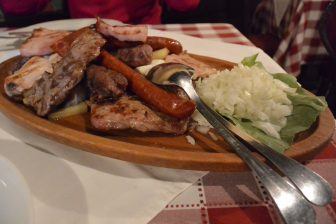 were about 5 kinds of meat on the plate and, among them, the grilled beef and a sort of sausage of the minced meat were very good.
Later, I found that this sausage was Cevapi, which I had previously eaten in Bosnia Herzegovina. 
One of the dessert menu items was translated as "dry pie", so I asked the waiter what it is like.
He said it is Baklava and continued "We have Baklava because we had hundreds of years of Turkish rule, but their people and culture did not take root in our country. You see? I have got blue eyes".
Anyway, we ordered this Baklava, but in fact it was quite different from the Baklava we know.
This one was not so sweet and was nuttier, which was quite good in its own way.
They did not have any dessert wine, so we asked for some local liqueur.
He brought two glasses of something called "Lincura" (he wrote it down for me).
I could not drink it because it was too strong.
The waiter was looking rather proud, saying "We are strong people".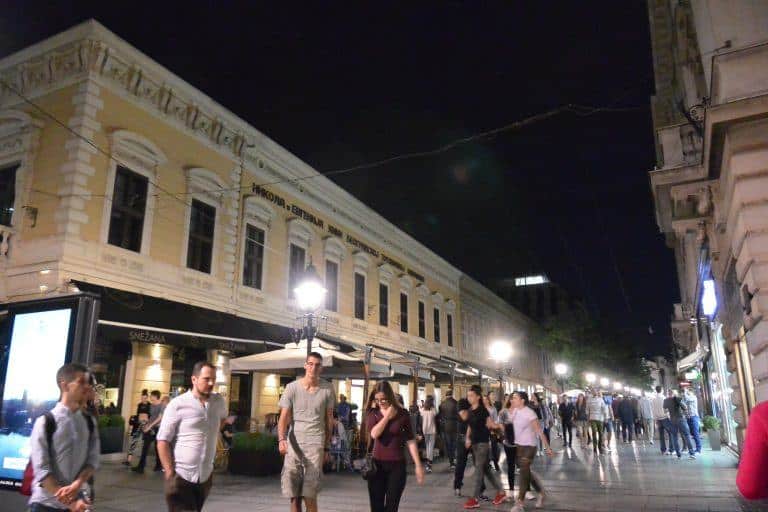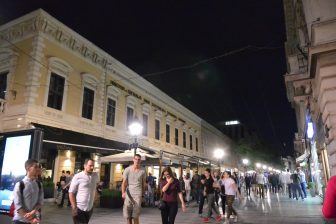 The bill was 8560 RSD(£64, €73, $84).
When we left the restaurant, it was already dark.
The pedestrian streets were lively with many people enjoying the night at the weekend.
The signs of the closed shops were showing that they were mostly familiar international chains, but among them we noticed that there were many book shops.
People's way of dressing was the same here as it is everywhere, maybe because it was summer.
There were many bars with live music and many young people were enjoying themselves.
The ground floor shops and restaurants looked trendy, but when we looked up, the buildings were often old and didn't match the shops.
Maybe they were the buildings from the time of Tito.
We sat at an outdoor table of one of the bars and drank rather weak Spritz.
I thought in 10 years time, London or Milan will not have changed much, but Belgrade will be a very different town.
My husband who had visited this town in 1980 did not seem to remember much about it, but he had probably walked in the same streets and saw completely different scenes.