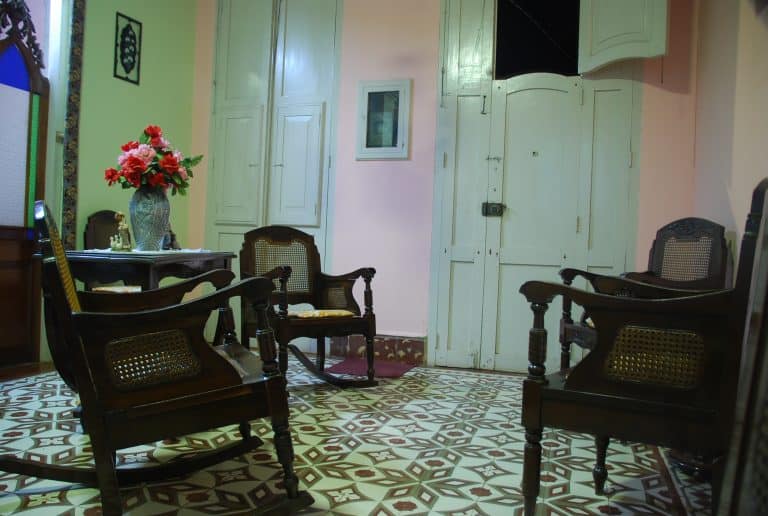 [March 2010] There was a lot of fun in Trinidad, Cuba, one of which is the salsa lesson.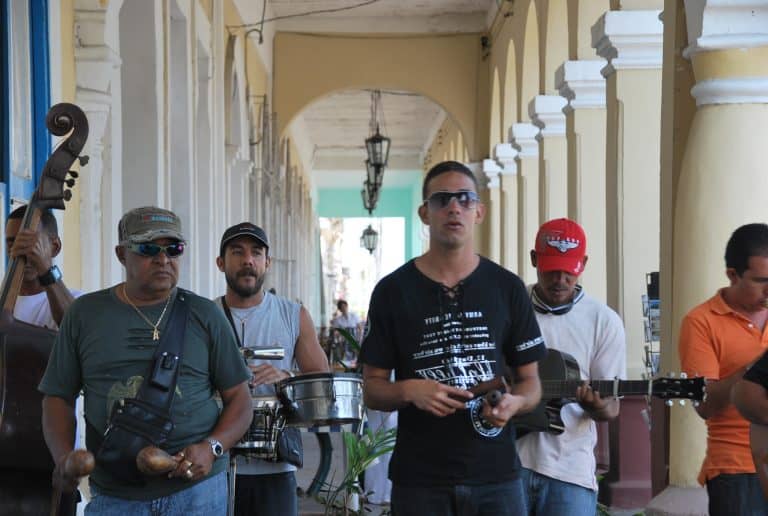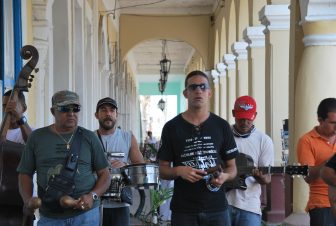 Cubans love music and you can hear live band performances here and there, and people dancing to it were so cool that we wanted to learn it a little.
The "classroom" booked through the travel agent, Carlos was the corridor in the courtyard of a multi-tenant building with shops and agencies.
An Afro-haired young man and a slender blonde very young woman were our teachers and we learned the basic steps for two days.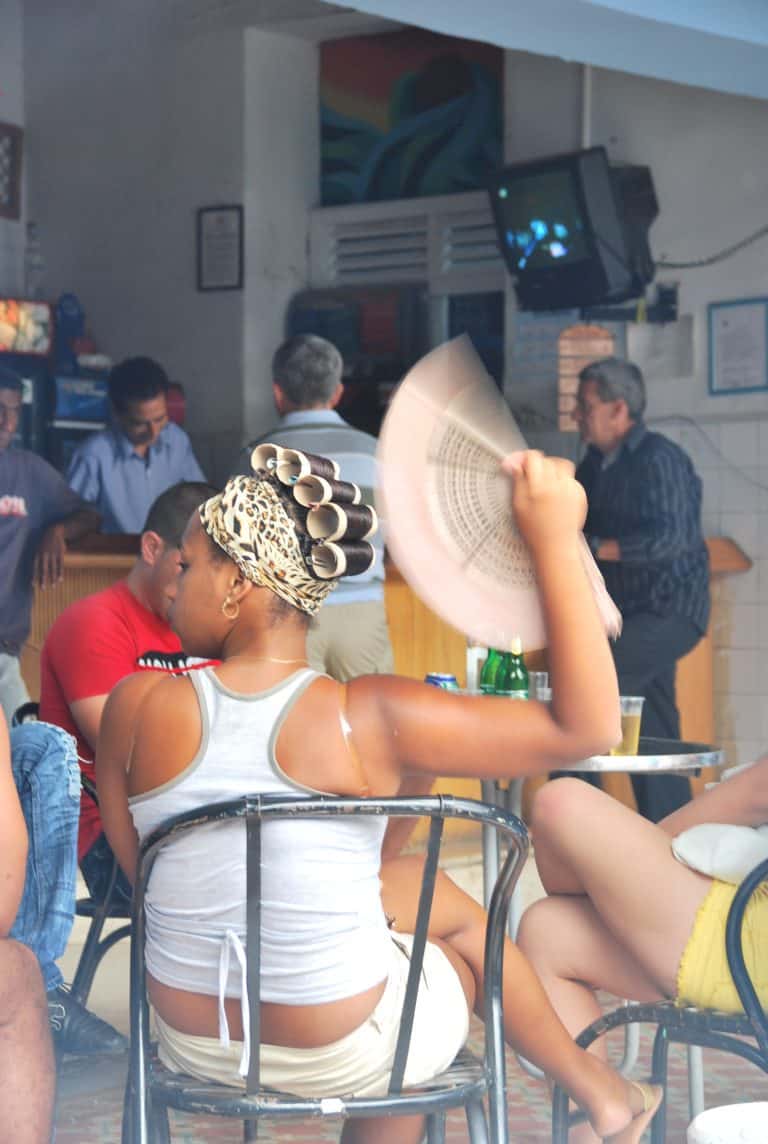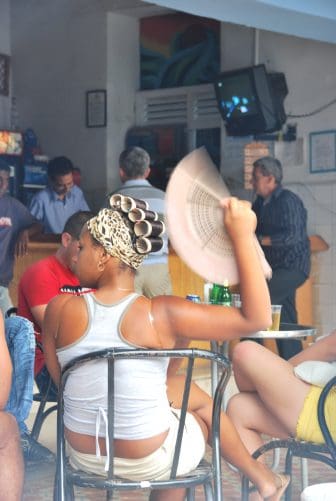 At first, my husband was very reluctant, but when he tried it, he wasn't as bad as expected, and he danced on the rhythm.
Later, he said, "I'm also Latino."
On the second day, the teacher made a CD of the songs she used for the lesson so we bought it.
We still listen to it at home from time to time.
And moreover, the lesson at this time was so much fun that for a while after that, we both learned salsa in earnest in Italy.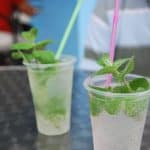 In this courtyard, we mixed with the locals and tasted the authentic mojito.
After the lesson on the second day, because this was the last day in Trinidad, we walked around this very lovely town again and bought some souvenirs.
Colourful houses, classic cars and carriages on rugged cobblestones, cheerful people …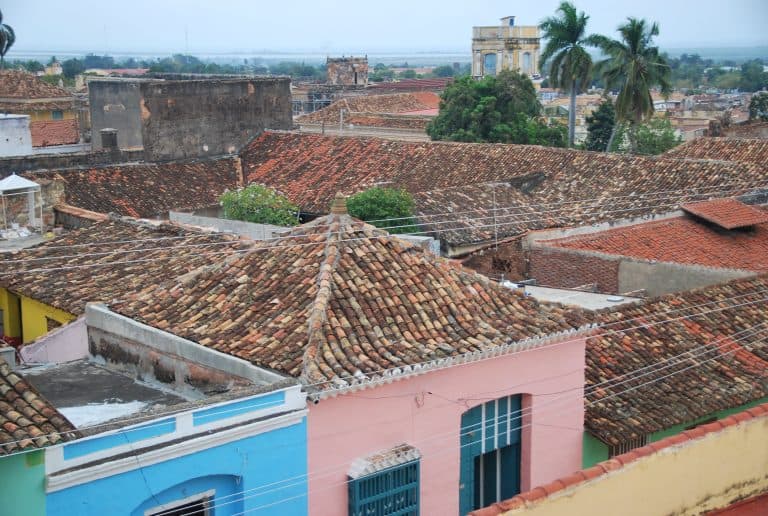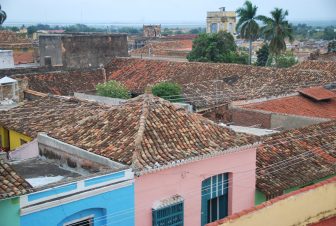 It's a town with a relaxed atmosphere overall, and if we were told that we would be taken to only one of the Cuban towns we visited, both I and my husband would choose Trinidad without hesitation.
After walking around town, we returned to the hotel and changed our clothes.
That's because we were supposed to visit a private home for dinner on that day.
By the way, when we got back to our hotel room, there was a doll made of towels on the bed every day.
It was a masterpiece of the cleaning person.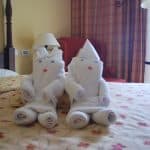 Looking at that, I thought that Cubans were people with a bright temperament in every aspect.
The dinner at a private home was also arranged by Carlos.
The person who invited us was a cheerful old woman named Teresa, who used to be a university professor.
The house was a large colonial-style building with the lovely atmosphere.
She was proud of a mango tree in the garden that was over 100 years old.
The food was a rustic home-cooked chicken and pork, but the taste was good.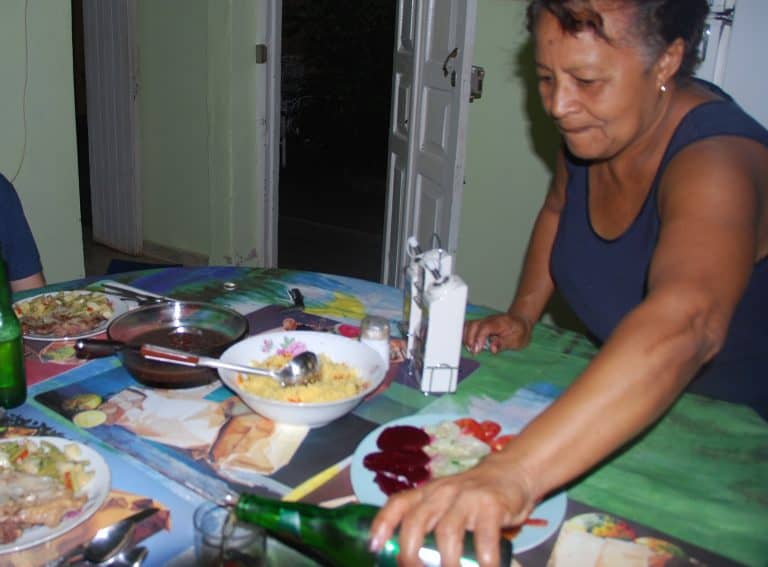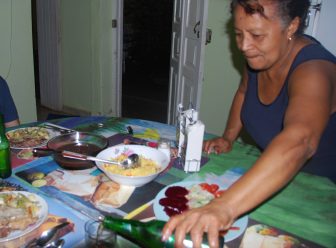 Both chickens and pigs roam in nature, so the meat will be firmer and taste better.
I was wearing a lace-knitted skirt that I had bought at a Japanese inn for 1000 yen (about 10 euro) long time ago, and Teresa and her helper, who said that knitting was their hobby,  were looking at it closely, which made me feel a bit awkward.
Home visit was only about one hour.
I know that we saw only the surface of their life, but nonetheless  this was also an interesting experience.